Time and time again we see reinterpretations of The Bard's most famous works and over the years the many rather than the few have tried and failed to convincingly portray the alternative interpretations that the set out to do. Despite this, it seems that the Everyman Theatre have hit it on something very special with Romeo and Juliet (or rather Romeo and Julius). Just like the 1966 Baz Luhrmann film, it has a modern twist with cigarette smoking hoodies clad with guns yet this production challenges our expectations even further with the portrayal of a homosexual relationship between Romeo and Julius; both of which are played exceptionally by George Caple and Elliott Kingsley.
The famous story of two, young and innocent star-crossed lovers from opposing families has the added complication of racial difference and homosexuality which forces the audience to look at the play from a different, challenging point of view.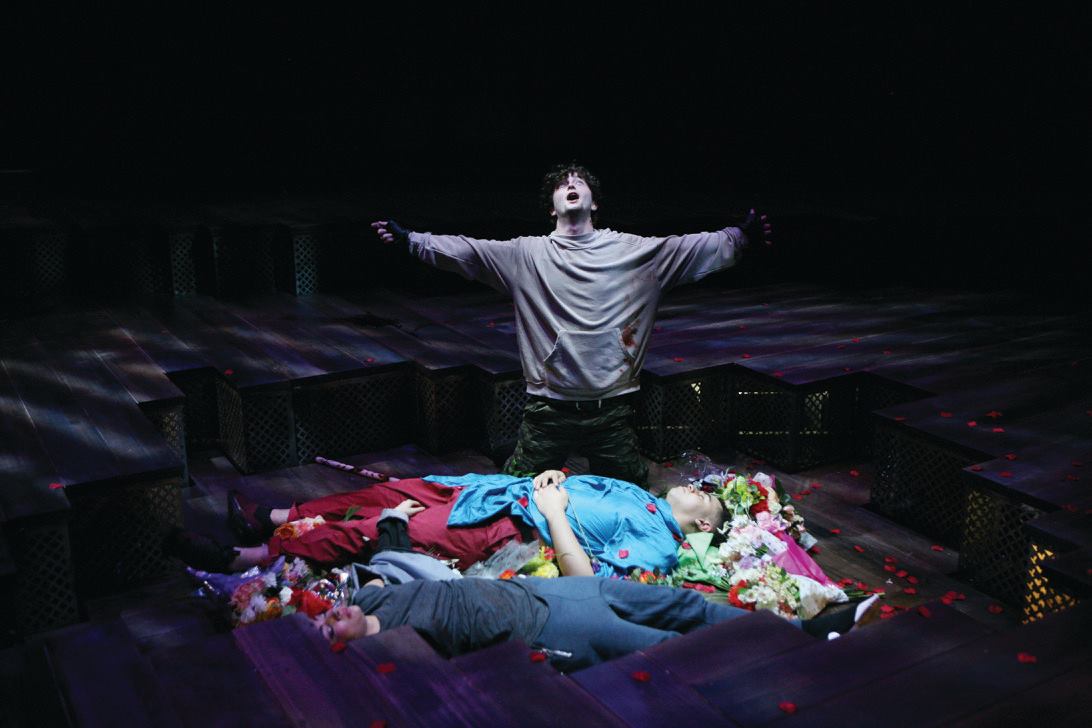 It is interesting to note that Shakespeare always intended Juliet to be performed by a young man as was the nature of Renaissance theatre in his day and rumour has it Shakespeare was romantically involved and in love with another man. Therefore, although this is the first time a major British theatre has made the play about two gay lovers, it is not as controversial as many might think. It is always nice to see alternative twists on work that has been exhausted but what is striking about this production is the effortless way in which it is done. The relationship between the two men is convincing, raw and passionate however lacks the naïve innocence which fans of Shakespeare are likely to be used to from previous productions. Although Kingsley, who plays Julius, shows moments of vulnerability he also brings an assertive dimension to the character which is not often seen. His chemistry with Caple as Romeo is beautifully raw and, after the audience quickly adjust to the change, you are enjoying the play for what it is without any distraction from the homosexual twist.

The fight scenes are incredibly dramatic and choreographed dangerously close to the audience, ensuring that there is no way of avoiding the intense action taking place on stage. Mercutio, played by Dean Nolan, revealed some impressive acrobatics during the fight scenes which were truly breath-taking and his humour and flare for Shakespearean dramatics resulted in him stealing the limelight whenever he took to the stage. Nolan's Mercutio will make you mourn the death of Romeo's beloved friend even more and long to go back in time to convince Shakespeare himself to keep Mercutio alive just so you can enjoy Nolan for a moment longer.
There is no weak link in this cast which is rare yet refreshing. The staging, the use of music and the physical presence and movement of the actors on stage adds beautifully to what is already an incredibly strong production. I have nothing but respect for the company and their ability to successfully produce such a refreshing twist on Shakespeare. I look forward to seeing what else the company have to offer and eagerly await the future of the young actors who will no doubt achieve amazing things. I am sure that this is just the beginning for them.

Reviewer: Sarah Goldsmith
Reviewed: 31st May 2017
North West End Rating: ★★★★★