On the 50th anniversary of the 1967 UK Sexual Offences Act it is poignant to reflect on and celebrate the changes in modern society that allowed this musical to be staged. A gay romance in which the main characters are living their lives out loud and proud. With music and lyrics by Jerry Herman; book by Harvey Fierstein; sequins; high heels; feathers and huge dose of glitz, La Cage Aux Folles is without doubt the ultimate celebration of all things camp.
Although the musical is now 35 years old, Director Martin Connor has set the story transvestite dancer Albin (John Partridge) and his club-owning boyfriend Georges (Adrian Zmed) in modern times which seems to capture the zeitgeist of the modern age on many levels, including challenges to gender identity and the shocking truth of bigotry, prejudice and far-right politics.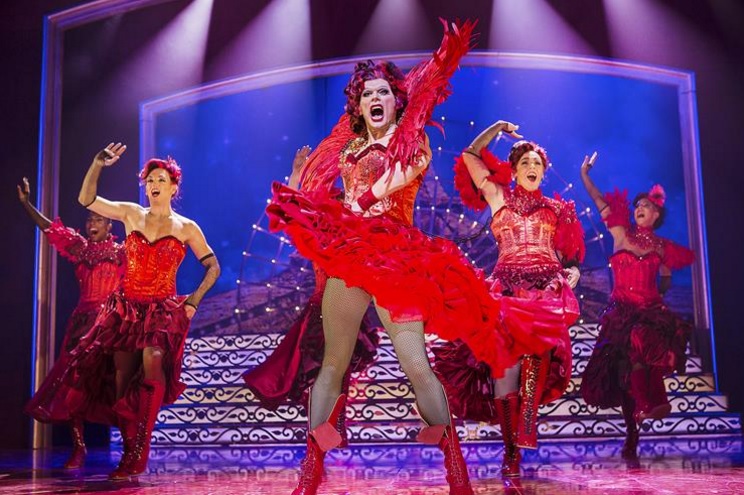 Partridge absolutely dominates this production with his triumphant, powerhouse performance as Albin. His vocals are world class and his Act One finale rendition of 'I Am What I Am' was delivered with an authenticity; passion and skill that rivals any West End or Broadway superstar. He isn't initially what you expect as Albin, in his first scenes his impressive upper body muscles were quite distracting and left us wondering how he was going to pull of the glamour of his flamboyant alter ego character Zaza. However, throughout the production he effortlessly and confidently switched between the two characters and at times appeared to use his physicality to morph between tall/powerful and vulnerable which is particularly highlighted during 'Look Over There'. Partridge made this character his own with a level of humour and ad-lib usually reserved for stand-up comedians although perhaps the choice of Lancashire/Yorkshire hybrid accent possibly cheapened his performance and was somewhat distracting from the strength of the vocals and overall performance.
Partridge is supported by an incredibly strong drag ensemble who effortlessly delivered Bill Deamer's choreography; tap routines and of course the can-can in heels and feathers. Samson Ajewole's performance as Butler/Maid, Jacob was very funny and he succeeded in stealing many scenes with his perfected comic timing. Marti Webb also makes a strong but limited appearance as Jacqueline.
With a dominant lead in Partridge, Zmed is unfortunately shown up as weaker in his performance as Georges. He can definitely sing, but he doesn't have the stage presence to match Partridge and certainly got lost in the production at times.
For a touring production, this show has gone all out with brilliant set and costumes designed by Gary McCann. Set in a drag club in the South of France audiences are treated to the opulence that one expects from this kind of setting. The staging was incredibly well thought out with smooth transitions between the different scenes and very clever use of the fly system. There were far too many costume changes to count, each one appearing even more intricate than the last and many leaving little to the imagination.
The beauty of La Cage Aux Folles is the themes that it delivers to eloquently. In 2017 it reminds us how far we've come over the past thirty years and the final imagery of Albin and Georges walking off into the sunset brought the Liverpool audience straight to its feet with cheers and applause. It is definitely a show that everyone needs to see at least once in their lifetime and with Partridge in the lead role now would be a great time to book your tickets as it is absolutely his time to shine. This is one not to be missed.
The UK tour continues around UK venues: www.kenwright.com/microsite/la-cage-aux-folles
Reviewer: Alan Stuart Malin
Reviewed: 04th July 2017
North West End Rating: ★★★★