With hit records from the 50's and 60's this is a jukebox musical taking many on a nostalgic trip down memory lane (myself included) but proving to be popular with youngsters of today judging by the wide and varied audience tonight. The storyline is very simple but thankfully the cast, the music and choreography more than make up for the lack of that and the performances tonight are just brilliant.
Starting with a touch of reminiscing from granddad and his granddaughter Daisy upon finding his old electric guitar in the attic amongst the old forgotten records and record players, the show immediately takes us back to his teenage years and the local youth club run by his father. Jimmy Johnston plays granddad and Bobby's father Phil, proving that age is but a number as he keeps up with the more youthful members of the cast. As youth leader he announces there is to be a 'National Song Writing' competition with other youth groups which causes much excitement amongst the youngsters.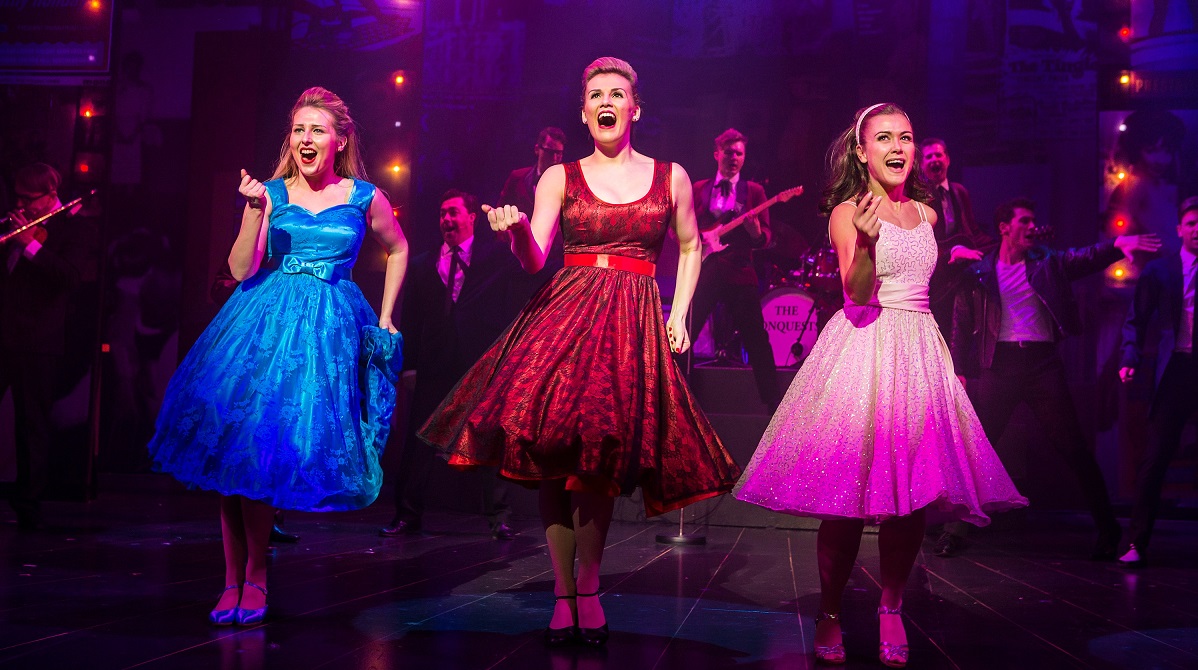 Laura (Elizabeth Carter) is a shy and unassuming schoolgirl not quite sixteen and with a crush on clean-cut, nice boy Bobby (Alistair Higgins). As a music writer she takes the opportunity to pair up with him for the competition, but Bobby has eyes on the more outgoing flighty Sue (Laura Darton) who in turn is keen on Norman (Alastair Hill) who probably loves himself the most! Laura's brother Ray (David Luke) is pairing off with Sue's friend, Donna (Gracie Johnson). The show basically centres on these three couples and even though many of the song choices are predictable its part of the fun knowing that there just has to be renditions of 'Tell Laura I Love Her', 'Bobby's Girl', 'Donna and of course 'Run-around Sue'. It is almost non-stop songs as there is little dialogue and each and everyone of these are fantastically performed, be it an A Cappella version of 'Poetry in Motion' with Ray taking lead and accompanied by other members of the cast or the moving scene between Laura and Bobby on the pier with a combining of two songs 'Runaway' and 'Who's Sorry Now'.
The music accompanying the songs is all performed live on stage by cast members featuring guitars, keyboards, drums, saxophone, trombone and trumpets and the ensemble are to be applauded for their amazing talents and skills combining dance song and playing instruments. I am not normally a fan of instruments being played on stage in a musical but tonight it really did enhance the show. Costumes are fashionable of the day with guys looking slightly geeky, wearing pullovers to the coolness of Norman with his quiffed hair and leather, ladies in pretty swishing petticoat dresses. A colourful backdrop is the mainstay of the scenery but there are quick and slight changes which include the fun element of funfair dodgems. There are no great acting skills required in this musical but timing, singing and dancing is what brings this all together, with this the cast delivers, ensuring a lively time to be enjoyed by all. The last few songs are purely for the benefit of the audience and everyone is up on their feet and 'Twisting The Night Away'. Dreamboats and Petticoats is the perfect showcase for music from that era!
Reviewer: Lorna Weekes
Reviewed: 31st July 2017
North West End Rating: ★★★★