The latest one man show from Tayo Aluko sees him explore the life of Tunji Sowande, a Nigerian born lawyer who became the first black head of a major barrister's chambers in 1968. At this time, it felt – as Sowande notes in the show – as if 'the world was falling apart around us'. One doesn't need to read Aluko's informed programme notes to see the parallels between then and now.
This play with songs, and cricket, provides a fascinating historical insight into this turbulent period from the perspective of Sowande. Initially told to go back to 'Bongo Bongo land' Sowande triumphs in the face of adversity, becoming part of the establishment, and getting the opportunity to hit the perfect attacking shot. Along the way there is much cricket and singing. The sections about the South African cricketer Basil D'Oliveira - who unable to play for South Africa as he wasn't white caused controversy when he was included in the 1968 English team about to tour to South Africa – are especially interesting.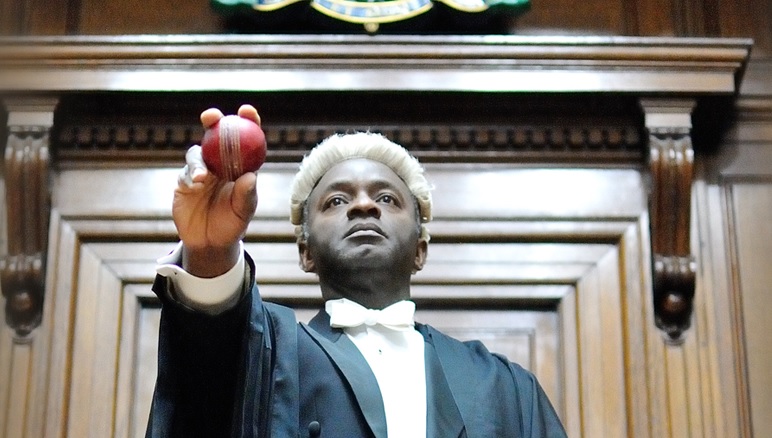 There is much to digest in the piece and if you are not conversant with cricket, or the period Aluko is exploring, it can take effort to keep up. This is very much a play with songs, music is used to provide emotional drive from the moment Aluko's baritone voice pierces the darkness enveloping the audience in its rich resonant tones. Aluko's moving rendition of 'Senzeni Na?' underscored with the noises of children playing and political speeches from the time is a more interesting and integrated use of song but this approach is only employed once.
The piece is peppered with a warm humour, both from Sowande and Aluko (there is a knowing pause when he talks of Paul Robeson – the character at the heart of his other one man show), and there are some lovely cricketing images. At one point Sowande despairing over the breakdown of his relationship with his son evocatively states that he has 'dropped the simplest of catches'.
Mark Loudon's lighting design is overly fussy, his attempts to focus our attention on Sowande feel jolty and contrived, literally leaving Aluko in the dark on more than one occasion. There is much potential in this piece and a need for stories like Sowande's to be shared but it is not yet hitting it for six.
Reviewer: Clare Chandler
Reviewed: 6th October 2017
North West End Rating: ★★★