Graeae Theatre Company's raucous musical featuring the music of Ian Drury and the Blockheads pogos into the Liverpool Everyman. The concept of the show is straightforward, as we're invited into the pub to watch Vinnie and friends perform a play in memory of his late dad.
The music of Drury and the Blockheads unapologetically propels this jukebox musical. Some songs are presented as part of the plot, others disrupt the story but all are performed with passion and conviction.
The audience are transported back to 1979 with the crunch of twiglets (kindly provided by Janine – played by local actress Beth Hinton Lever) adding to the atmosphere and Mark Haig's videos and Duncan McLean's projections providing context and subtext. Liz Ashcroft's set is full of references to Ian Drury and the late 1970s. Neon signs frame the stage and every available surface is plastered with an advert or picture from the time. The stage is littered with quirky furniture and nostalgic clutter (much of which features at some point in the show). A vintage charity collection box for the Spastics Society- a small boy with a calliper on his leg and a sign asking 'Will you help us?' - underlines the show's exploration of disability politics, highlighting how far we still have to go.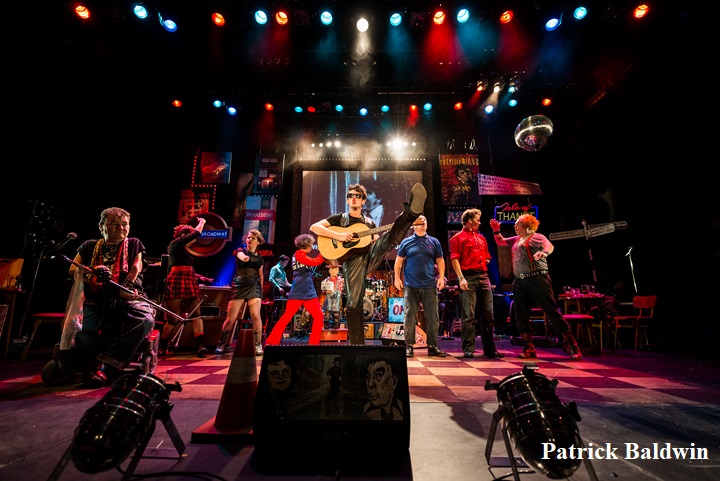 Whilst the show is set during the birth of Thatcherism it resonates with the current social and political landscape. New song If It Can't Be Right Then It Must Be Wrong (written by Chaz and Derek from the Blockheads with John Kelly) articulates the frustration at continued austerity and an increasingly divided world.
The political punches provide contrast to Paul Sirett's warm story of love and loss, cutting through when things edge perilously close to "sentimental bollocks". Kelly's vocals are superb, conjuring up the essence of Drury. 'Spasticas Autisticus' is powerfully performed by the cast, with Kelly fully articulating the rage of this song, which gained notoriety when the BBC (totally missing the point) banned it in 1981's 'Year of the Disabled'. The show is full of humour – some unintentional – and the cast often seem to be having as much fun as the audience as they struggle to keep a straight face. There are slow motion Kung Fu fights, prosthetic arm gags, a wig which seems to have a life of its own and the inability of Vinnie's mum to stick to the script and stop flirting with the audience! Stephen Collins is hysterical as Vinnie's best mate Collin and, if the laughter at that side of the stage was anything to go, by Wayne 'Pickles' Norman's audio description is not to be missed.
The incredibly strong ensemble, led by Stephen Lloyd's likeable Vinnie, swap roles and instruments at lightning pace, creating a feeling of choreographed anarchy on stage. At one point Louis Schultz-Wiremu demonstrates his talent, playing two saxophones simultaneously (touring budgets might be tight but this is just showing off!). Joey Hickman keeps musical proceedings in check and perfectly judges his cameos. And Max Runham plays every instrument in the band (though not at the same time!) when not sleazing about as decidedly un-shy Tory Dave. This show will give many reasons to be cheerful whether you're a fan of Ian Drury and the Blockheads or not. In the words of the great man himself: 'Das ist gut! C'est fantastique!'
Reviewer: Clare Chandler
Reviewed: 17th October 2017
North West End Rating: ★★★★