To mark the 70th anniversary of the partition of India, Bhuchar Boulevard's production of Child of the Divide made its latest stop at the Unity Theatre in Liverpool as part of the company's UK Tour for 2017.
The year was 1947, and as a new era begins for the nations of India and the newly-formed Pakistan, so does the political upheaval, violence and epic struggles of 16-million or so people as they make their way between the two countries.
The divide of the two nations was to split families and friends apart and change the courses of people's lives in a seismic political shift beyond the control of so many.
The story by Sudha Bhuchar presents us with our main character. A young boy called Pali, is caught with his family in such a divide and the audience was immediately thrown into the thick of the tension. Pali and his family in their desperate struggle to make it across the border into India from Pakistan.
However, life for the young protagonist was all about to change, in the family's hurry to leave all their troubles behind, their young son is left stranded as his parents try desperately to return for him from the lorry on which they make their escape.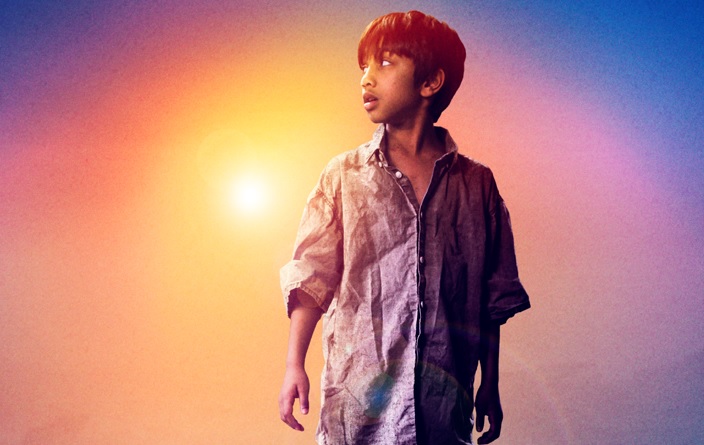 So, the great journey for Pali (or Altaarf as he becomes known to his new Muslim parents) through his childhood begins amid all the chaos surrounding him. The story was not only how his own life and beliefs change, but also that of the Muslim family that adopts him, converts him to the Muslim faith, renames him and calls him their own.
Furthermore, what his real family are suffering for all those years they try to find him in their new home in India, and what fate will become of the refugees that Pali befriends throughout his earlier years.
The cast showed great adaptation to the different characters they all portrayed. With each on-stage actor taking on the responsibility of numerous roles, their diversity in each of them was to be commended.
Whether it was one of the male members of the cast portraying a frightened and lonely refugee, then switching rapidly into the role of Pali's true father trying to live through the torment of not finding his son; or the actress portraying the heartbroken and stricken mother of Pali and then crossing into the character of a humorous, lively and optimistic refugee girl.
Each member of the cast brought not only their own individual identities to each role, but also a sincerity and clear understanding of how to define each of them. Their task of capturing the emotion well enough in a family-friendly atmosphere was also a task in itself that the cast worked hard to achieve.
What was very apparent throughout the story was that no matter how much older and wiser Pali got in his new surroundings as he grew up, when certain challenges were overcome, others would rise in their place.
Over the course of the performance, the plot showed through Pali's journey not just what he was going through after being separated from his family, but also what so many millions of others had to endure at that time.
The divides between families and friends further fuelled by rifts in religious beliefs, and the dialogue of the performance captured the tension between those of both Muslim and Hindu beliefs which were all exacerbated by the divide of India and Pakistan.
It was these tales of people around our central character that took just as much prominence in many ways. Each one of them showed how all were affected so heavily by the Hindu and Muslim conflict during the partition.
The emotion of much of the performance was well captured by the cast in a challenging setting that saw them tackle love, hate, friendship and hardship.
With a cast where each individual took on numerous roles, much could have been said of how challenging scene transitions would be for the actors, but thanks to simple and clever changes in costume and props to indicate location, this was made relatively easy.
After many years in his childhood with his newly-adopted Muslim family, Pali all at once is then thrown into making a huge decision. As he builds his life with his Muslim mother and father, his true parents are brought back into his life when they find him after so many years.
Born into a divide that left him in this upheaval in the first place, he now finds himself back in that same situation as he struggles to choose between his adopted life and being with his true family.
With the future uncertain, Pali has grown up in a life that his seen many sides of a complicated story in a region struggling to find calm amid the turmoil of a political rift, and while all around may have their own takes on religion, love, hate and life itself, Pali's words of: "People should belong to each other, not to places", suddenly seem all too relevant to how people should be judged on who they truly are and not on their circumstances.
The performance tackled the anniversary of a partition that shook a region to its core, and the versatile cast approached their work with a humility, warmth and energy.
The written dialogue brought to life the story of one main character, however the stories and characters around him throughout the performance bore just as much relevance and importance, giving every aspect of this story value and identity.
The show also proved to be a great lesson for the family-orientated audience that attended, showing both a respect for the subject involved and an emotional connection adding further impact and power to the piece.
This performance was also part of the Big Imaginations Festival 2017, a region-wide group of venues and promoters bringing quality children's theatre across the North West.
Reviewer: Robert Pritchard
Reviewed: 25th October 2017
North West End Rating: ★★★★