Barrie Rutter's Northern Broadsides founded their reputation on turning European classics into Yorkshire yarns with great aplomb, and so it is with Blake Morrison's version of Alain-René Lesage's Turcaret which caused much offence when it was first performed in 1709 as it satirised capitalist corruption – plus ça change, plus c'est la même chose.
This version is set in 1920's Yorkshire town where all the characters are driven by greed. Rose (Sarah-Jane Potts), a young war widow, takes advantage of Rutter's bank manager, Algy Fuller, whilst being conned herself by Arthur (Jos Vantyler) who in turn better watch out for his assistant Jack (Jordan Metcalfe) and girlfriend Lisa (Kat Rose-Martin). Throw in antiques dealer Gwen (Jacqueline Naylor), a farmer, Martin (Jim English), a bank clerk Ruddle (Matthew Booth), and a 'visitor' Teresa (Sarah Parks) and you're in for an enjoyable evening of farce enriched with a healthy dose of 'Yorkshire-ese' under the direction of the great man himself.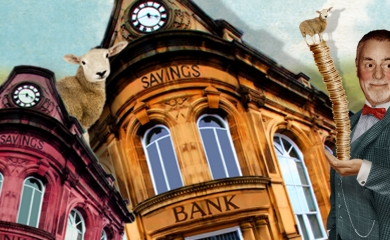 There were strong performances from all the cast and the closing dance skit deservedly served to send Rutter on his way with this his last tour with Broadsides. For those who don't know, Rutter resigned as artistic director in July following news that The Arts Council had decided not to increase the company's funding – a bizarre decision given its fantastic record over the last quarter of a century in giving regional theatregoers the opportunity to hear their own accents on stage, and all the more bizarre given where some of the funding did go. As this production goes to show, you just can't trust anyone any more.
This was Broadsides at their best doing what they do so well – top notch entertainment for the masses which is rather fitting given the background to the piece. I must note Potts' mesmerising stage presence which draws you in throughout on her Broadsides debut and I look forward to seeing her in future productions. Conrad Nelson's musical score supports the action and much credit too for choreographer Beverley Norris-Edmunds with some intricate routines and designer Jessica Worrall.
Rutter will be directing one final production – The Captive Queen – at Sam Wanamaker Playhouse, Shakespeare's Globe with breaking news that he will now be playing the Emperor – not to be missed.
The Playhouse began life as the Star Music Hall in 1866 and became a theatre in 1911. In 2000 the Playhouse joined forces with the Everyman to become Liverpool and Merseyside Theatres Trust (LMTT) with Gemma Bodinetz (Artistic Director) and Deborah Aydon (Executive Director) appointed as joint Chief Executives in 2003. As well as the main theatre, there is a small studio space seating up to 80. Further details http://www.everymanplayhouse.com/
For Love Or Money is a touring production from Northern Broadsides and it performs at the Playhouse through to Saturday 25th November. Tickets available via https://www.everymanplayhouse.com/whats-on/for-love-or-money or the Box Office on 0151 709 4776.
Details of other venues and booking information can be found at http://www.northern-broadsides.co.uk/
Reviewer: Mark Davoren
Reviewed: 21st November 2017
North West End Rating Rating: ★★★★★