Cracked, written by Sarah Thornton and directed by Abi Horsfield, is part of a Transitions project from Collective Encounters providing professional arts services to those with experience of homelessness, recovery, and/or mental health issues across Greater Merseyside, and through their involvement, participants develop personal confidence and performance skills.
The piece is directly aimed in response to the increasing levels of violence and hate crime committed against homeless people throughout the UK, the demonisation of the poor by government policies, and the misreporting so prevalent in the media. More importantly it challenges our perception of who the homeless are: each and every one of us, through a moment of misfortune, may only be 2-3 payslips away from joining them, a fact which this production purposefully demonstrates as it asks if you can recognise someone from tonight's performance.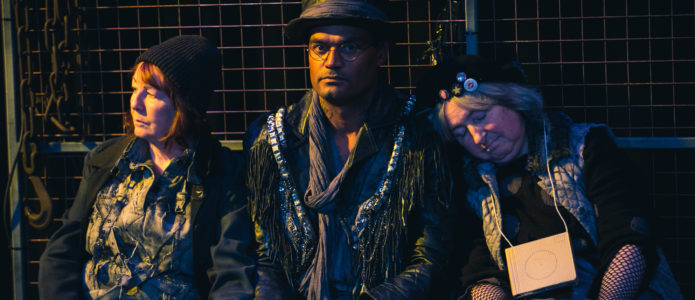 We are greeted by a chorus (Liz Rice; Jane Pratt; Val Burton; Sheree Kingston) before Kingston vocalizes issues through song whilst Rice narrates the action that unfolds as our ensemble (Tim Bowman; David John; Francis Marnell) lead the way in a true steam-punk style exposition (with much credit to the set and costume design of Frances Heap) of the hustle and bustle of daily life that often means we fail to see what lies before us yet for those who do literally lie before us, time has stood still.
Through characterisation, we see the folly of modern media as gameshow host Tommy Taylor (David McIlwraith) takes contestant Sam (Wayne Doswell) through the inevitable prize-winning questions with a little help from the audience. The answers are not pleasing: 150,000 young people are homeless or at risk of becoming homeless; the well-off on average live 35 years longer than someone who is homeless; the life expectancy of a homeless woman (43) is less than that of a homeless man (47). And the shocking fact that in our society, a person who miraculously finds that inner strength to leave a domestically violent relationship is more likely to find themselves homeless as a result rather than being supported. Where did we go so wrong?
Further characterisation sees Phil (Brian Shortall) pressured by the economic demands of shareholder value into laying off staff; shift worker Barry (Keith Barber) working hard to put food on the table and worrying for his young daughters' future; whilst Michael (David Roberts), a carer who has sacrificed much already, finds himself cast adrift due to a cruel twist of fate. When their stories converge we are gripped with a harsh, horrible, and hard-hitting headline – but one that still gets reported the wrong way. Do any of us know what the real news is anymore?
A Q&A session followed tonight's performance and I like the idea of a future paired production with a second half focused on hope and looking forward: it's bad but it doesn't have to be. I'd also put the politics slightly to one side – good moral beliefs and character shouldn't have to wear any badge.
I'd like to give a special mention to BSL Interpreter Dionne Thomas who wonderfully signed tonight's performance.
Cracked next performs:
Monday 27th November – Halton Lodge, Runcorn, WA7 5YQ
Wednesday 29th November – Huyton Library, Civic Way, Knowsley, L36 9GD – 1.30pm (Schools show) and 7.30pm
Thursday 30th November – Albion Electric Warehouse, South Accommodation Road, Leeds, LS10 1PR. – 7.30pm
Collective Encounters is a professional arts organisation specialising in theatre for social change through collaborative practice. They use theatre to engage those on the margins of society, telling untold stories and tackling the local, national, and international concerns of our time http://collective-encounters.org.uk/
Reviewer: Mark Davoren
Reviewed: 24th November 2017