Have the Unity done it again – or have they over-done it: bitten off more than they can chew with such an ambitious production? Rest easy. By and large, another successful Christmas show whose message, encompassing environment and displacement, is subtly and effectively made.
So welcome to the jungle, the stage festooned with creepers and decorated rather precisely with three rocks in small, medium and large. That Panto stalwart, audience participation, kicks in right from the start, and fortunately, the unfortunate child ordered on stage to perform by the capricious Monkey King, enters into the spirit of the thing - as does the entire audience.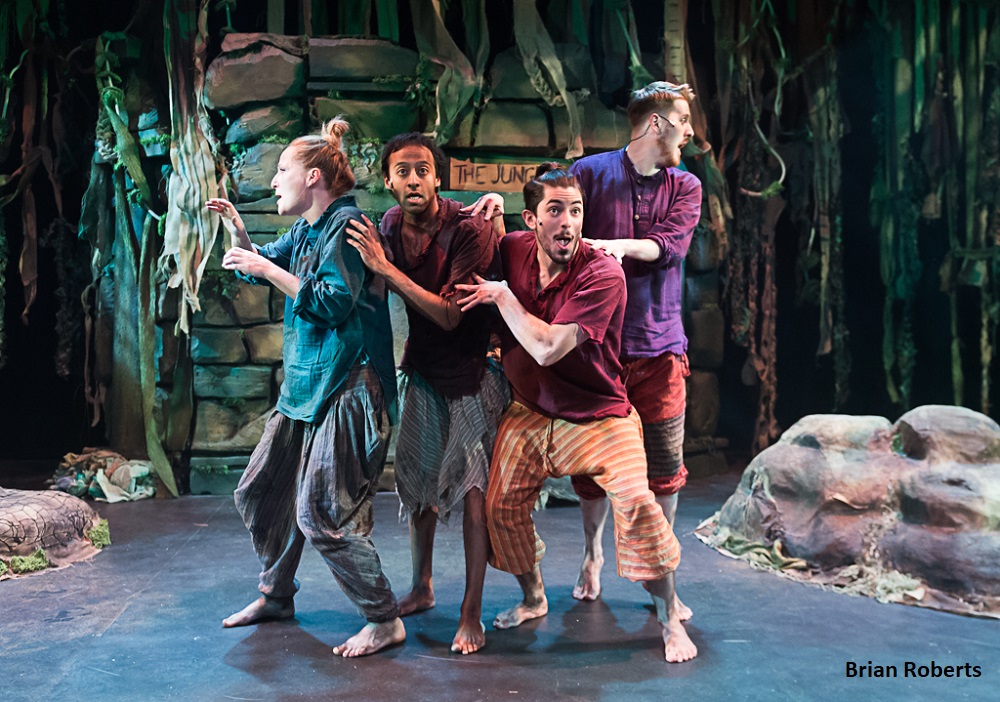 The all singing, dancing cast are all full of energy and enthusiasm. Asif Majid makes Mowgli as intrepid a hero as you could wish for' strong headed, yet compassionate. Raised by wolves, as Eddie Izzard has it, quite literally here, he needs to escape the villainous Shere Khan, and go back to the world of Man, with its dreaded 'red flower'. He is taken under the wing, as it were, of Balou: Joe Shipman, garnering a bellyful of laughs, is both bumbling and brave. Bagheera (Fionnuala Dorrity) also helps to keep an eye on Mowgli, although it has to be said, anthropomorphism doesn't depend on quivery tones, which tend to jar with the bolshie attitude and athletic movement of a panther, or of a monkey.
After escaping such vicissitudes as the Monkey Palace and being the victuals for Kaa the snake, once Mowgli reaches the village, he is taken in by a kind-hearted woman. Feeling impelled to return to his friends, it's his sojourn with his own kind which enables him to defeat Shere Khan.
The latter alas does not look as fierce some as he sounds and acts, Samuel Perez Duran being hampered by an enormous cartoon like head, almost like advertising breakfast cereal. Another false note is the use of puppets. It works well with sinister Kaa and the cute rat (mouse?) in the village but with those used to depict the three main characters pursued by Shere Khan, in fear of their lives, it simply defuse the tension.
Nonetheless, in the end, it really is a Jungle out there, in this loving, lovely adaptation. Delightfully good humoured, you could deem it King of the Swingers, soaring high above the usual pantomime. Yet again, the Unity deserves the roar of the crowd.
Reviewer: Carole Baldock
Reviewed: 5th December 2017
North West End Rating: ★★★★