As we bring in 2018 we all use that common phrase "New Year, New Me" to make ourselves feel better, and some of us might even (if we could) sell our souls to the devil as temptation grabs us once again throughout the coming year. Just like Christopher Marlowe's classic tale Doctor Faustus, about a man who sells his soul to the devil and that is what 'Off Topic Theatre Productions' are displaying at Liverpool's newest fringe theatre The Casa to start 2018 in classical dramatic style and, to say it is their FIRST production as a company I had an enjoyable experience.
I have to admit that I entered The Casa full with trepidation as Doctor Faustus is not a play that I know very well but there was something exciting regarding the feeling of a blank canvas for Off Topic Theatre to paint.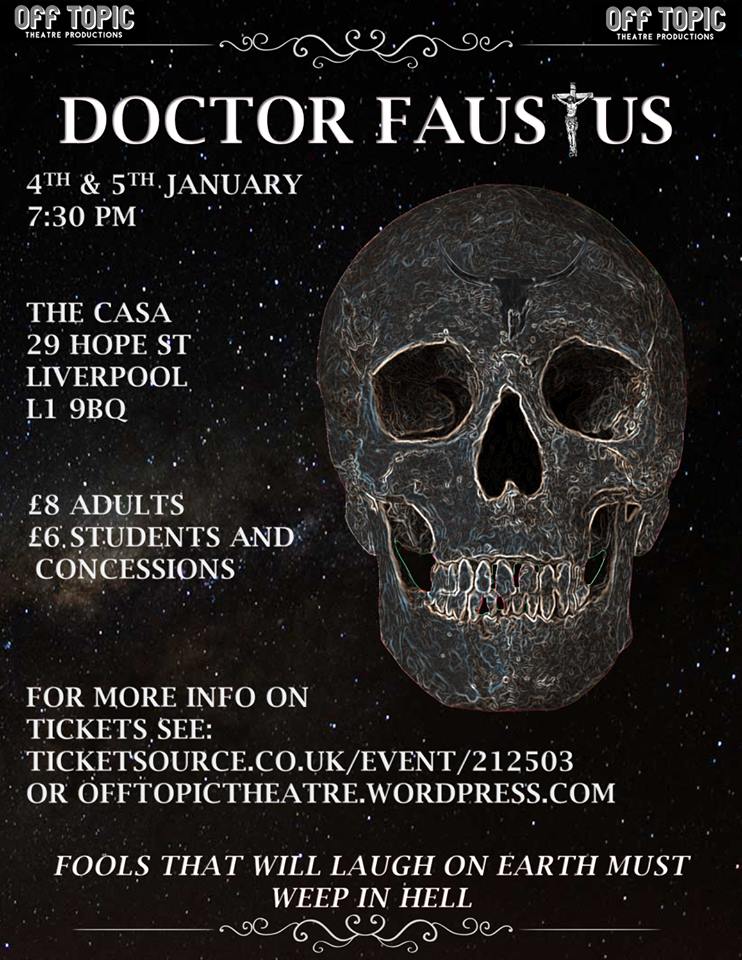 Proving that sometimes less is more we was greeted by just a table, where Doctor Faustus was sat as we entered, and a few items placed on it including books, candles and water. Accompanied by a perfectly sinister tuning which set the mood brilliantly. It has to be said that the development of the story throughout was good and I felt mainly engaged in the journey of Faustus and Mephistopheles including some good strong scenes including the summoning of Mephistopheles, the seven deadly sins (which was portrayed very well in particular Envy and Sloth which both provided a laugh to the audience) and the final death scene.
It has to be said that the ladies won the battle of the thespians personally tonight for me, even though the protagonist is male. Neve Kelman, who portrayed the Evil Angel excellently deserves a special mention for her commitment to character throughout the play. Even when the focus wasn't directly on her, the physicality she portrayed made her a stand out in this performance. Lorna Elvin, provided a fantastic comedy performance adding light and humour to the dark tragedy and I would love to see this young lady develop her comedy value even more in further productions. The casting decision to make the demanding role of Lucifer a female was something I questioned, in the 21st century it is fantastic to see both sexes jump into roles and although it was played well I felt the presence and demand that Lucifer needs was lost in her beauty and feminine ways. Clayton Travis who portrays Doctor Faustus gave 100% in all of his scenes, his dramatical pauses and diction has to be commended throughout, it's a strong male lead but unfortunately it wasn't strong enough as some of the women within the cast. I think at the start of the production some nerves where understandably felt and a few stammering of words occurred but maintained well by the actors, hopefully tomorrow's performance of Doctor Faustus we see them more relaxed and calm with the projection of some lines.
I think that with a little tweaking here and there from Off Topic Theatre Productions, we can expect some promising work in the future especially if they continue to make as strong casting decisions as they have for this production as a whole. I personally would like them to see them develop something more modern next to see the contrast from their first production or them take on Richard Brinsley Sheridan's 'The School for Scandal' to incorporate more of the humorous element. But, a promising start from a promising company. Doctor Faustus continues at The Casa tonight.
Reviewer: Daniel Cox
Reviewed: 4th January 2018
North West End Rating: ★★★