Jersey Boys is a musical with a documentary style narrative which recounts the career and life of Frankie Valli & The Four Seasons right from the beginning and takes us on a journey through all of the trials and tribulations the boys faced with an amazing soundtrack to accompany it.
Using their name as inspiration, the musical is structured as the four seasons, with a different member of the band telling the story from their point of view. The idea for the musical was originally conceived in 2000 by Bob Gaudio, an original member of the group, and since then the show has gone on to achieve huge success by winning several awards and being made into a film.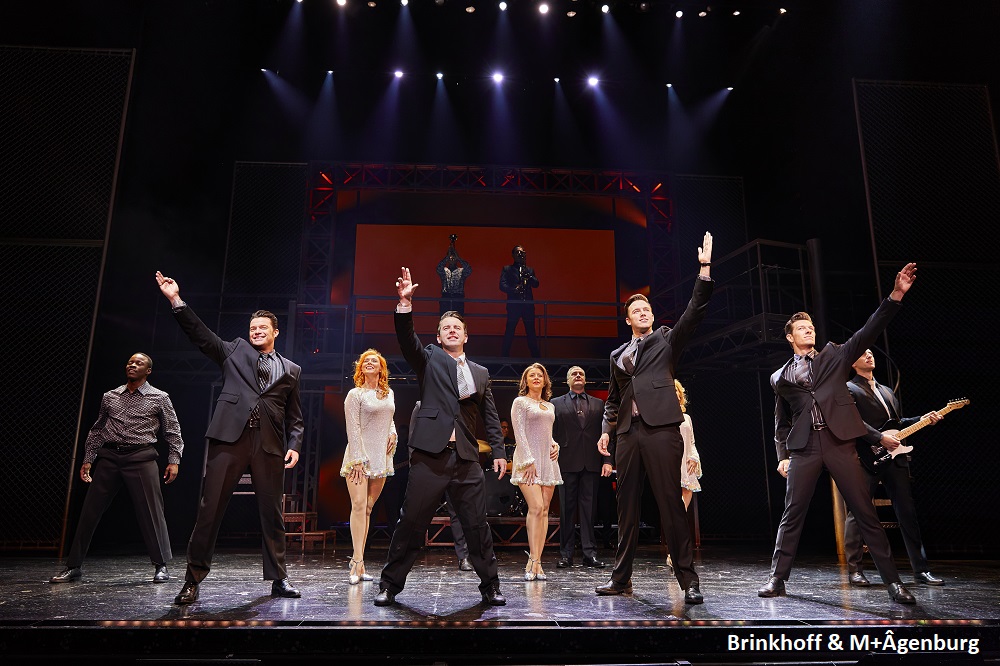 It is hard for a musical such as this to disappoint because Frankie Valli & The Four Seasons discography is nothing short of impressive. If you haven't heard of Frankie Valli, you've certainly heard one of his groups songs before and as an audience member you find yourself in disbelief that you'd forgotten just how many hits the group had. With great live music on stage played by the members of the group, the melodies transport you into the world of the Jersey Boys and you can't resist tapping your feet and singing along to hits such as 'Sherry', 'Big Girls Don't Cry', 'Walk Like a Man' and many more.
Michael Watson takes the role of leading man Frankie Valli and does justice to Frankie's notoriously difficult vocal range and ability. Watson is pitch perfect and appears to never tire, which is impressive considering the amount of singing he has to do when on stage. Simon Bailey as Tommy Devito is also a very entertaining performer and narrates his side of the story very convincingly with great comedic timing, although there were a few moments at the beginning when it was hard to hear him due to mic issues.
The set is nothing special and lacks the wow factor, however it functions practically to assist the narrative and is representative of the projects in New York where they're from. The storytelling that comes from the members of the band is initially very interesting and marries with the music very well, however in the second act there is a sense that the musical starts to drag and is about 10 or 15 minutes too long. Despite this, the musical numbers that it finishes with picks the energy right back up and the Liverpool crowd couldn't resist a sing-and-dance-along and a well- deserved standing ovation for the performance. Jersey Boys is at the Liverpool Empire until Saturday 20th January so grab tickets while you can!

Reviewer: Sarah Goldsmith
Reviewed: 11th January 2018
North West End Rating: ★★★★