Huge, huge fan – of the remarkable Tim Firth, so I have to admit, it was kind of a relief to find this is not in fact the biography of Take That: should have done my research, my companion admonished me. Oh yes indeed; we spent long enough trying to remember the name of the fifth member, but we'll spare their blushes. And ours. Anyway, you could hazard a guess about the writer from the clever title: the production revolves around a group of schoolgirls, bound together mainly as fans of the band, only to be driven apart by tragedy.
The dialogue is sheer delight and laugh out loud in places, beautifully matched by the plot. We're all well aware that Tim Firth can do, shall we say, ladies in their prime; he is also uncannily adept with young ladies – and we've all been there which is just why this works so well. Here, he has his way with both, as it were, and what a way to display your skills. So tempting to give examples but no wish to spoil the surprise; I keep being drawn back to the word 'delight'.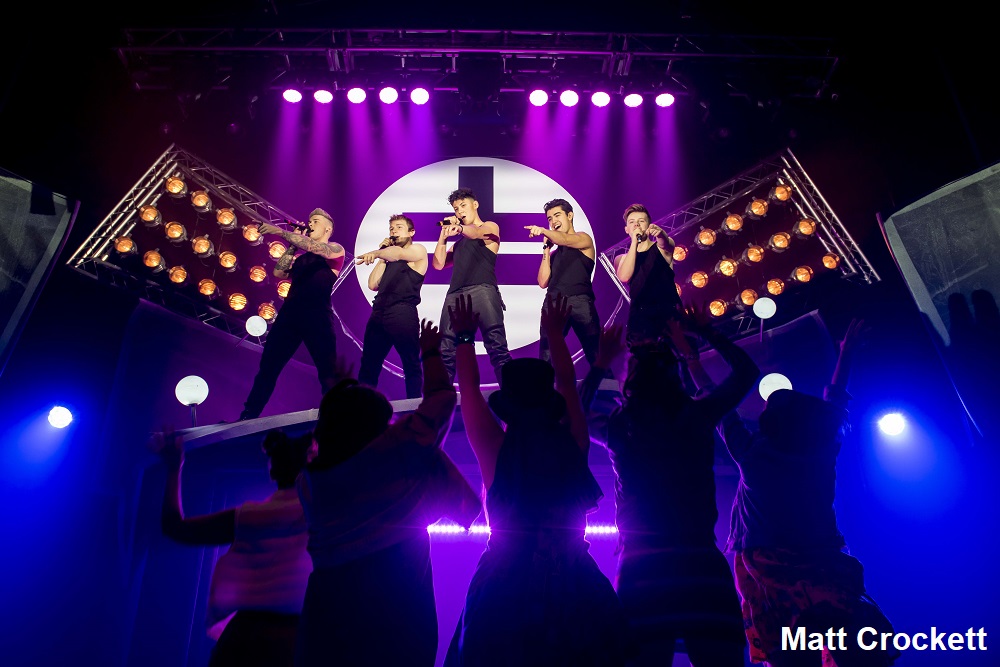 The show opens with Rachel, Heather, Debbie, Claire and Zoe, at the time of their very first Take That gig; with all the implacable confidence of teenagers, they know exactly where they are going and what life holds with for them. And Tim Firth, God bless him, has no qualms whatsoever in venturing where the pc crowd would have a hissy fit and flounce off, ordering everybody else to do the same.
The music complements the play beautifully, even utilising occasional snatches of song, and Five to Five really are terrific. Other than mime, e.g. airport staff, they're there to look and sound gorgeous, dancing too, and they do a splendid, and indeed, acrobatic job; the staging of samples of the concerts are some of the highlights. Similarly, effects like a precarious hill-top and the airport/airplane etc. And although video projections are commonplace, it's a nifty idea to arrange the screens like fanned out playing cards, eg, transformed into stained glass to suggest a church; at other times, used as perches for the band to oversee the action. They tend to pop up everywhere, in another clever move.
Tim Firth is also to be thanked for mercifully elevating the girls beyond archetype/stereotype – a bit like the Spice Girls, but including a swot. As a result of such writing, each one of them deserves the audience's wholehearted sympathy, although that said, one major scene almost fell flat, handled Greek Chorus style; it could otherwise have had as much impact on the audience as it does on the girls.
And what girls, mirroring the band with their fabulous voices, in a class of their own, with acting; such poise, such talent. Faye Christall made a sassy heroine, Rachel, with Rachelle Diedericks as her inspirational best friend, while Sarah Kate Howarth, potential champion swimmer, Claire, overflowing with acerbic one liners, ran her a close second as far as the audience was concerned, Naughty Heather (Katy Clayton) and brainy Zoe (Lauren Jacobs) turn out to be successful, each in her own particular way. As for the chaps, Martin Miller does a great turn as Rachel's Jeff, whether serious or silly, and Andy Williams, excellent in a variety of cameos, has the pleasingly succinct description, Every Dave
Yes, should have done my research (I was sure they would play 'Things can only get better'...) but I can tell you straightaway, this is a real find – unmissable.
Reviewer: Carole Baldock
Reviewed: 23rd January 2018
North West End Rating: ★★★★