This is a well-deserved revival of Jean-Paul Sartre's infernal triangle, under the direction of Andy Kerr, perfectly capturing Sartre's existentialist philosophy as we are ushered into a 'Second Empire' drawing room by an unnamed Valet (Saoirse Crean) which turns out to be a chamber of hell. Written in 1943, when the Nazi's occupied Paris, this was a time when it was incumbent upon individuals to carve out their own morality and take full responsibility for their deeds and omissions.
First in is Garcin (William O'Neill), a pacifist journalist who awaits the instruments of torture whilst wondering where are the necessities of everyday life? But there is no food, no drink, and no bed - for there is no sleep. There are no mirrors to see oneself. There is no switch to turn off the ever-burning light.
The next arrival is Inès (Eve Smith), a man-hating lesbian with a sharp tongue who initially believes Garcin to be her torturer. But how could he be? Then smartly dressed Estelle (Becky Downing) appears and our ménage is complete. The door is secured, the bell doesn't work, and this is eternity.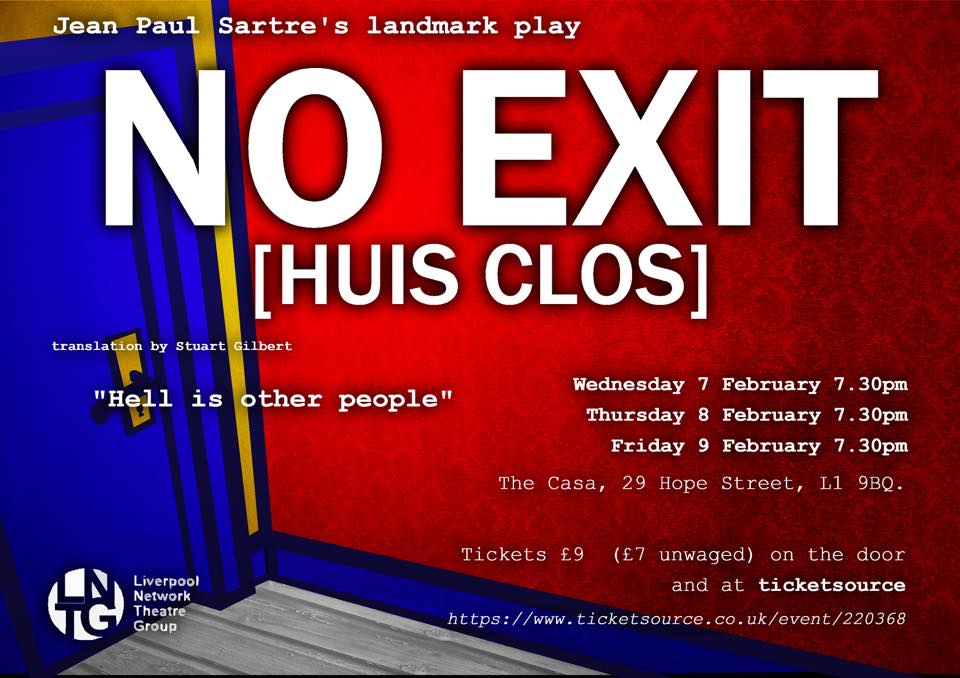 Gradually we discover why they deserve to be here as their truths unravel through their observations of an ever-dwindling window on to their old earthly world and some beautifully crafted monologues. Confronted by the reality of their situation, any attempt to escape is hindered through their own confrontations and realisation that 'you are - your life and nothing else'. As Sartre concludes: Hell is other people.
This is a powerful production that mesmerises, goads, and draws laughter in equal turn. You can't help but dislike the characters whilst inwardly looking at yourself and wondering: 'what if'. That takes powerful writing but equally strong playing from all four actors. O'Neill captures the brooding intensity of Garcin throughout; Smith's Inès is perfectly aware and suitably manipulative; Downing's Estelle is all high-society siren from whom it's hard to look away. For what is a minor role at the beginning of the play, and with few lines, Crean is to be commended for her knowing and menacing portrayal of the valet.
This is a nightmare well worth seeing, in an afterlife that transcends all belief systems, and forces us to confront the consequences of our behavior. When you wake up the next morning, you may just approach the day differently as a result of seeing this play.
Liverpool Network Theatre Group was set up in 1984, born out of the idea of theatre as a political force, with the power to change society for the better. Currently, the group stages three productions per year. Further details on the group including upcoming productions, rehearsals and workshops can be found on their website www.liverpoolnetworktheatre.org.uk
The Casa Bar and Venue at 29 Hope Street is at the heart of the University/Theatre district. Further details available at http://www.initiativefactory.org/
No Exit (Huis Clos) continues its run at The Casa on 8th and 9th February at 7.30pm. Tickets are £9 (£7 unwaged) and available to order via https://www.ticketsource.co.uk/event/220368 or on the door.
Reviewer: Mark Davoren
Reviewed: 7th February 2018