Gheko presents The Wedding, created by Amit Lahav, produced by Rosalind Wynn and associate director Rich Rusk. A first for me in many ways this evening, first time watching a Gheko production, first time I've heard of the play and the first time I've ever watched a piece of theatre that wasn't primarily in English language.
On entering the theatre tonight the curtain was already open and we had music playing quietly in the background, I assume provided by the theatre because it was very nice and not fitting to the genre at all.
This evening was very strange, and in parts it felt like I had wandered into a theatre in somewhere along the lines of Israel whilst on speed (obviously I can only assume that's what it would feel like)
Over ninety percent of the text I didn't understand, parts were definitely Spanish and I think I heard French, and Arabic, but could be wrong.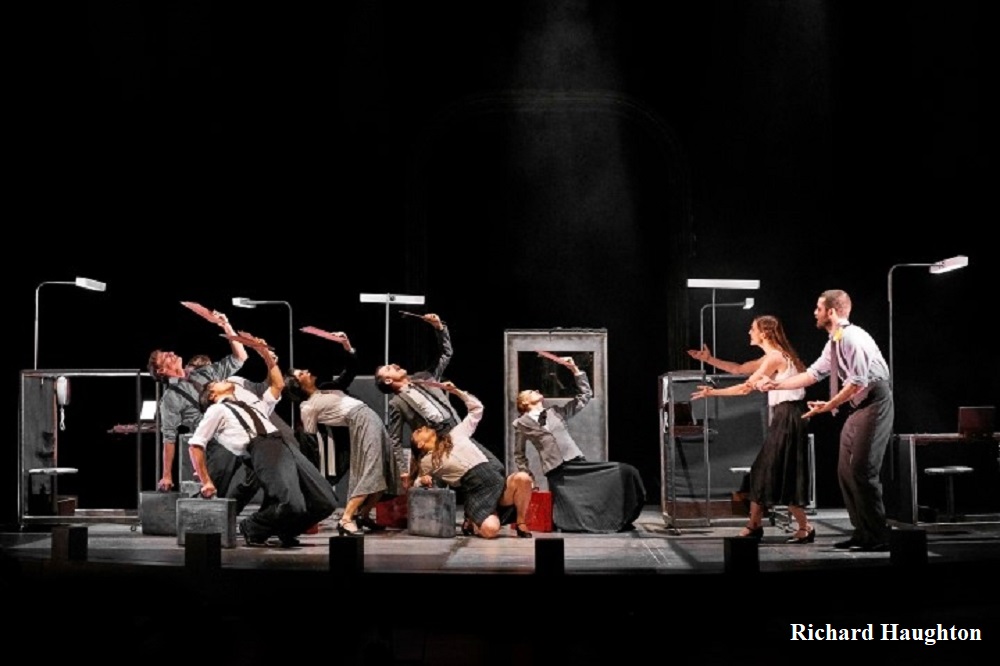 Various elements I did not understand but that doesn't mean that I didn't enjoy the performance nor that I didn't appreciate just how talented the cast members were. The production aspects were creative and amazing. Very tight crisp choreography, and wonderful dancing from the whole team.
One element of physical theatre I particularly enjoyed involved the actors holding various item on long sticks, for example a telephone and a pillow, the scene took place entirely in the dark whilst other actors held torches in place so we could see only the performer and the items.
Costume Supervisor Gayle Playford gave us some fantastic bridal dresses, particularly for the cross dressing gentlemen!
I was glad it was a shorter play, it started at 7.35 and was finished before 9pm. This was enough for me, and in fact I would've been tempted to add an interval. I had started to switch off a little towards the end as some of the choreographic sequences just seemed to drag.
We finish with the entire cast sitting in a straight line across the front all on chairs with lamps above, a great moment of unity from the ensemble incorporating vocal harmony, rhythmic clapping and a lot of passion from the talented team.
With original music by Dave Price, no live musicians in sight but a list of musicians in the programme, so maybe pre-recorded. Also clever use of surround sound speakers throughout however I couldn't hear very well. The balance of microphones to music wasn't quite right.
It was unlike any piece of theatre I had ever seen, very strange, and I wouldn't recommend it to a theatre novice, I did notice a couple of people leave mid performance, as it probably wasn't what they expected, I thought there'd be more moments of comedy, but only a few things really stood out as being funny, In one moment we see a family and mainly a young man, appearing from out of a small travel suitcase, a light comic relief from such a thought provoking piece.
For all the negatives I've mentioned, I have to say there was something infectious about the play. Visually it was a masterpiece, but I feel it lacked a clear cut understanding of what was going on, because even though I'd read the programme and understood it was about a ceremony of marriage and belonging and longing for community, I still struggled to grasp the concept, whilst watching the piece. I also feel that a warning about the language wouldn't go a miss.
Devising Performers: Fionn Cox-Davies, Chris Evans, Madeleine Fairminer, Anna Finkel, Lucia Chocarro, Katie Lusby, Ryen Perkins-Gangnes, Louise Tanoto, Uros Petronijevic, Dan Watson, Kenny Wing Tao Ho.
Performances continue in Liverpool up until 24th February.
Reviewer: Rebecca Casey
Reviewed: 21st February 2018
North West End Rating: ★★