Stella Melia's 'A Leg of Lamb', under the direction of Kevin Foott, opens with mother, Maggie (Kate McAuliffe) preparing presents on Christmas Eve with the sound effects of three young boys trying to stay awake in the background, harnessed in solidarity by excitement of what the next day will bring them, with the gentle threat of a returning father keeping them in check.
Fast forward some thirty years and the situation has become very different but equally recognisable. In place of Christmas we celebrate the Queen's Jubilee as Maggie, with very much the assistance of daughter-in-law Linda (Kate McAuliffe), prepares her contribution to the celebratory street party, but more importantly for the returning family. Son Dave (Steve Smith), estranged husband to Linda, and their son Adam (Morgan Hughes), provide a working class take on family and the importance of connection, whilst highlighting the contradiction between what is said and what is done. Youngest son Lawrence (Mike Sanders) is the forever dreamer who society has passed by – or has he just chosen to pass it by? – as he strums his guitar to his own philosophy.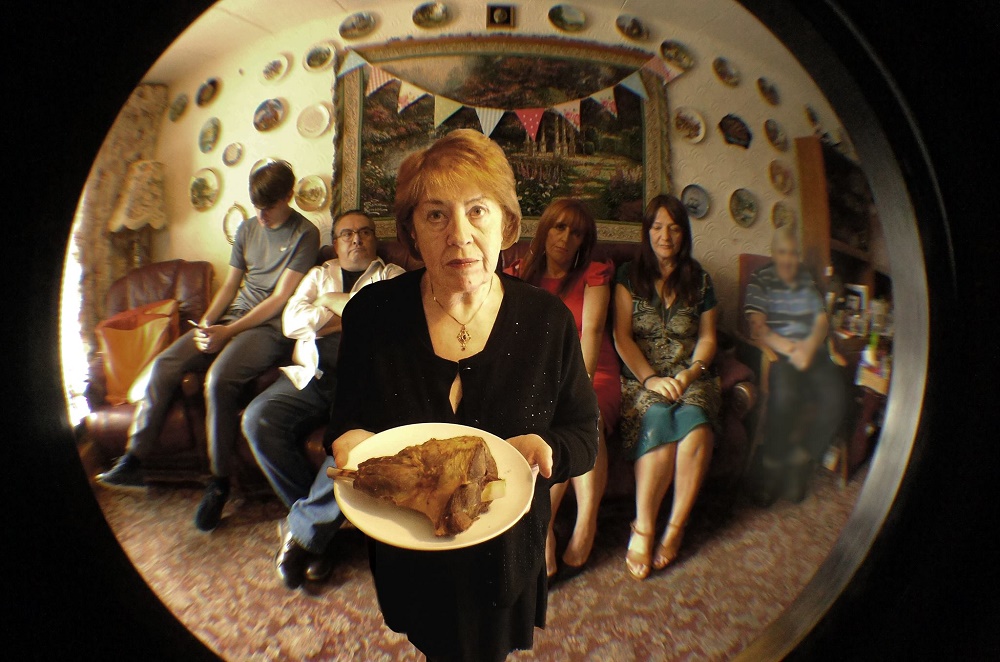 But it is the prodigal son, the oldest, Stephen (Liam Murphy) who chose to leave and pursue a different dream, and his return with soon-to-be wife Rebecca (Sara O'Connor), very much a product of the Oxford-set, that is about to reopen old wounds as well as scoring some new ones in the process, as Maggi endeavours to reunite the family as part of a promise to late husband Bill, with a spread to beat all spreads. Sandwich anyone?
Melia presents a cleverly written tragi-comedy that resonated strongly with its full-house audience, its gentle humour carrying the narrative along in a drama that the cast were clearly enjoying being a part of. There were some distinctly Liverpool touches, which had the audiences in fits of laughter as well as joining in the songs, which though perhaps viewing life through rose-tinted glasses, clearly brought back fond memories. Ultimately it is the tale of sibling rivalry and jealousy, missed opportunities and resentment that is at the heart of the piece which perfectly captures the warmth and intrigue of a community.
All the cast perform strongly so it is unfair to single anyone out but McAuliffe, in true motherly fashion, is most definitely the glue that holds the piece together through some wonderfully delivered monologues and interplay, whilst equally from the wings, stage manager Hannah Kelly, seamlessly manages one change of scene after another to varying musical accompaniment, as the tension builds, and events unfold.
The only challenge came from the venue which for unknown reasons did not turn on its air conditioning leaving the audience to melt from their own number and the heat from stage lighting.
A Leg of Lamb was a two-night performance at Unity Theatre, both of which sold out, suggesting that a further run, and perhaps tour, would be in order: it certainly deserves to travel, with some editing, beyond the immediate environs of Merseyside.
unitytheatre is Liverpool's small-scale theatre with big ambitions to showcase challenging, innovative, risky and unusual work. Further details on this and their work with the local community can be found at www.unitytheatreliverpool.co.uk
Reviewer: Mark Davoren
Reviewed: 10th May 2018
North West End Rating: ★★★★