Regal Entertainments presents 'The Salon', the hit comedy which is back once again to entertain Merseyside due to popular demand and previous success. Although it's been nine years since 'The Salon' first hit the stage in St Helens Theatre Royal, tonight proved that this show is still as good as ever with its hilarious characters, endless gags and lots of laugh out loud entertainment.
The show opens with Radio City's Leanne Campbell as 'Carol' having a proper scouse natter on the phone to the delight of the local audience. Carol is soon joined by her two work colleagues; Olivia Sloyan as 'Tia' and Sarah White as 'Sheila'. The story revolves around this trio of strong females and their individual desires and ideas on life. Although Carol is still hung-up on her cheating ex-husband, she believes in true love but Shelia has different ideas for her as someone who truly enjoys the company of a younger man! Tia dreams of becoming a popstar and living a flashy life however the reality is that these ladies need to manage a salon while their boss's relationship and business is in jeopardy. Throw in some camp heartbreak, a frisky local drug dealer, some interesting customers, a clueless new girlfriend and let the chaos unfold!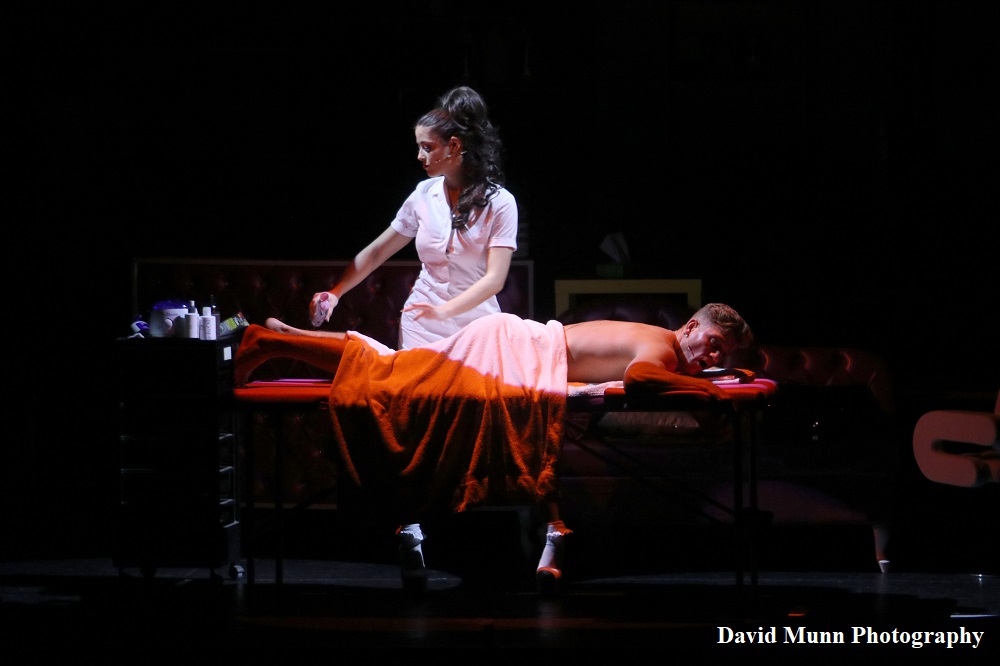 Cleverly written by Drew Quayle, this show is jam packed with fantastic local material that went down a treat with this lively audience. From hilarious 'one liners' to colourful characterisation, 'The Salon' was brought to life through six skilled and confident performers who, to no surprise given their previous credentials, were truly at home on the stage. Highlight performances came from the talented Philip Olivier as 'Tony' who was hysterical during the stripping scene and had flawless characterisation throughout. Sarah White's brilliant crudeness had the audience in stitches as the believable 'Shelia' and the ditzy Olivia Sloyan as 'Tia' added perfect mayhem with her likeable characterisation, especially during the drunk karaoke scene.
There were some technical difficulties during the first couple of scenes and Carol was difficult to hear nonetheless, this was soon rectified and the production generally ran smoothly and professionally. The set was highly comprehensive and a complete feast for the eyes with lots of pink leather and fluffy cheapness bringing the sass and fun that completely fulfils the ethos of 'The Salon'. The costumes were noteworthy, particularly for Peter Amory as 'Neil' who wore some delightfully flouncy and amusing outfits at every opportunity.
This wonderfully funny piece of theatre came together under the clever direction of Sylvie Gatrill who managed to achieve lots of impressive gags (generally sexually orientated) that worked effectively and left a lasting effect on the audience! Upmost praise must also be given to the extensive production team whose talent and creativity did not go unnoticed.
For me, the best thing about this show is the various strong characters who are all unique but equally as entertaining as one another. I feel that the storyline itself was a little slow and I was hoping for a little more drama or twists. However this show is bright, bold and exaggerated in every sense which makes for lots of fun and a good night out! It's a little rude, very crude and totally brilliant! "The Salon" continues at The Epstein Theatre, Liverpool until Saturday the 26th of May. For more information please visit https://www.epsteinliverpool.co.uk/events/the-salon-2/
Reviewer: Bláthíne Maguire
Reviewed: 22nd May 2018
North West End Rating: ★★★★