The production opens with a table bathed in blue light set with ten places, much like the Last Supper by Leonardo da Vinci. Nine masked figures enter, eight are holding wine glasses, with the remaining one has a sword.
Posh is a play by the British playwright Laura Wade. It was first staged at the Royal Court Theatre downstairs in 2010. The play concerns an Oxford student dining club called "The Riot Club", a fictionalised version of the Bullingdon Club. The first production, produced during the British General Election and received favourable reviews.
As the dialogue begins we meet Guy (played by Harrison Smith) and his grandfather Jeremy (played exquisitely by an unlisted actor), who sits on the Tory benches in the House of Lords and is a former Riot Club member. Guy tries to glean ideas from his grandfather, he wants to impress and hopefully have a chance at the presidency.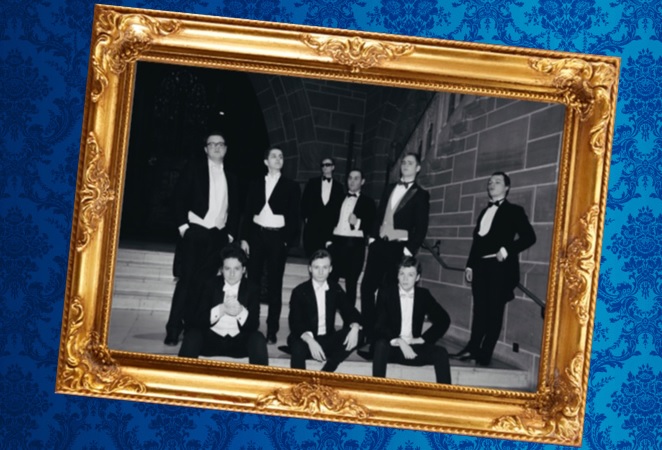 We learn that the Riot Club meetings have been suspended, later we find out this was after an exposé in a newspaper following a drunken confession by Toby (played by Sam Birch). Using a fake group name they have managed to hire a room in a country pub, a family business. The members of the club arrive, some alone and others bringing new members, or maybe even a lover.
Finally James (played by Kieran Mason), the club President, arrives and the meal begins. The meal has an official structure with toasts, and later games, but all of them require a lot of drinking. There are surprises including the "ten bird roast" as the main course and a "bird" of a different variety that arrives through a window.
As the members get increasingly drunk their rowdiness and bullying behaviour greatly increase and in the second act there is a surprise visitor and a violent end to the meal. With consequences for everyone.
All the young actors in this play brought their characters to life, each being unique and yet recognisable. Alistair (played passionately by Matthew Kahn) has particular vitriol about his plight and raises a cry against the poor and the changing fortunes of the privileged in our society.
We see a group of young men enjoying the riotous freedom this club creates but also the tension that some of its members feel when confronted by the 'real world' outside it. I particularly liked the early scenes involving the landlord Chris (Mycroft Milverton) and his daughter Rachel (Aimee Scrath). We see some of the men straddling the two worlds, trying desperately to 'save face' with their fellow members and Rachel.
Tom Martin, the Creative Director of this play, made some great use of music in this performance as well as the more physical aspects of the show.
Overall, a very entertaining play with some very strong language and some strong performances. There are some shocks too but also plenty of laughter - sometimes laughing with the characters but often at them.
Reviewer: Alan Harbottle
Reviewed: 1st June 2018
North West End Rating: ★★★