From start to finish of The Miracle of Great Homer St, be prepared to witness a clever spectacle of a comedy which takes you to all sorts of places you hadn't anticipated.
In short, the play takes place in 1978 and centres around a priest who loves to gamble. He winds up needing a place to stay and gets taken in by one of his parishioners and her non-believing husband. The two men bond over their love of football and the subsequent events take place during the time of that year's FIFA world cup.
Writer Gerry Linford flawlessly delves between humour, politics and morality with his perfectly placed dialogue. This is then expertly performed by the tight knit cast who enthral the audience throughout. Linford manages to use local accuracies which appeal to the majority of the audience and that is reflected back by the sometimes hysterical laughter.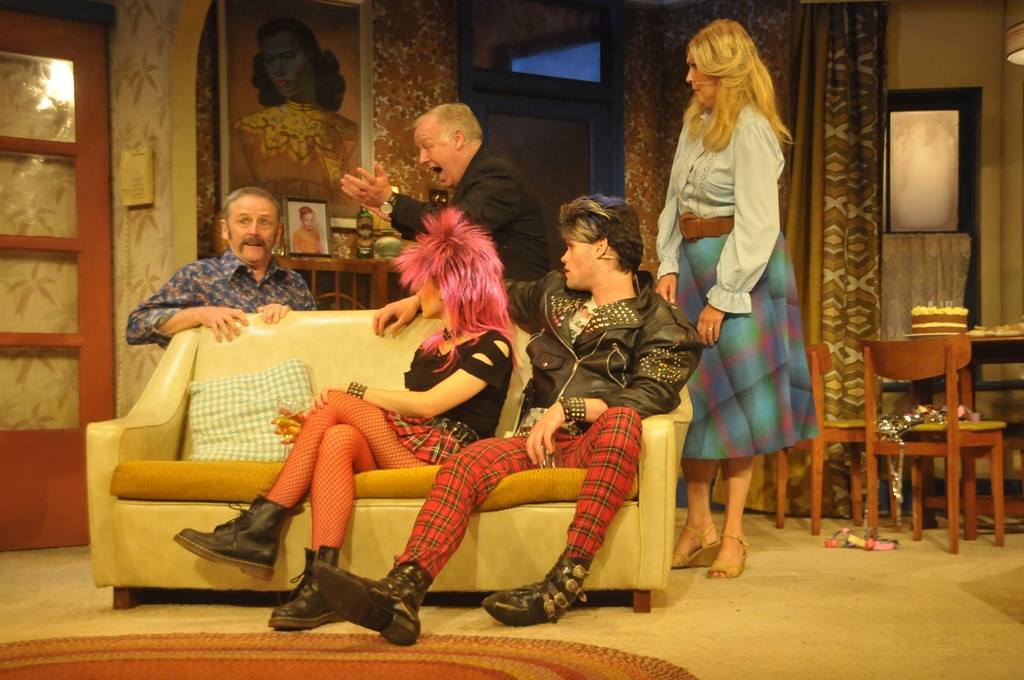 If you're not the biggest football fan, do not let that put you off going to see this production. There is so much more to the story than first anticipated. Personally, I wondered if the content was going to be too niche for a wider audience to enjoy, but I was mistaken. This is the sort of play that can be enjoyed by anyone who is willing to immerse themselves in a time gone by, not so long ago.
The action takes place in a living room setup and is representative of the time in which it is set. From the décor to the furniture, you certainly believed you had gone back to the late 70's. Bob Eaton's clever choice of music that played during scene changes was subtle yet clearly chosen for their relevance to the play. They included the theme tune for the World Cup of that year and Dolly Parton's coat of many colours.
Despite the whole cast showing their obvious capabilities with their individual characters, recognition needs to be given to Andrew Schofield who gave the stand out performance as Terry. Schofield could be ranked alongside any great actor for his portrayal of Terry and personally I was thrilled to see such fine acting being delivered right in front of me. From expertly timed one liners, to hilarious physicality and facial expressions, his authenticity never went amiss and that was no more apparent than in his unexpected scene with Father Aherne, played by Les Dennis, during act two. Dennis, was fantastically funny as the frantic father and it was a pleasure to watch him in this unique role.
Bobby Schofield (son of Andrew) played the eccentric character of Jamie. His role allowed for the themes of the play to dig a little deeper than expected and that only made you invest your attention and emotions more as it went along. The topic of the Argentinian missing people for example gave the play a social conscience amidst all the comedy, and was finely delivered by Bobby with a precise mix of wit and seriousness.
Mother and daughter of the family were believably played out by Catherine Rice as Marion and Katie King as Bella. Their characters brought the normality of life to the play and this was a credit to their understated yet energetic delivery.
Jake Abraham never ceased to make the audience laugh with his scouse version of St Cajetan. The brilliant music and lighting that accompanied his every appearance were crucial and gave a sense of familiarity to the play which was welcomed.
This laugh a minute comedy is ideal for scousers, football fans and anyone with a sense of humour.
Reviewer: Sara Starkey
Reviewed: 6th June 2018
North West End Rating: ★★★★★