A flurry of feathers, glitter, jewel bedecked female dancers are lining up for an army of eager photographers outside Revolucion De Cuba on Liverpool's Albert Dock. You could be forgiven for thinking you're in Rio.
They're here along with a whole host of drummers, dancers and singers to celebrate the launch of Brazilica 2018, which is the annual International Samba Carnival set to take over the city in 4 weeks.
The cultural event is in its 11th year our dynamic host Ngunan Adamu, wearing a stunning African print dress from BBC Radio Merseyside inside DeCuba tells us. And of course what is superbly fantastic is that it's all free.
Carnival grand-dame Maeve Morris who directs the giant celebration informs us that this year's event is certainly not to be missed and promises it to be bigger and better as Liverpool celebrates 10 years of being capital city of culture.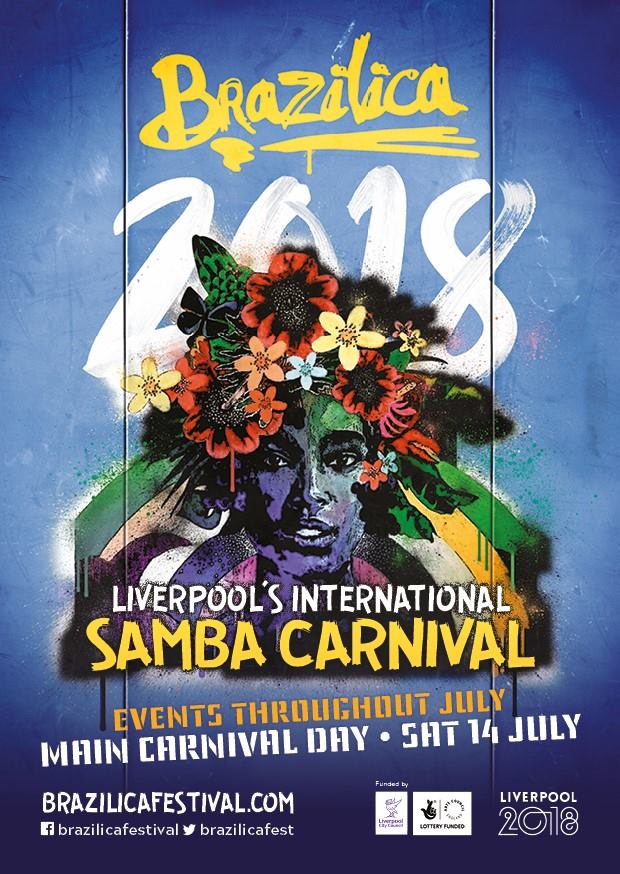 David Silva and Fernanda Laurenco are a duo, who take to the stage to perform tonight, giving a taste of what's to come. David drums with raw excellence and Fernanda dances in a rootsy style getting everyone in the party spirit.
Following is an acoustic set with the charming special guest Lorena Chaves on guitar, hypnotic, soulful beats with a beautiful honey toned voice. To finish is the Liverpool School of Samba drummers, in the coolest costumes, Sergeant Pepper style, who come flying through from behind a curtain with a host of explosive sounds and beats getting everyone dancing.
The Carnival Queen competition is held on 13th July at Circo in Liverpool and if tonight's anything to go by the competition will be tight. The winner gets to lead the night time parade on July 14th. The Samba Livre dancers are limbering up showing all their fantastic samba skills. Costumes are fabulously authentically Rio with resplendent head dresses that reach to the ceiling, vibrant colours, glittery make-up and impossibly high, high heels.
The Brazilica brochure given out tonight is full of all the exciting events and lists all the amazing bands that are being brought over from around the world, introducing Brazilian music to the North West and Liverpool. There's also a list of the artists performing on the main stage at the Pierhead Village Stage from 12-8pm.
Following on from the carnival; is Brazilica film festival (in its fourth year) from 16th – 31st July across the city in various venues and guess what? All screenings are free! Alongside that a Fringe Festival with workshops and a whole host of super exciting events.
If the launch party night is anything to go by it's going to be absolutely spectacularly amazing. The photographers snap away, the dancers samba into the night, caipirinhas are supped, drums are thudding out a powerful hypnotic beat and people are smiling and laughing their cares away.
Previewer: Sarah Foster
Previewed: 14th June 2018