The Play That Goes Wrong is a fast paced comedy which has the audience in hysterics for pretty much two hours straight. A play within a play, a programme within a programme, a thoroughly entertaining piece of theatre.
To begin, the acting starts before the show does with certain characters interacting with the audience in the auditorium. I could understand the idea of this, and it certainly worked to an extent but perhaps this notion could have been introduced a little closer to the actual start time as it did sometimes become a little repetitive. However, once a member of the audience was brought up onto the stage to help in fixing the 'troublesome set', it became a lot more interesting and enlightened us on the style of things to come.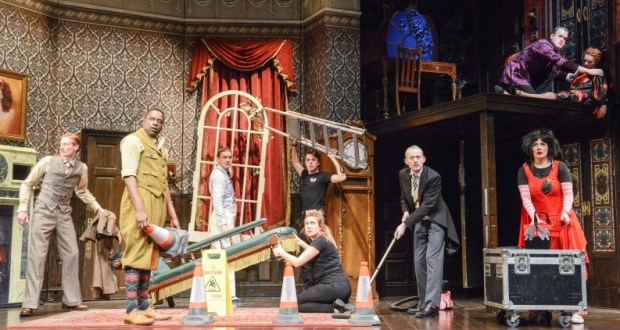 The acting of all characters was something special to behold. The frantic pace for the majority of the play was maintained perfectly and timings were impeccable. The way they timed something exactly right, to make it look exactly wrong, was remarkable – and surely an incredibly difficult skill to master. But, master it they did and every person on (and indeed off) the stage was integral to the success of the show. Each actor had their ordinary character and then their character's character, but it was always easy to distinguish between the two, due to the farcical nature of the play within the play.
Bobby Hirston, who plays Max, who plays Cecil and Arthur the Gardener, was my personal 'star of the show'. His comedic timing was always on form and his facial expressions towards the audience really did have us in hysterics countless times. Louisa Sexton, who played Annie, who played Florence must be credited for her witty and precise performance. Sexton was the understudy for this role and to be performing it on the opening night at the Liverpool Empire Theatre to such an extraordinary standard, makes you wonder why it was not her role in the first place.
Writers Henry Lewis, Jonathan Sayer and Henry Shields have created an astounding piece of comedy for the stage. Director Mark Bell, takes their creation and shows it for all it is worth and more. Never have I heard such laughter from an audience when watching a theatrical play before. It was delightful to feel such a buzz from the audience when the interval arrived, which was welcomed as an opportunity to relax your facial muscles after all the laughing.
The whole production was spectacularly clever. The way in which the set is used is a feat in itself and the actor's interaction with it and each other is something to bear witness to. This farcical, slapstick style show is a must see – especially if you've ever been a fan of Faulty Towers and the likes.
Reviewer: Sara Starkey
Reviewed: 9th July 2018
North West End Rating: ★★★★★