It takes an actor of rare talent to captivate an audience single-handedly. In Bottleneck Daniel Cassidy has shown that talent.
He plays Greg, a 14 year old scouser obsessed with football, confused by girls and looking forward to his fifteenth birthday in a few days when he will be able to see his beloved Liverpool play and his Dad won't be able to ground him anymore.
Using the intimate setting of the Hope Street Theatre, Director Chantell Walker has created a boy's bedroom covered in Liverpool posters where Greg begins his monologue. What begins as the small room soon expands to his whole house and before becoming the whole of Liverpool and beyond. Cassidy's effortless mime and switching between the voices of his friends and family draw the audience in to his colourful world.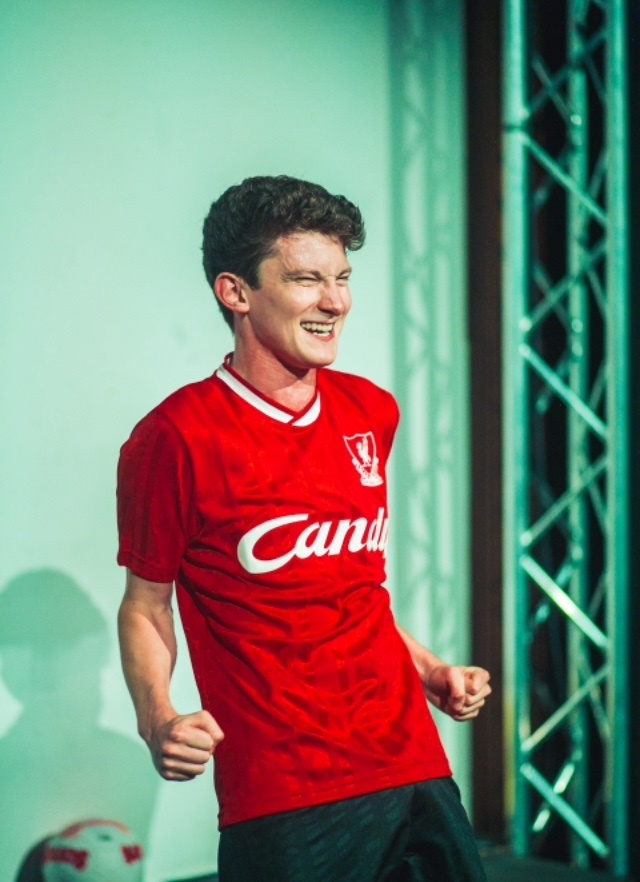 As well as football, there are plenty of other local Liverpool references making Hiding Place Theatre's first production a perfect fit for a debut in its hometown. Place names and scouse slang are used to enrich Greg's world and draw the line between him and his estranged mother. Being a pure red Liverpool fan from "the Boot" means everything to Greg and he would never give that up to live in a "mansion in Crosby".
As the story progresses there is plenty of comedy and laugh out loud moments. Greg's naivety and idealisation of Die Hard and moustaches show that at his core he is a good kid despite his occasional run in with the bizzies. Memories of awkward teenage years resonate strongly and make the character very identifiable. The comedy is tinged with darker elements as Greg learns many lessons which will shape him on his journey towards manhood.
It quickly becomes clear to Greg that nothing comes without hard work, those who work the hardest have the most difficulty, respect is a two way street and true friendship is something that can last a lifetime.
But the pressure in the bottle is pushed to breaking point and soon Greg is trying to find normality in a world filled with insanity. An ominous shadow looms over his life and the city of Liverpool and nothing will ever be the same again.
Playwright Luke Barnes has created a story which will pull you in and not let you go. This is a wonderful example of local talent and a perfect illustration of how brilliant theatre can be created with good writing and direction using only a simple set, very few props and one very talented young actor with an extremely bright future ahead of him.
Bottleneck is on at the Hope Street Theatre until 21st July. You can buy tickets here. http://hopestreettheatre.com/
You can find out more about Hiding Place Theatre on their Twitter and Instagram @HidingPlaceTC
Reviewer: Donna M Day
Reviewed: 18th July 2018
North West End Rating: ★★★★★