Ten years ago the whole world sang out once again to the sound ABBA thanks to the film Mamma Mia, one of the highest grossing films of 2008. This global success, based on the smash hit show which debuted in 1999, was the story of a single mum on a Greek Island and her engaged daughters desire to find her father before her wedding. It had it all - sun, scandal and singing.
Well imagine if the Greek Island was a failed holiday camp called Boogie Wonderland in an island off Wales. The single mum was a single dad, Dave (Andrew Schofield) from Liverpool whose daughter Sally (Hayley Sheen) had been left on his doorstep in a milk box and Sally now wanted to discover which lady from her dads promiscuous past was in fact her mum before she gets married.
If you can then you have Mam! I'm 'Ere!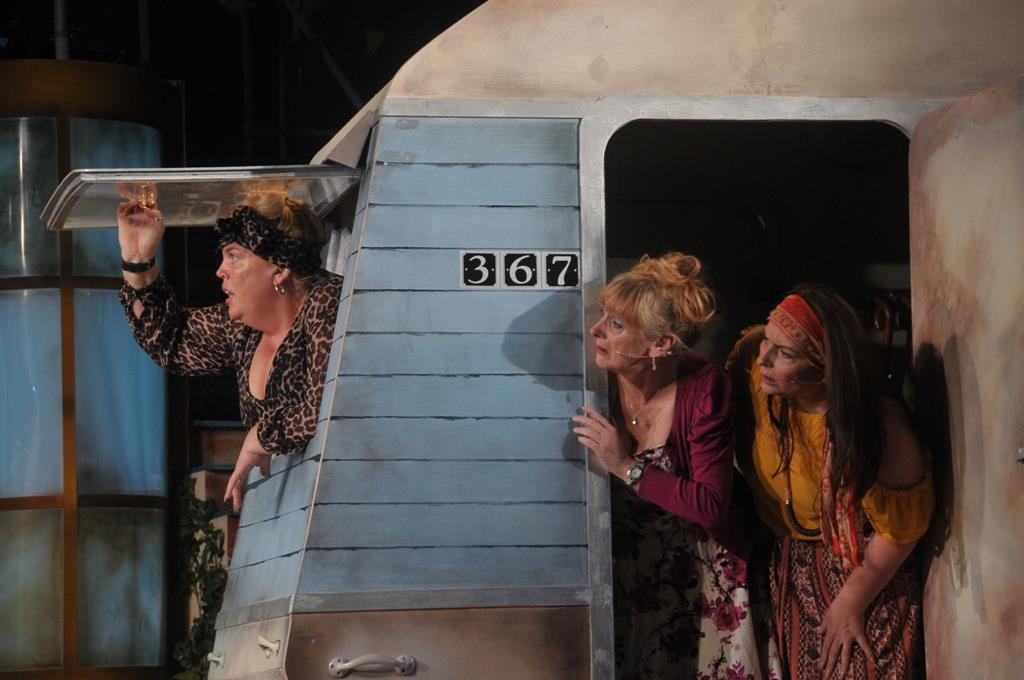 Mam! I'm 'Ere! is the brain child of Royal Court regular Stephen Fletcher. Not only does Fletcher sparkle as bumbling disco diva Alf, but he also wrote, directed and co-produced this play. It feels like a labour of love for the Liverpool performer and it showed. Every moment he made on the stage was done with passion and his enthusiasm was contagious, both for his fellow actors and the audience.
It is a real family affair as well. Michael Fletcher, brother of Stephen stars as Sally's fiancée Si, he was also assistant stage manager and painted the incredible set. As well as the brothers Fletcher, Sheen's mother Lynn Francis played one of Sally's potential mothers Mandy!
The cast, with every member being Royal Court regulars, felt familiar - warm and comfortable but don't let that fool you. The performances were more sit up and take notice than slippers and pipe.
Sheen's voice is incredible, mesmerising and pitch perfect blending seamlessly with the rest of the cast. The three potential mothers - quirky Mandy (Francis), brash Julie (Lindzi Germain) and homely Brenda (Eithne Brown) balanced each other effortlessly and were countered perfectly by sad but proud father Dave (Schofield) and his loyal but ambitious sidekicks Alf (Stephen Fletcher) and Teddy (Jake Abraham). The main cast was supported by the wonderful Disco Divas, Rachel Wood and Mia Molly and the talented stage band.
Mam! I'm 'Ere! is a seventies-tastic, feel good evening. Its light-hearted fun that will get your toes tapping, your hips swinging and your hands clapping as well as the obvious interval discussions about who the Mam is going to be.
Not as much sun, scandal and singing and Mamma Mia, this was more laughter, love and afros! Mam! I'm 'Ere! is a Family Affair that makes a great Ladies Night and by the end of it, You Should Be Dancing.
Reviewer: Helen Kerr
Reviewed: 18th July 2018
North West End Rating: ★★★★