Queertet is the latest offering from Grin Theatre, Liverpool's longest running LGBTQIA fringe theatre company, as an advent to Liverpool Pride.
Consisting of four half-hour plays, we open to Will Cooper's Second Best, directed by James Jarman, where Brodie (Jarman) becomes a surrogate father for friends Cal (James Bray) and Tash (Annie Charnock) whilst exploring what this means to all involved including Brodie's partner Vic (Gerard McLaughlin). This is an interesting piece but tries to do too much in a short space of time and what is left becomes somewhat superficial which is a shame. It either needs to focus on one aspect or preferably develop the play to its natural length as there are some good things here that deserve proper attention.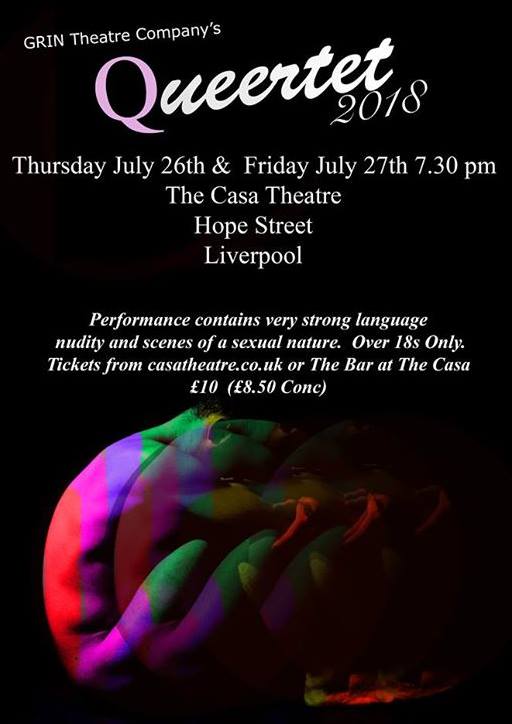 Closing the opening half was Mates Rates by Wes Williams and directed by Nic Smith, where we meet friends Sam (Roxanne Male), Aiden (Daniel Scott), and Mark (Henry Zirpolo), at the end of the break-up party for Mark and Aiden, with comic interjections provided by Aiden's semi-comatose brother, Ben (Dean Horrocks), prostrate on the floor. There were some interesting issues touched upon here in terms of relationships, breakdowns, feelings et al but only after a slow start and I felt the comedy aspects reflected an unwillingness to tackle the subject head on: there is a great duologue between Aiden and Mark fighting to get out, and one that will resonate with many of us irrespective of gender or orientation.
Act Two opens with Stuart Crowther's Things I Can't Say Without Tasting Your Cum, directed by Sean Goss. Appearing nude, Liam Murphy and Leonidas Pan talk us through their past relationships whilst regularly lubing on stage and simulating sexual acts, the apparent irony being that they put underwear on for this part of proceedings. I'm quite open minded about alternative theatre but often find that drama which sensationalises for the sake of it has little to offer when the styling is stripped away and unfortunately it felt like that here. Despite some good acting and timing from Murphy and Pan, the writing was somewhat hit and miss and often lost in the on-stage antics which is a shame because I'm sure there was a meaningful point hidden in there.
Finally, to close the evening was Birthday Girl by Will Cooper and Wes Williams, and directed by Daniel Scott, which introduces us to partners Jules (Daryl Rowlands) and Mel (Jazz Jago), with waitress Alishia Killian providing the necessary distraction to foster some sparring between our couple who are out to celebrate the birthday of Zoe (Abigail McKenzie), Jules' sister. All is not as it seems as we unravel the complexity and relief of gender re-assignment followed by its challenges: at what point do you reveal to a potential partner? As with the second play, the glib humour of some characters got in the way of exploring a topic that may not be familiar to all – and as such demystifying it – as well highlighting the similarities we all face in growing relationships when the mask eventually needs to fall. McKenzie is a strong performer which would facilitate this piece working as a monologue.
The transition between plays was pulled together well by Producer Emily Kelly and Stage Manager Dom Boyle although with a full house on one of the warmest evenings of the year, the venue, without air conditioning, was somewhat uncomfortable, and not helped by three of the plays each over-running by at least ten minutes.
Queertet 2018 performs at The Casa for one more evening on Friday 27th July at 7.30pm, tickets via www.casatheatre.co.uk or on the door.
Reviewer: Mark Davoren
Reviewed: 26th July 2018
North West End Rating: ★★★