Do you remember when you were a teenager and questioned your whole existence? Imagine having to try and figure this out in the 19th Century without Google to answer your questions and your parents don't want you to know the truth to your questions.
Spring awakening, by Frank Wedekind, tells the story of German teenagers, in the late 19th Century, trying to figure themselves out, through finding their sexuality. Dealing with issues such as abuse, rape and even suicide, we hear the stories and troubles of Wendla, Martha, Thea, Ilse, Melchior, Moritz, Hanschen and Ernst. Opening on Wendla Bergmann's 14th Birthday, when she is arguing with her mother over the length of her dress, we see her talking about her imaging death and then asking about bringing new life into the world.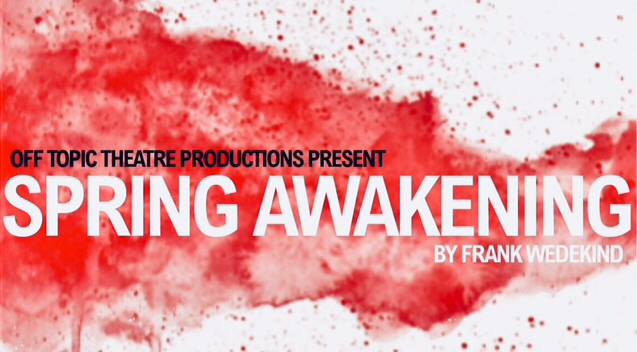 Little does she know that her mother is lying to her and she will find out the truth before she is ready, no thanks to Melchior Gabor. Meanwhile, Melchior is trying to teach his friend, Moritz Stiefel, about the 'stirrings of manhood', whilst Moritz is also fighting his demons and school – related stresses. Their classmates, Hanschen and Ernst figure out their feelings for each other and Wendla learns that her friend, Martha is abused by her father.
Off Topic's twist on Wedekind's play, incorporates a few musical numbers from the rock musical of the same name. The musical interludes break up the deep, dark and at times disturbing story. Joanna Mitton (Martha) was hauntingly stunning in 'The Song of Purple Summer' and the use of Angus Ewing (Melchior) and Lauren Thomas (Wendla) as actor/musicians was refreshing to see. Through the clever direction and Choreography of Lorna Elvin, the cast make great use of the space they have by using a simple, but effective set that could be moved easily to show changes in scenes. Although, at times, speech was difficult to understand, the cast projected themselves very well. It was clear that the young cast have worked hard to put this production together, and Sebastian Romaniuk was truly troubled as Moritz and Meg McKinlay as Ilse played the bohemian aspect well, lurking in the background of scenes, until her poignant moments arrived.
With musical direction by Michael Monument and produced by Amelia Hawkes and Isaac Holden, a good job has been made to keep the subject matter serious, but put a light-hearted edge in, wherever appropriate.
Reviewer: Jenn McKean
Reviewed: 4th August 2018
North West End Rating: ★★★