Flat Pack Music yet again excel with another highly entertaining performance in English, this time of Mozart's classic four-act comic opera with this production from Musical Director Chris Gill and Director Joseph Buckmaster very much played for laughs.
As the day of Figaro (Peter Lidbetter) and Susanna's (Jessica Hope) wedding arrives, it becomes clear that their master, Count Almaviva (David Cane), is keen to exercise his 'droit du seigneur' – his right to bed a servant girl on her wedding night – and they conspire with the forsaken Countess, Rosina (Heather Heighway), to outwit her husband and teach him a lesson in fidelity. Plans however are thrown awry when Doctor Bartolo (Mark Rawlinson), seeking revenge against Figaro for thwarting his own earlier plans to marry Rosalina, tries to force Figaro to marry Marcellina (Imogen Garner), a woman old enough to be his mother, much to the amusement of Don Basilio (Joseph Buckmaster). As if things couldn't get any worse, the amorous teenager Cherubino (Serenna Wagner) pitches up infatuated by anything in a skirt, followed by the young Barbarina (Isla MacEwan) who is equally infatuated with him.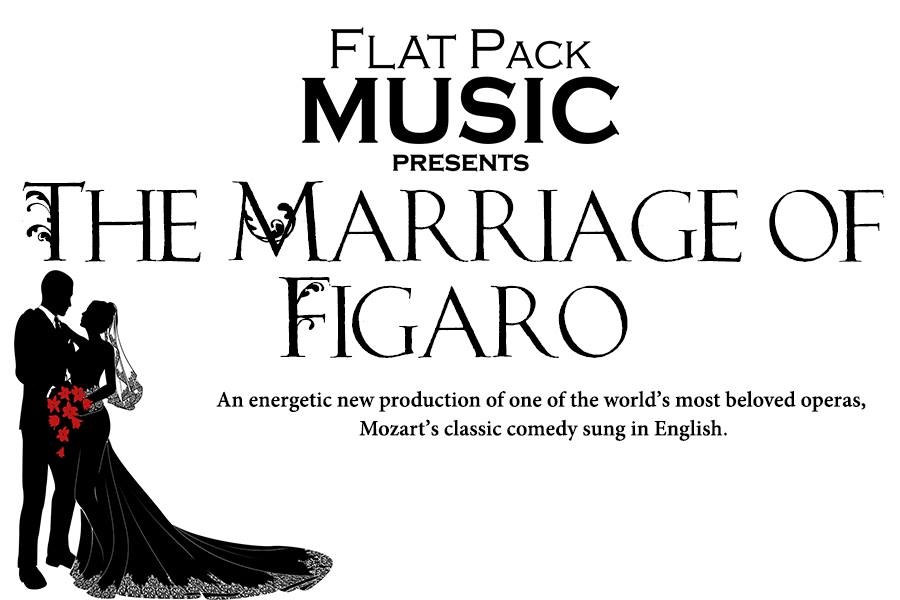 With a little doubling up and chorus support from Atie Doesberg and Joan Ireland, a myriad of twists and turns follow as deception counters scheming and misunderstandings foil conspiracies as the plot delightfully unravels.
All the cast performed well with very strong harmonies, notably in Act Two between Cane, Heighway, and Hope, before Lidbetter perfectly added to the mix leading to a powerful finale to the opening half, the perfect prelude to the conclusion of Act Four involving everyone as they sang 'we are so happy' as they could 'celebrate all night': the audience were certainly very happy and celebrated with rousing applause. Hope and Lidbetter stood out with both excelling in song and comic acting. A special mention for MacEwan who in a minor role burst onto the scene with a depth to her voice that belies her younger years, one to keep an eye on.
There is more to opera than just singing and the comic aspects were well-timed along with some superb choreography by Hope – one could almost feel those slaps – and delightful dance arrangements. St Mary's Church, Eastham dates from 1152AD making it an ideal as well as intimate venue to perform in and good use was made of the choir stalls and pulpit within each scene. Scene changes can often be an overly busy affair, so I enjoyed the unhurried approach adopted here as it allowed the audience to sit back and appreciate what had just taken place before the excitement of a new act got underway.
Robert Chesters provided live piano accompaniment, performed flawlessly throughout, orchestrated with the on-stage action by Gill who deserves further mention for his wonderful translation from the original which maintains the full lyrical quality of the piece whilst capturing the essence of the modern English language and some superb rhyme.
Flat Pack Music aims to bring Opera and Classical Music to the wider public in a fresh and original way that showcases not only the depth of the music, but also the comedy and the drama in equal measure. They want to present opera in a relaxed way that people can readily enjoy; they want newcomers to fall in love with the music, drama and excitement of opera, and for old hands to enjoy a new take on old favourites. With English libretto's they find that it gets to the heart of the action, which audiences can understand and enjoy. Further details including their upcoming productions can be found at https://www.facebook.com/FlatPackMusicSeries/
Reviewer: Mark Davoren
Reviewed: 11th August 2018
North West End Rating: ★★★★★