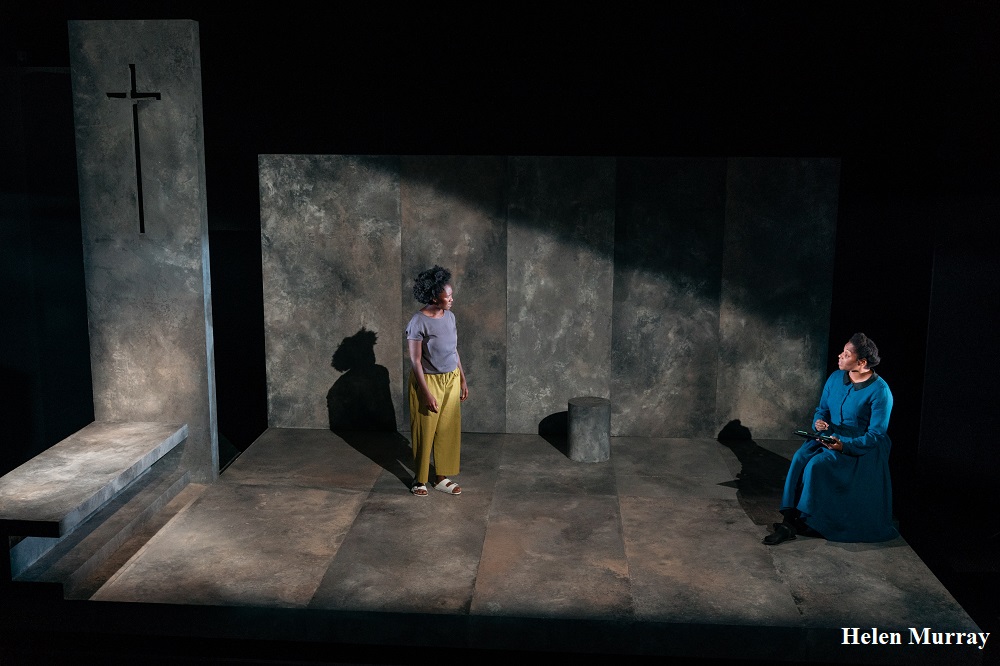 Penelope Skinner's Meek is set in a dystopian near future, in an unnamed fundamentalist country on the fringe of Europe where Biblical values are the order of the day in this co-production between Headlong and Birmingham Repertory Theatre under the direction of Amy Hodge.
In a barren prison cell, we meet Irene (Shvorne Marks) who has been arrested – but not charged – for an unknown crime. Under continuous surveillance, visits from her best friend Anna (Scarlett Brookes) and Gudrun (Amanda Wright), a lawyer who is a cousin of Anna's husband, the facts begin to unravel as quickly as the fiction begins to take place.
What starts off as a potentially blasphemous song spirals into something much more as a few likes rapidly turn into a global campaign to save Irene's life, and as the lure of celebrity challenges the choice for freedom, the lines between mythology, martyrdom, and media become increasingly blurred.
It's an interesting idea and it is easy to see why many have jumped on its obvious parallel with the recently televised production of Atwood's The Handmaid's Tale, and to which I would also add Orwell's 1984. However, I feel it offers something a little different from both with its focus on the power of social media – something we feel we are in control of but are we really? – and I also enjoyed the ironic contrast of a Christian fundamentalist state in lieu of those that are so readily abhorred on our news channels in recent years, with the obvious realisation that there is little difference in anything taken to its extreme.
I liked the simplicity of Max Jones' set accompanied by the subtle yet haunting sound from composer Melanie Wilson. The costume changes were effective in cleverly supporting the journey we were on and the performances from each of the cast were strong throughout, but – and unfortunately there is one – whilst the three characters combine well to explore the growing angles of a plot that develops in just over an hour, that is perhaps where its weakness lies: with so few characters it doesn't take much to jump to the obvious conclusions about where and why the plot is going where it ultimately does.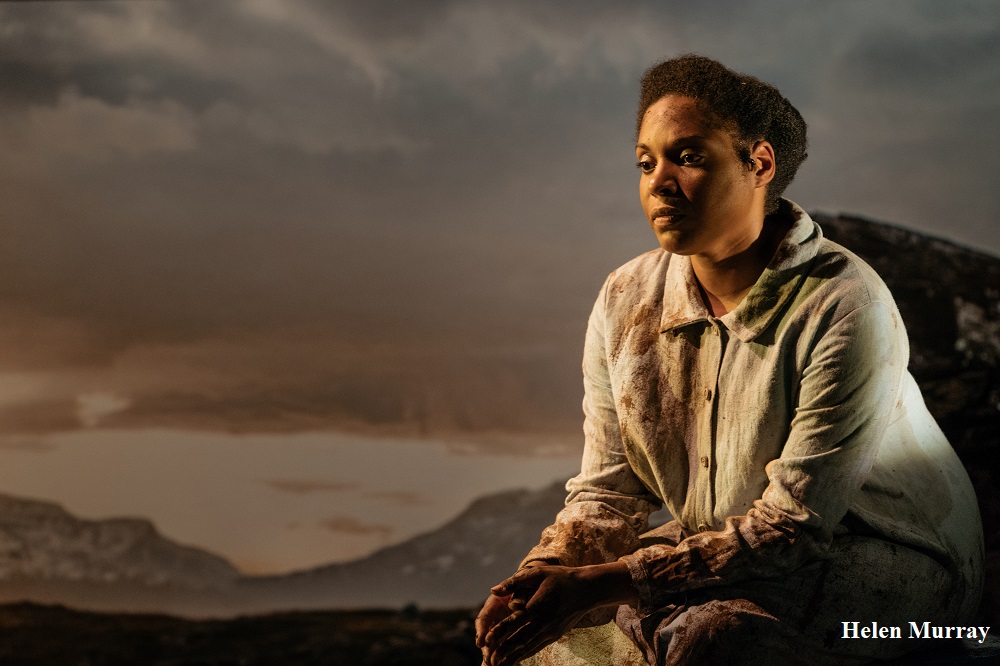 Equally what could have been a powerful end piece ends up reinforcing the old adage of 'show not tell' but by which time we'd also been shown too much already, and I was left with a feeling that there was – could have been – so much more to this.
Headlong are a touring company big on imagination who interrogate the contemporary world through a programme of fearless new writing, re-imagined classics, and potent twentieth century plays. I've still got great memories of their production of 1984 and that was almost five years ago. Check them out at https://headlong.co.uk
Birmingham Repertory Theatre are a leading producing theatre making theatrical moments to cherish. You can find out more about them – and make your own special moments – at www.birmingham-rep.co.uk
unitytheatre is Liverpool's small-scale theatre with big ambitions to showcase challenging, innovative, risky and unusual work. Further details on this and their work with the local community can be found at www.unitytheatreliverpool.co.uk
Meek is performing at unitytheatre through to 15th September with tickets available at www.unitytheatreliverpool.co.uk or Box Office on 0151 709 4988, after which it transfers to Lowry Theatre in Salford from 19th – 22nd September inclusive with tickets available at www.thelowry.com or Box Office on 0843 208 6000.
Reviewer: Mark Davoren
Reviewed: 10th September 2018
North West End Rating: ★★★