The Lovely Bones, a novel written in 2002 by Alice Sebold, is a coming of age story narrated by Susie Salmon. Susie narrates the novel from heaven after she is cruelly raped and murdered by her neighbour Mr Harvey who we discover is a serial killer of young girls. The novel has since been turned into a film, directed by Peter Jackson in 2009, and more recently turned into a stage adaption by Bryony Lavery and directed by Melly Still.
Ana Ines Jabares-Pita's stage design is genius. The tilted mirror that occupies the stage acts as a window to different aspects of the story, allowing us to concentrate on the action on stage whilst also being aware of what the other characters are doing at various locations. The stage has an authentic feel, with soil scattering the outskirts of the stage giving the drama an immersive quality. The stage is used well by the actors who are clearly confident and comfortable with using it.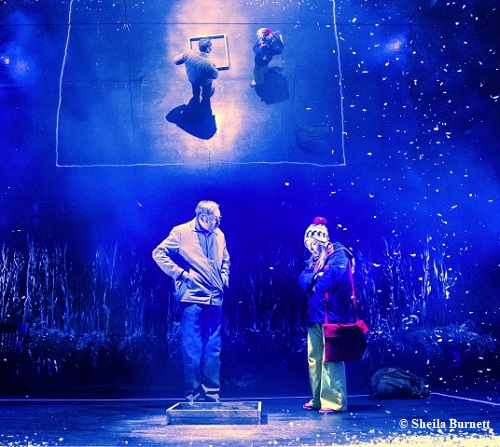 Considering the majority of the action happens in a marked out section of the stage with no set change and minimal props, the way the stage is utilised makes it incredibly realistic.
The play throws us in at the deep end. We are immediately transported to the moment of Susie's murder, which due to the nature of the story is expectedly upsetting and uncomfortable. The play follows at a similar fast pace which can at times make the drama feel a bit rushed and the audience unable to take a minute to digest what is happening on stage (particularly due to the lack of interval.)
The cast is stellar, with particularly outstanding performances given by Charlotte Beaumont, who plays Susie Salmon, and Jack Sandle who deliver a heart-breaking performance depicting Susie's father. The subject of the play is unsettling but is dealt with bravely and admirably by the cast who give convincing performances throughout.
This adaptation of the book is something that will stick with those who go to see it for a while afterwards. It is worth going to see and experiencing for yourself. A truly moving piece of theatre.
Reviewer: Sarah Goldsmith
Reviewed: 25th September 2018
North West End Rating: ★★★★