Maggie May is a Liverpool legend and this musical, written and directed by Bob Eaton, tells the story of her life in a fun and light hearted way.
Maggie (Christina Tedders) arrives in Liverpool on the boat from Ireland with one bag which contains all of her worldly possessions. She meets Charlie (Michael Fletcher) who shows her around Liverpool and warns her to be careful. As they dance and sing and drink Maggie puts her bag down for one second and quickly finds it has been stolen.
Unable to continue her journey to New York without the money which was in it, she manages to find a job as a maid in a respectable house on Rodney Street.
She continues to see Charlie each Sunday and is quite happy but a chance meeting with Jenny (Paislie Reid) leads her to find out that Charlie knew the man who stole her bag. Assuming it was all a ruse to rob her she angrily tells Charlie that from now on she will be going to Mass on Sundays as she should have been all along and won't be seeing him anymore.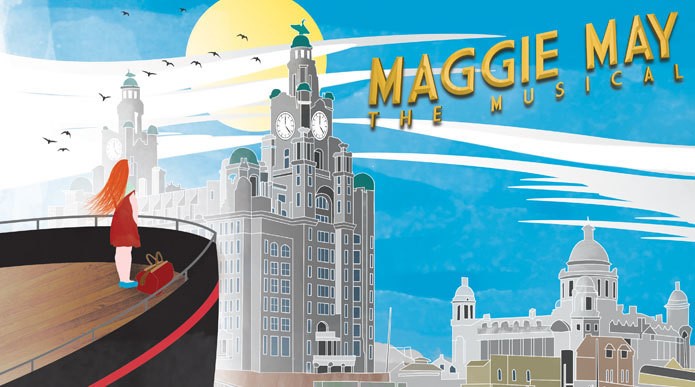 She returns to her place of work and the housekeeper Mrs Bird (Cheryl Fergison), seeing she is upset, warns her about men and their ways. Maggie's employer Mr Campbell (Tom Connor) soon takes an interest in Maggie and regardless of Mrs Bird's advice, Maggie falls in love with him and they begin an affair.
When she falls pregnant Mrs Bird dismisses her from the house and has her escorted to the local workhouse on Brownlow Hill.
This is the catalyst for Maggie entering into a life of prostitution and with war on its way, it looks like her dream of moving to New York will never come true.
Despite some of the darker themes of the story, the show manages to keep a relatively light tone and remain entertaining throughout. Ominous scenes and feelings of dread, along with Maggie's resignation as she begins her new life, are contrasted with gentle comedy and upbeat songs which keep the mood from dropping too far.
The cast is made up of actor/musicians with everyone picking up an instrument at some point. The instruments are incorporated seamlessly into the performance and the musical elements fit naturally into the story without the artificial feeling that musicals can sometimes have.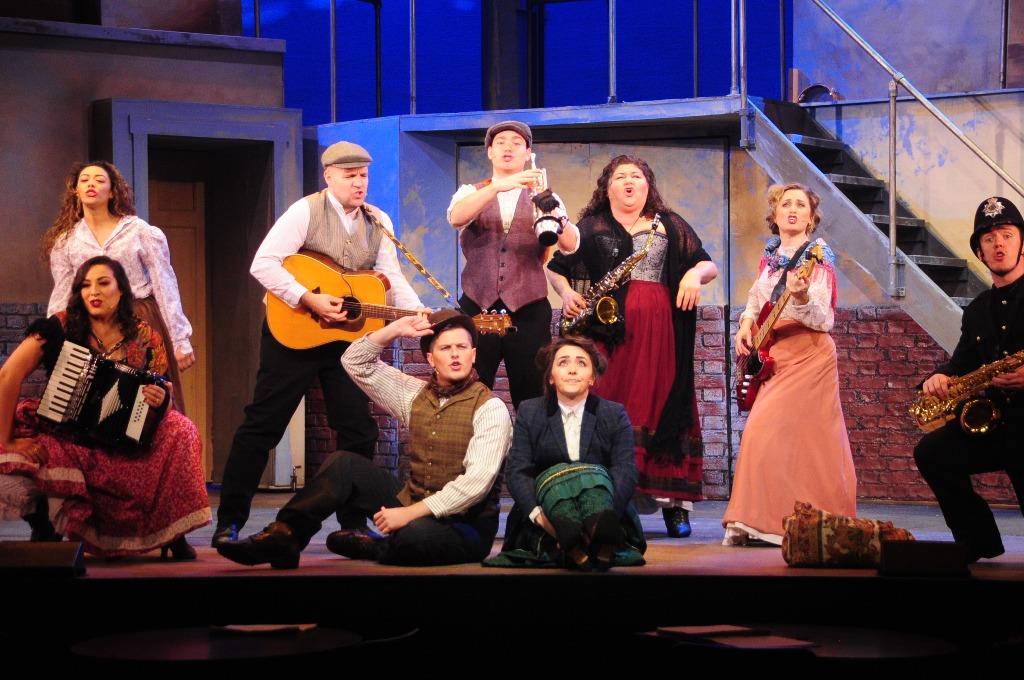 One of the big themes in the show is the contrast between rich and poor and the abject poverty which exists in what was at the time one of the richest cities in the world. Connor's performance as Mr Campbell is representative of the British upper classes, with just the right level of arrogance and condescension. His assumption that he can and will have everything he wants regardless of anyone else oozes from the character contrasting well with Fletcher's performance as the well-meaning but roguish Charlie.
Maggie's journey from a pious Catholic girl who prays for her stolen bag to rematerialise to an independent woman determined to control her own destiny is both heart rending and empowering and it quickly becomes clear that no matter how far from grace Maggie has fallen her faith, like her dreams of New York, is never fully out of her mind.
The set contained a clever revolving stage area which created a sense of movement through Liverpool, from the docks to Rodney Street, into the house and back again. Beautiful period touches created a sense of realism and the Liver Birds watching over the city meant you could never forget where this story took place.
When the war comes and all the men leave to fight for their country leaving the women to pick up the slack, will Maggie find a way out of her new life, or is she destined to go back to it before the ink on the papers declaring peace has dried?
One thing's for sure, she'll never walk down Lime Street any more.
Maggie May The Musical is showing at the Royal Court until 10th November. Tickets are available here http://www.royalcourtliverpool.co.uk/whats-on/maggie-may/
Reviewer: Donna M Day
Reviewed: 16th October 2018
North West End Rating: ★★★★