After finding fame on Gareth Malone's Naked Choir in 2015 the Sons of Pitches have performed internationally and had over three million hits on YouTube. Returning after two years, the group did not disappoint as they brought their 26-date UK tour to Liverpool's Epstein Theatre.
Formed of Midé Adenaike, Joe Belham, Joe Hinds, Jamie Hughes, Josh Mallett and Joe Novelli, the famed acapella group attempt to sing 100 legendary songs in one show for all ages. Across the evening, the 'sons' presented excellent covers and medleys of a range of styles and artists including ABBA, Michael Jackson, Kate Bush and Justin Bieber.
The vocals created by the group are simply fantastic. Adenaike's beatboxing skills are incredible and astoundingly, are consistent throughout the evening. For a segment of the show, Adenaike gets the opportunity to showcase himself, bringing out a loop station and wowing the audience with his ability to create an array of different sounds with his voice.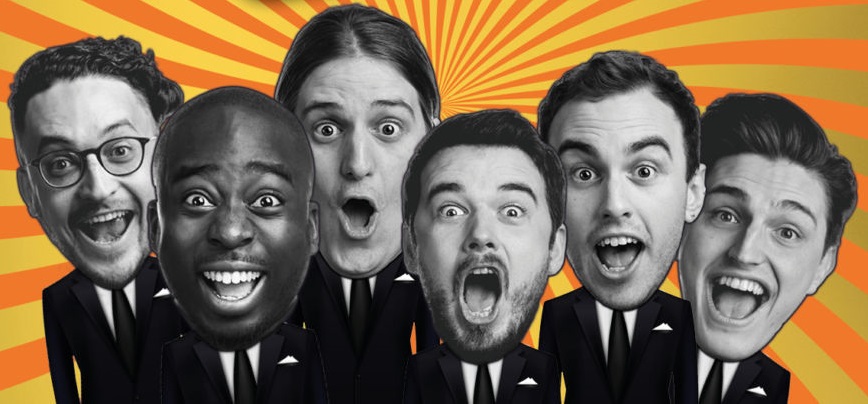 Novelli also has a brilliant voice, utilising his impressive falsetto wonderfully in covering Michael Jackson's classic Black or White. The boys also presented a stand out cover of The Beatles' Eleanor Rigby, which was brilliant and loved by the Liverpool audience.
Not only do the Sons of Pitches present amazing acapella covers but also provide great, although sometimes cringe-worthy, comedy throughout the evening. The audience interaction, fronted by Belham, was excellent. Ideas from audience members were formed into comical improvised arrangements, with one 'song' being in the styles of both David Bowie and Britney Spears.
Towards the end of act one, the sons brought out a special guest in the form of The Voice season one star, Jaz Ellington. The Eurovision You Decide 2018 contestant picked up the evening with his stunning voice, covering Ben E King's Stand by Me as well as his new single White Flag with the group providing an acapella backing track. Ellington's appearance was well-received and was a highlight of the show.
However, after nearly two hours of performance, the group's song count was not even half of their target and things were beginning to feel long and slightly tired. Yet, impressively, the sons presented one big medley of over 50 songs in just five minutes. The up-beat, fast-paced and fun mash-up of hit songs lifted the show at the end and arguably, was needed a little more of throughout.
A finale of KC & The Sunshine Band's Give it Up had the audience on their feet and was a dazzling end to a fun-filled evening. The Sons of Pitches have just four more dates left of their tour and a visit will ensure you a great night out that will have you laughing, singing and dancing along.
Reviewer: Jessica Battison
Reviewed: 29th October 2018
North West End Rating: ★★★★