Whittingham 1918 tells the story of a World War 1 mental asylum, its staff and patients. Part of the two year arts and heritage project Whittingham Lives, the play, written by Eric Northey and directed by Terence Mann, touches on a number of lives at the asylum.
On entering the theatre one of the patients, John Coupe (Kris Laudrum) is carefully sweeping dry leaves from around the stage. The methodical nature of this sweeping, ensuring every scrap is swept away, is hauntingly sad and sets the scene before the show begins.
The play opens with Dr Scott (Tom Hardman) handing over the asylum to Dr Francsisco (Duncan Butcher) before he goes to the front. Dr Scott has many old fashioned values, including some sexist viewpoints, and believes in treating mental illness with good food, fresh air and exercise, advice which would be recommended today. Dr Francsisco has a more modern outlook, although still with some sexist opinions, and wants to try some new scientific treatments, including electric shock therapy for mutism.
Dr Francsisco's treatment of patients is shown to be efficient and forward thinking, trying to get them to focus on what the future of their lives could be. As he treats the men and women in the asylum it becomes clear that the asylum is overfull but no-one who is a patient there has anywhere else to go except the workhouse.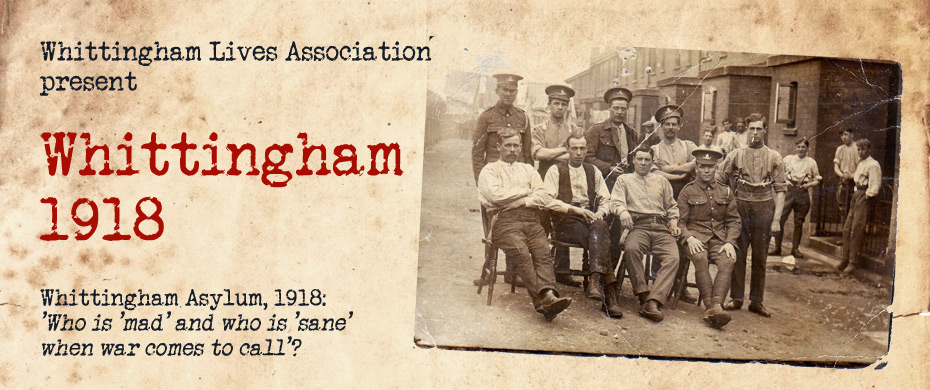 When Dr Francsisco receives the news that 600 beds need to be cleared for a number of soldiers suffering from shellshock, he needs to make some difficult decisions.
There are a number of sub-plots including the one featuring John Coupe, a conscientious objector, who agrees to take a non-combatant role which does not turn out what it promises to be. Laudrum's performance as a shell-shocked soldier is outstanding. His portrayal is captivating and mesmerising with wonderfully executed physical elements.
Another patient, Hepzibah (Rachel Howard) who believes that God speaks to her and tells her to do harm, is also performed well, with an expression flitting quickly between abject fear and furious determination.
Craston (Dan Brazier), a member of staff at the asylum who assists with the patients, provides some comic relief as an eccentric former actor who continuously speaks in Shakespearean language. This also provides an interesting look at how someone who may be considered to be mentally ill is treat differently to the people who have been admitted to the mental hospital.
Richard Levenstein (Matt Robair) is a patient who as a musician Dr Francsisco encourages to play music as his "job" as this could be therapeutic for other patients. The show makes use of live music and haunting songs performed by the actors linking back to this suggestion of musical therapy and rounding out of the characters, as well as creating a beautiful atmosphere.
The set featured a number of hospital style curtain screens, which silhouetted some of the treatment scenes, creating an atmosphere of discomfort.
The play looks at many themes which are still important in today's world, such as mental health budgets and how hospitals need to work with very little money. The main aim of the hospital is to cure people as quickly as possible and get them back to the front. Those who cannot be cured are hidden away out of sight where they cannot bother "functioning" members of society. Injured soldiers are referred to as begging on the streets, something which again happens in today's world.
The tone of the play is generally gentle and unassuming, with contrasting graphic scenes which are shocking. The images of electric shock treatment are particularly vivid and moving and poignant descriptions of battle bring tears to the eyes.
It is easy to think of the people who lived during World War 1 as a list of names carved on a cenotaph, and forget the lives behind those names. Whittingham 1918 gives flesh to a few of those people, reminding us that these are people worth remembering, a hundred years on and beyond.
You can find out more about the Whittingham Lives project on the website http://whittinghamlives.org.uk/
Reviewer: Donna M Day
Reviewed: 30th October 2018
North West End Rating: ★★★★★