Satan & Mrs Smith is a comedy based around the evil and the virtuous and what happens when a mistake causes both of them to clash together.
Written by Jamie McLoughlin and directed by John Garfield-Roberts, the play tells the story of the recently deceased Mrs Smith (Pamela Ashton) has been a good woman all her life. Charitable, thoughtful and kind, she is fully prepared to walk through the pearly gates to spend an eternity in bliss. But Heaven is having a long weekend, and a mistake leads her to end up in the fiery pits of Hell instead.
Being the resilient woman she is Mrs Smith gets enthusiastically stuck in to life in Hell while she waits for upstairs to sort the mess out, but Satan (Phil Perez) is furious and begins to worry that her flower scented presence is infecting the other residents with virtue.
After meeting Tommy (James Seamus Bray), who is being bullied by some of the other damned souls, Mrs Smith notices that the residents of Hell are bored, so begins arranging things for them to do. When Satan finds out about her Hellish bake off, this is more than he can handle and he demands Heaven take her away as soon as possible.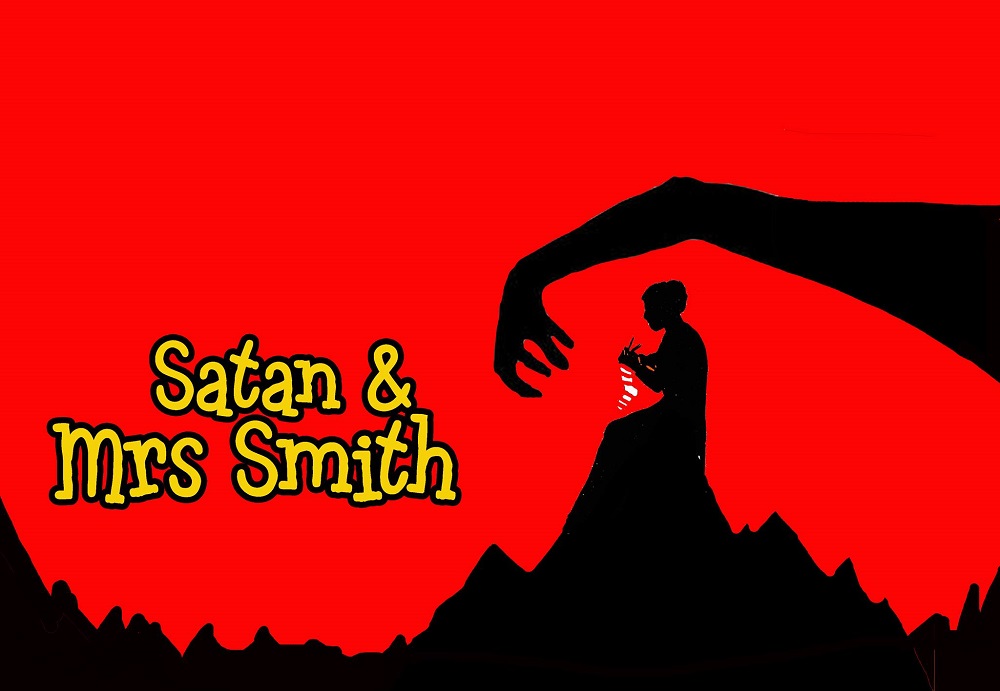 Unfortunately, they are not willing to cut their three day weekend break short, so Mrs Smith is there for the duration. In the meantime everyone in Hell is beginning to become rather fond of her mild mannered nature. Can Satan keep Hell miserable enough to survive her? Does he even really want to?
The play cleverly uses coloured lighting to illustrate the various locations. The gates of Hell are of course red. This allows the set to be kept simple so that the focus remains on the actors and the story without a number of distracting set changes.
Satan dishes out many punishments during the play, which tend to be first world problems, like itchy jumpers and holey socks. This keeps a light tone and doesn't allow the play to become too dark. Perez's performance is a good combination of pantomime villain and petulant child. His ability to portray rapidly changing emotions is very funny.
Duane Williams who plays a number of supporting roles is a strong performer who provides many laughs. Jen Cartwright as Satan's PA, with her exaggerated accent and passion for all things evil, is also key to the success of the comedic elements of this play.
There are plenty of political jokes, with a focus on the evils of the right wing and Brexit. The audience were laughing out loud from the first line to the last.
As well as the comedy there are some emotional and tender moments which contrast well with the funnier elements of the play. These are well supported by moments of gentle comedy which prevent the mood of the play dropping.
Satan & Mrs Smith is a lovely comedy showing that all you need to make the best of the bad situation is a smile, a little determination and a good heart.
Satan & Mrs Smith will be performed again at the Kings Arms, Salford on 2nd November. Tickets are available here http://www.kingsarmssalford.com/my-calendar/?mc_id=1789
Reviewer: Donna M Day
Reviewed: 1st November 2018
North West End Rating: ★★★★