This morning saw the theatre buzzing with the expectations of excited school children waiting to see Make, Mend and Do's production of The Missing Light by Mark Arends, a magical combination of puppet show, technology, animation, and silent movie that tells the story of a fisherman and his wife. Each morning he sets off on his boat while she goes to the market to sell yesterday's catch. On her way home, she buys him a toffee apple, and he shines a light from his boat to say he's on his way. Until one night, there is no light. The action then jumps to many years later, when the light mysteriously reappears.
The action is filmed live on stage in front of several cameras, using puppets and props. The footage is then mixed using (presumably) film software, so it is shown simultaneously on a screen above, accompanied by a musical sound track. This may not work as well in a large theatre, but the Everyman allowed the audience to be close enough to appreciate both sets of storytelling – the puppetry and the screen animation.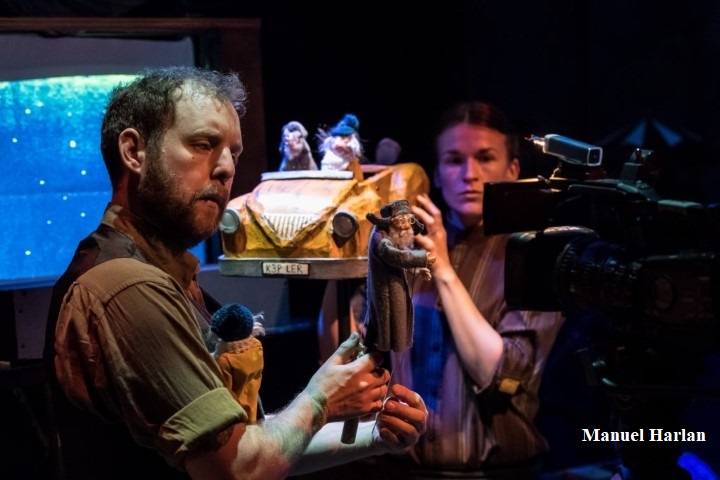 And it is a beautiful story – a tale of love, loss, hope, and regeneration, sentimental without being mawkish and touches of humour throughout – with so many clever strategies to show characterisation and to structure the story; the widow blows a kiss to show she still awaits her husband's return, and a simple shake of the head tells volumes. Similarly, there were many delicate details in the puppets, props, and scenery. The close ups frequently reveal how these are made – cardboard waves, a sparkler for the welding – but the special effects are none the less special for being so clearly demonstrated. The music, too, plays an important part in pacing and shaping the story – the guitar turns melancholy when the light goes missing, fast music for action sequences and so on.
It could perhaps have been a tad tighter in places, but while it's often easy for a production to make children laugh, it takes something special to have them immediately silent again and engrossed in the story. And though it must be an immense logistical challenge for theatres to have school groups in, not only have these children now been to the theatre to see something other than pantomime, but I can imagine them sitting on the coach on the way back to school, already planning how they might do something similar on their smartphones. And that is pure theatrical magic.
Reviewer: Johanna Roberts
Reviewed: 2nd November 2018
North West End Rating: ★★★★