Confession time! Up until tonight, I didn't really know what beatboxing was. The dictionary told me it meant to 'imitate the sounds of a drum machine with the voice.' But that doesn't even begin to do justice to the amazing talent and skill of the beatboxers from the BAC Beatbox Academy whom I saw perform their version of Mary Shelley's Frankenstein, 200 years after it was first written, reimagining it for the digital age and considering what are the monsters that are being created now.
Simple staging – just low hanging light bulbs and six speakers with microphones around a central space – indicates that this performance is focused on sound. And what a sound that is, as from the get go, the performers Aminita – Aminita Francis; Glitch – Nadine Rose Johnson; Wiz-rd – Tyler Worthington, Native – Nathaniel Forder-Staple; ABH – (ABH Beatbox) and Grove – Beth Griffin) are much more than beatboxers. They also singers, rappers, and poets with a slick but effective choreography. They are also generous – starting the performance by giving several local groups the chance to perform.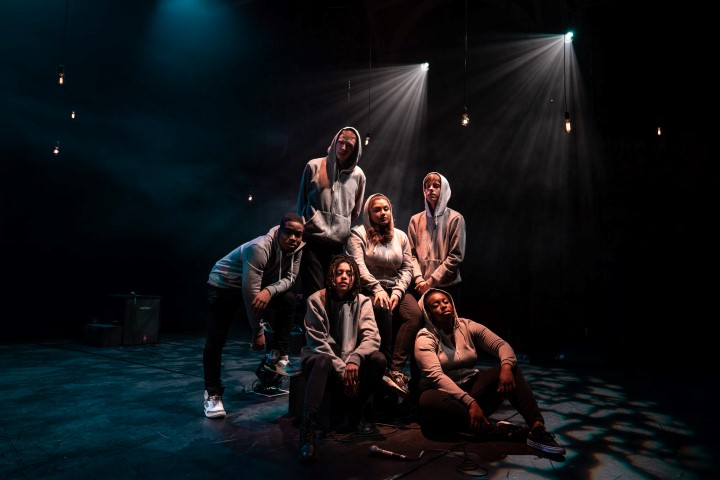 The piece, which was devised by the performers themselves with assistance from co-directors Conrad Murray and David Cumming, is divided into chapters – Chapter One had me looking around for where the sound effects were coming from – bird song, wind, forest then an industrial landscape with cars and lorries reversing – moving into the song 'Genius', and this sets the tone for the entire production, with performers, dressed in grey hoodies, working both as individual artists but coming together like a choir. In Chapter 2, the monster is compiled, with the songs from different singers rather than body parts from different people, ranging from The Prodigy's Firestarter and Marvin Gaye's 'Let's Get It On to James Brown's 'I Feel Good' and Pachelbel's Canon, while Chapter 3 deals with 'Growing Pains', and so on through Chapters 4 and 5, with each section focusing on the problems faced by today's society – the issue of identity on social media, an addiction to technology leading to isolation from other people and from the world outside, people's existence being 'validated by shares and likes', the premium placed on physical rather than inner beauty, and the incessant judgement.
As a bonus, after the main part, we were treated to beatboxing battles between the performers, with the audience as the judges, and then a quick demonstration of how the group works to develop techniques.
It all sounds very serious and intense, but the wit of the language and the word play, the soaring singing and the pounding bass, the streak of humour that runs throughout, and the sheer talent on display made this an evening like nothing I've ever experienced in the theatre.
I defy you not to give a standing ovation to this remarkable group.
Reviewer: Johanna Roberts
Reviewed: 9th November 2018
North West End Rating: ★★★★★