Henry Naylor's award-winning play is set in an Iraqi gaol during the occupation of Iraq in 2003 and which highlights the brutality on both sides of the conflict - any conflict perhaps – in a story told by three storytellers speaking directly to the audience in a well-constructed 'theatre in the round' at The Hope Street Theatre.
Nassir is a young local who loves Western music and sees the ideals of America – liberty, justice, freedom – as aspirations to be welcomed as we see his world primarily through the eyes of his girlfriend, Zoya (Jennifer Varda), a collector of music CDs.
With the old regime having been successfully overthrown, Colonel 'Kasper' Kasprowicz (Reginald Edwards), an American reservist, is now asked to manage the peace as he is put in charge of Mazrat prison, the notorious torture house where more than 10,000 people had died under Saddam, and where Sergeant Foster (Kathryn McGurk), an idealist new-style interrogator, is keen to advance her own take on psychological evaluation techniques, as they determine to turn it into a bastion of humanity.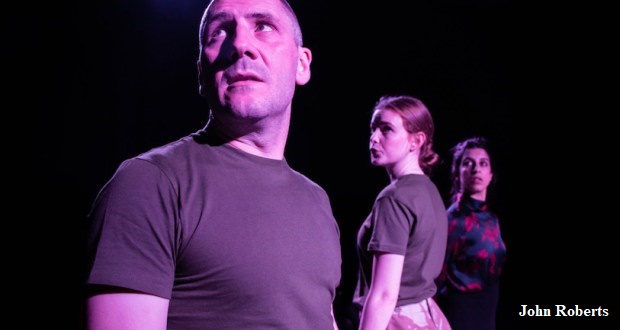 When language appears to be the only barrier then you need a translator and the opportunity to work for the American forces offers Nassir not only a great salary but perhaps the chance to truly live the dream. What more could a liberal minded individual want?
But soldiers fight war not peace and as the sands begin to shift in the absence of any meaningful economic, political or social solution, the once friendly smiling face on the street corner may now mask a suicide bomber intent on blowing you and your colleagues up. When Nassir is recognised by Faisal, a new prisoner and psychotic supporter of the old regime, his life – and that of all those connected to him – is about to become an Arabian nightmare: hope has been well and truly replaced by anger.
The initial humour played out through musical reference slowly peels away as we are confronted by the reality of the interrogation and treatment of prisoners as societal relationships break down. Suddenly what initially had the audience in fits of laughter at the start isn't making anyone laugh any more. The bare set ensures we feel the deprivation of being alone – whether it be in the prison or in the mind – with subtle use of light and sound to augment the experience. As the play touches upon the success or otherwise of alternate interrogation regimes – including reference to the infamous Stanford experiment – it also highlights how the brutality of war affects people's behaviour whether they are combatant or civilian: a terrible beauty is most definitely born.
Whilst director Ellie Hurt and producer Natasha Patel's stated emphasis is the suffering that women experience as a result of war – and Varda superbly portrays the dilemma her character faces – this play in my opinion actually challenges not only this facet but so much more of the tragedy of war for all involved, and, whether intended or otherwise, the equally wonderful performances from Edwards and McGurk serve to illustrate the horror and futility of any conflict, especially when there is no plan B let alone any plan at all: everyone, by design or fault, becomes a victim.
The Collector is the debut play from The B Collective, a company made up of graduates from the Young Everyman and Playhouse. The B Collective have a passion for putting diverse stories and women centre stage. Further details https://www.facebook.com/infothebcollective/
The Hope Street Theatre is a new and interchangeable fringe venue in the heart of Liverpool's culture district that encourages and drives new work. Further details available at http://hopestreettheatre.com/
Reviewer: Mark Davoren
Reviewed: 10th November 2018
North West End Rating: ★★★★