Tonight was my first time at Rainhill Village Hall with the Rainhill Musical Theatre Youth Group.
As the name suggests the story of Seussical Is based on the children's stories of Dr Seuss, it's a musical by Lynn Ahrens and Stephen Flaherty, telling the tale of 'Horton hears a who!'
After its Broadway debut in 2000, two US national tours and a West End production, it has become a frequent production for schools and regional theatres.
With a haunting musical score and fairytale like quality, we are transformed to a land of make believe by the cat in the hat Mikey Rowan and a boy called JoJo, who tonight was in actual fact a girl in the form of Niamh McNamara.
The story is narrated by a trio of bird girls, Katie Reeves, Amy Balfour and Paige Quilliam, whose costumes beautifully filled the stage with bright colours. Amy also choreographed the production alongside Sam Moores.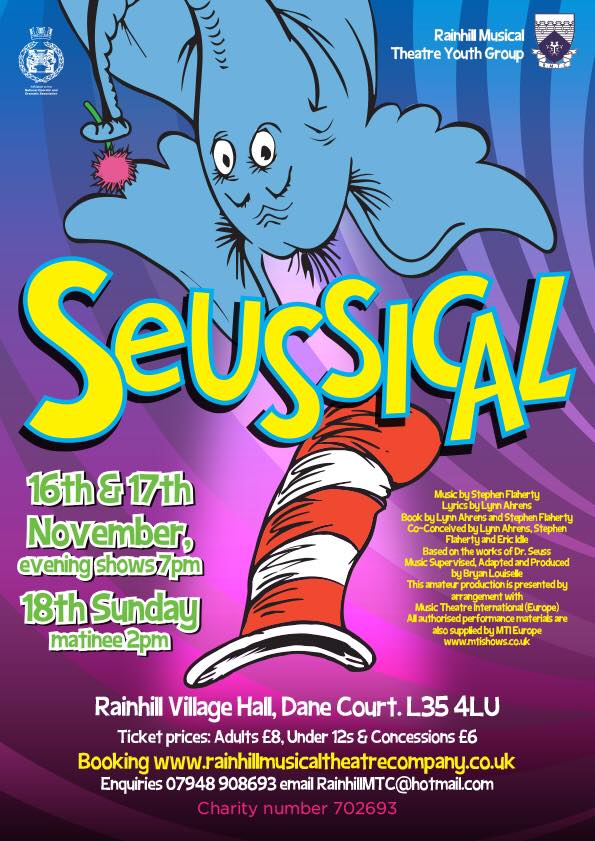 The cast take us to the land of who and we meet a colourful array of characters including Maysie La Bird a confident Rihana McEwan and Horton the elephant, the talented Joseph McDevitt.
Georgia Nicholas brought us the loveable gawky Gertrude McFuzz, who chases after the affection of Horton finally winning his love and creating two elephant birds, the adorable pint sized Mandi Roberts and Jacob Lankertis.
Musical Director Jessica Hope took on a daunting task. With a cast of close to 25, mainly under 11 with the exception of a few teenaged principles, this was a particularly difficult choice of production, it has an intricate score and vocally it was sadly lacking in harmony, volume and strength throughout. That being said the energy and effort put in by the youngsters is to be commended.
Vocally we did have a few stand out performers, McNamara brought us a sweet tuneful, likeable JoJo with a lovely rendition of ' it's possible.'
Unfortunately the music level was nowhere near to being loud enough tonight, I would increase it by another 50% at times, I was surprised the cast could even hear the tracks enough to pitch their notes. The music wasn't live and was all played on tracks, also as to be expected on opening night we experienced many sound gremlins, and mic's not being muted when cast members were off stage, but I'm sure these are just teething problems.
Director Samantha Moores and Producer Pip Bradshaw brought us some nice well rounded characters from Rowan with a strong American accent and bright delivery.
Mc Devitt embraced a shy persona in the form of Horton which worked well and throughout the evening he grew in confidence, his lovely voice almost note perfect, if at times rushing through the words a little. I enjoyed 'Alone in The Universe' and 'Solla Sollew.'
I would like to see more use of facial expression and reactions in general in particularly from the ensemble. Also be aware of spacing and sight lines, as the audience we want to see everybody, don't hide your lovely costumes behind the curtains, make sure you can all be seen.
The show has been cropped a lot from the original, it started at 7pm and including an interval it was over by 8.40pm. Making it an ideal family day/night out.
Overall an enjoyable evening, and something different from the usual youth production go to musicals, if you get chance go and support the production.
Performances run until Sunday 18th November. https://goo.gl/Zcvm9N
Reviewer: Rebecca Casey
Reviewed: 16th November 2018
North West End Rating: ★★★