Like the ubiquitous turkey, Dicken's A Christmas Carol is served at this time of year in a variety of formats, some seeking the traditional route to success with the classic treatment and others seeking to provide something new and fresh. Spymonkey, with their roots firmly based in physical theatre and clowning, have opted for keeping the classic elements of the tale, while spinning off into surreal tangents with such sheer joy that even the most die hardened purists would find it impossible to resist.
And, indeed, from the moment Aitor Basauri steps onto the stage as a heavily accented and bewigged Charles Dickens, aiming to demonstrate his magic skills and exercise his hypnotic powers the audience is captivated. Based on the premise that Dickens is delivering one of his popular staged readings, he promises us a tale with 'a message, a moral, a lesson', but after being constantly given the wrong book to read from, hands over to the actors.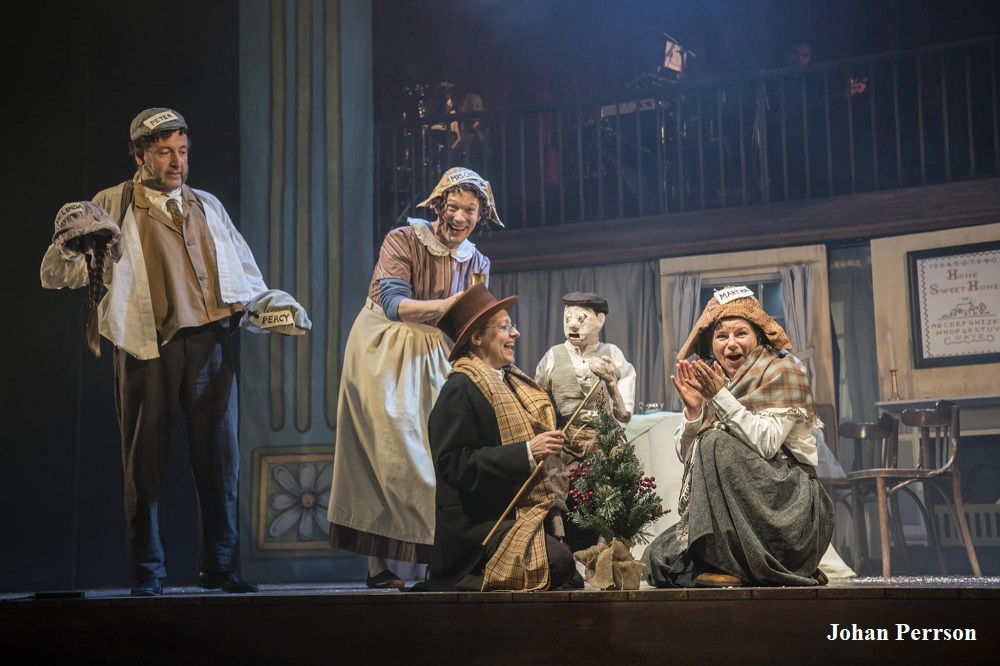 Thus, the story unfolds on stage, with Toby Parks, Petra Massey, and Sophie Russell joining Aitor in taking on the roles of all the characters from the book, along with a few unexpected additions and twists and a healthy sprinkling of local references, all gleefully received by the enthusiastic audience.
Stand by for, among others, Jodie Foster at the Horror Oscar awards, skating on the Thames with Henry the Hoover, Belle as a nightclub singer, a gangster-inspired Fezziwig, and Welsh miners. But it all keeps true to the spirit of the original in more ways than one. Dickens was not only a brilliant storyteller; he was also an insightful social commentator and an outspoken critic of social and economic injustice. He was acutely aware of the stark contrast between the lives of the haves and the have-nots, with the long-suffering Bob Cratchit (here undergoing an existential crisis) struggling to feed his family, and the workhouses and the debtors' prisons that the charity collectors condemn so roundly. Neither Dickens nor Spymonkey pull any punches in portraying the dark side of Christmas, where the message is increasingly one of consumption rather than compassion.
The skill and the talent on display is remarkable, from the musicians Ken Hughes, Marcus Penrose, and David Insua-Cao, whose contribution is essential to the overall theatrical tapestry, to the costumes and special effects, and particularly to the cast, who can shift the tone from comic to poignant and back again in a heartbeat. This Scrooge with a glitter ball is festive fun at its best.
Reviewer: Johanna Roberts
Reviewed: 12th December 2018
North West End Rating: ★★★★★