After a hit show at Liverpool's Royal Court earlier this year, Our Bev is back with her new one-woman Christmas performance. An absolute celebration of everything scouse in one "boss" show, Our Bev's Christmas Cracker makes for a fantastic festive night out.
Written and directed by Stephen Fletcher, the show opened in the Royal Court's studio space on 19th December 2018. The hilarious show is a mix of comedy, stories and songs with tales partly based on actress Catherine Rice's experience in the industry. As Rice takes us through the highs and lows of Bev's career, the audience are seated in a relaxed and intimate space with alcohol and festive cheer flowing.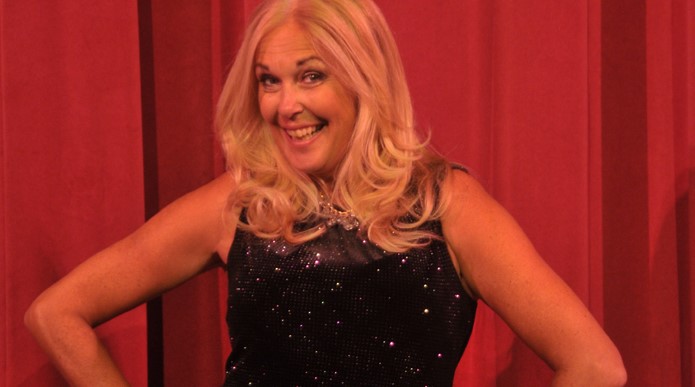 After a slightly dragged out and awkward opening sequence of decorating the tree, Rice welcomes us into Bev's dressing room backstage at the Scotch Broth Social Club. Set on Christmas Eve, the experienced club entertainer is waiting for a life-changing call from her London agent. On the 30th anniversary since her first ever performance, Bev is preparing for her last ever social club gig as this phone call could transform her whole career. While we wait, we hear side-splitting anecdotes from the pin-curl wearing actress' life, all completely relatable to those who have grown up in Liverpool.
For act two, we are taken to the other side of the curtain as we are treated with watching Bev in all her glory. Rice's brilliant voice is showcased in the many songs throughout the evening and especially the exceptional closing with the classic Everything's Coming up Roses from Gypsy. In her act, Bev invites the audience for a much-appreciated Christmas sing along that has members on their feet- but only for enough of each song until she gets bored of it and demands the next.
Rice is absolutely hilarious as Bev, and Fletcher's festive production captures scouse culture perfectly. Despite the odd opening-night slip up, the audience was held in the palm of Bev's hand, laughing all the way and ending on their feet, applauding and shouting for more. With 90% of tickets already sold and performances running until 22nd December, Our Bev's Christmas Cracker is a sure-fire hit.
So, grab a few bevvies and sing, dance and laugh the evening away with Our Bev for a cracking night out.
Reviewer: Jessica Battison
Reviewed: 19th December 2018
North West End Rating: ★★★★