The Liverpool Network Theatre Group present Henrik Ibsen's 'A Doll's House' directed by Donna Day this January at Hope Street Theatre and what a challenge they have taken on with such a historic piece but have they bitten off more than they can chew? The evening begins with the venue 'Hope Street Theatre' which is always a pleasure to visit thanks to a beautiful bar and social room that makes you step back in time to relax and enjoy some of the best genuine, vintage décor you'll find.
The story of 'A Doll's House' revolves around Nora Helmer (Jessica Martin) and her little secret which she is quite proudly discloses for the first time to her old school friend Christina (Faye Christiansen). It soon becomes clear that Nora's secret is more dangerous than she anticipated as it comes back to bite her in the form of blackmail from Nils Krogstad (Alexander Davies). Nora is keen that her husband, Thorwald Helmer (Greg Vicary), never finds out what she has done, fearing that it would not only destroy her marriage but her whole family and their reputation. Will Nora's secret be revealed? Can Nora be forgiven? This is an interesting tale which shows the spiralling effects of human nature and how one decision can completely take control.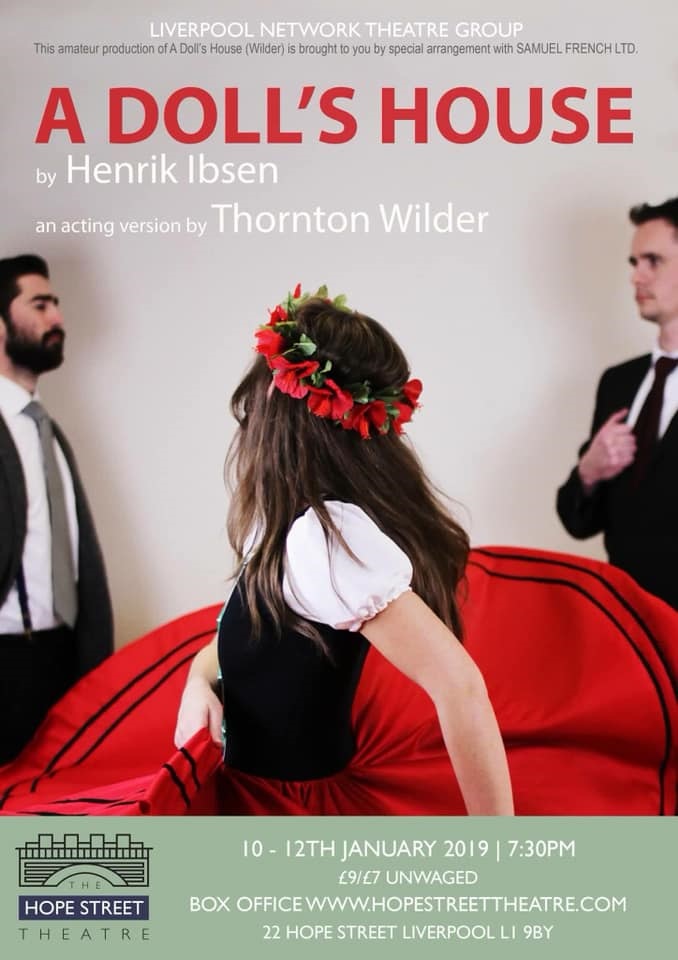 The aforementioned performers were supported by Oliver Barden, Julie Hills, Sarah Jones and Jake Angerer who made up the full cast. A huge effort was shown by every individual with the full lengthy script delivered flawlessly to the audience with fluidity and style. This three Act play is absolutely colossal in terms of dialogue and this company should be proud of their professionalism and delivery throughout. Jessica Martin had a huge part to play as the lead, Nora, and she was absolutely outstanding in every way. She managed to instantly create a character that the audience loved despite her ditzy persona and superficial values which were evident from the start. This actor proved that you can actually display every emotion possible in one show, fear, despair, love, devotion and she managed it with so much conviction and believability that the audience were with her for every moment. This was one super talented lady!
This show was quite different in that it had a quite rustic, obscure feel to it which probably relates to the age of this classic piece of theatre which was first premiered in 1879. The difficulty I felt as an audience member was that there wasn't enough dynamics and therefore the show felt very lengthy and slow. This may be due to the nature of the script, the lack of setting changes and the serious tones of this play. Although the storyline has depth in terms of the themes it presents, it is fairly one-dimensional with little subplots to engage the audience which meant some of the scenes felt laboured and the pace was not quite right on some occasions. However Liverpool Network Theatre Group should be applauded for taking on a historic, three act show and bringing it to a modern audience. The remarkable thing is that this show is just as relatable as ever to today's society that revolves around social media especially when the morals of 'A Doll's House' are to "not believe everything you see", "see beyond the cover" and "stop putting on an act."
Liverpool Network Theatre Group are to be truly admired for their unwavering efforts to develop drama and theatre in Liverpool all year round through workshops and performances and this show is no different as it showcases some solid, confident, developed performances alongside some up and coming talent from newer performers. So in answer to my previous question – go find out for yourself because "A Doll's House" continues at Hope Street Theatre, Liverpool until 12th of January! For more information please visit www.hopestreettheatre.com
Reviewer: Bláthíne Maguire
Reviewed: 10th January 2019
North West End Rating: ★★★