Habeas Corpus in a farce written in the early 1970s by Alan Bennett taking a satirical look at the "permissive society" and British middle class values. Keyhole Theatre Co's production, directed by Ann Bates, assisted by Nadege Josa, combined the farcical elements of Bennett's script with the bittersweet message embedded in the script.
Presented on a thrust stage with a set consisting only of three chairs, the focal point here was the actors and the few props which were used to enrich the production.
Narrated by Mrs Swabb (Jackie Connolly), the cleaner and omniscient representative of sense within the universe of the show, the play tells the story of the Wicksteed family. Arthur Wicksteed (Albert Hasting) is a doctor who lusts after young female patients. His underappreciated wife, Muriel (Linda Dolan) is losing patience with him and aims to have a liaison with her ex-lover Sir Percy Shorter (Ted "Jive Teddy" Williams). The Wicksteeds share their home with son Dennis (PJ Murray) and Arthur's sister Connie (Amanda Lancaster). Lady Rumpers (Irene Morrison) arrives in town with her daughter, Felicity (Colette O'Connell), leading to a series of events which cause several misunderstandings, mistaken identities and almost all of the male actors running around with no trousers!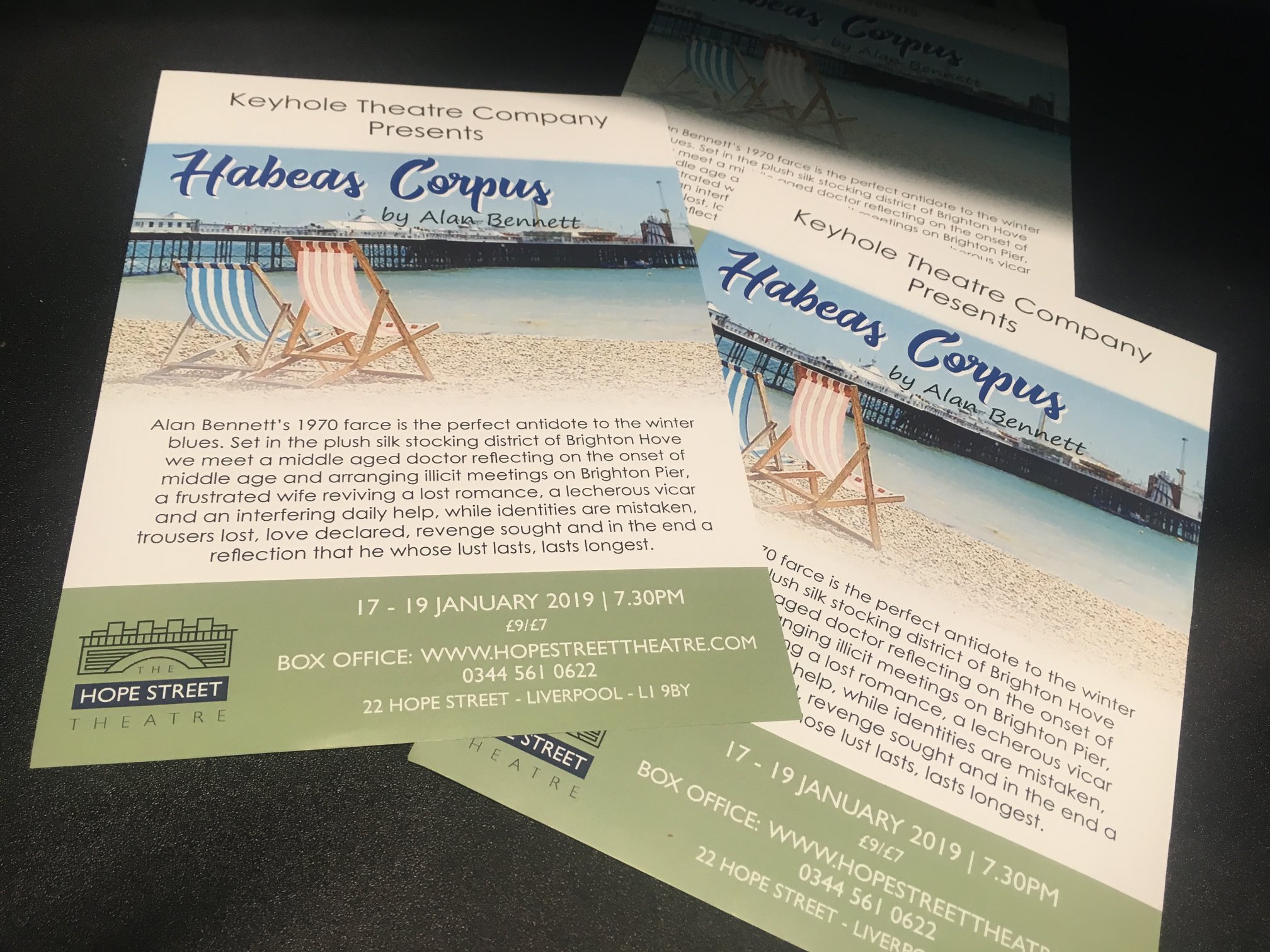 Although a farce at its core, Habeas Corpus is lower in energy than most plays of the genre, and contains very little slapstick comedy, instead relying on British postcard humour reminiscent of the Carry On films and dry sarcastic wit. Today some of these jokes can feel slightly dated, so some of the comedy can be missed by a modern audience. However the play had many amusing points and the audience laughed out loud several times.
When performing on a thrust stage it is important to bear in mind projection of lines when facing upstage and lines of sight for the various perspectives of the audience. There were a few occasions where lines could not be heard and a number of times that nothing could be seen but a single actor's back. There was also one point where background music being played was much louder than the actors' voices. This may be worth some consideration for future performances.
There was a benefit to the thrust format of the stage, in that the fourth wall was pushed against throughout the performance and broken entirely several times. This made the audience feel involved in the lives of being portrayed, which was beneficial due to the caricatured nature of the characters.
Dennis' miserable hypochondria and Connie's melancholic spinsterhood are particular highlights in these caricatures, performed extremely well by Murray and Lancaster to excellent comic effect.
Hasting's performance as the rakish doctor was delightful and his rhythm when delivering speeches in verse was flawless. Scott Jones, as Canon Throbbing, the lecherous vicar in love with Connie, was equally slimy and sly, reflecting issues still present in today's society.
There were a couple of times where the pace of performance dropped noticeably and some gaps between scene changes were too long. This can be put down to opening night nerves in an unfamiliar venue and is not likely to cause issues in future performances.
The cast and crew as a whole are also to be praised for displaying the utmost professionalism for their unbroken performance during several interruptions by some loud and disruptive audience members.
This bittersweet look at regret and reluctance in relation to social expectations, is a light entertaining look at historical British values. The play is firmly rooted in its time, but its gentle nods towards the modern world may make you consider how far we have really come.
Habeas Corpus is showing at the Hope Street Theatre until 19th January. Tickets are available here https://goo.gl/HGWb5j
Reviewer: Donna M Day
Reviewed: 17th January 2019
North West End Rating: ★★★