Christopher Marlowe's Edward II is a classical drama inspired by the reign of King Edward II and one of the first history plays ever written. Exploring themes of power and duplicity, Edward II is unique for its portrayal of homosexuality and negative responses to it in an era when homosexual acts were punishable by death.
Grin Theatre's adaptation of Edward II, adapted and directed by Will Cooper, assisted by Mycroft Milverton, bring this revolutionary drama into the modern world through the use of costume, ever present smart phones and the utilisation of alcohol, drugs and modern dance music. This was a special scratch preview performance and Grin Theatre are hopeful of producing a fully developed version at a later date.
Early in the story Edward II (Joseph McGhee) welcomes his close friend and lover Gaveston (Liam Murphy) with opens arms much to the disgust of his sister, Esther (Michelle Parker). As Edward II and Gaveston continue to flaunt their relationships in spite of social convention it quickly becomes clear that many other people, including Lancaster (Christine Corser), Mortimer (James Jarman) and Edward II's wife Isabella (Jazz Jago) are also very upset about the situation.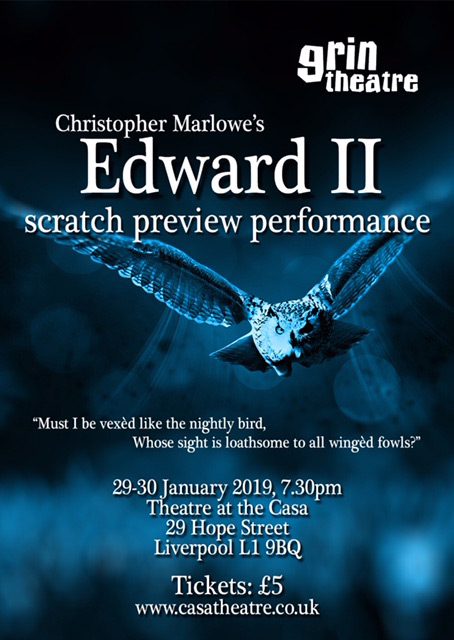 The Nobles and the Queen go to great effort to get rid of Gaveston, culminating in a long fight between them and the King, in which Edward II is determined to keep Gaveston no matter what the cost.
Murphy's performance as Gaveston is joyful and passionate, creating a number of comical highlights. His short and enthusiastic dances, often during moments of grave seriousness, add to these humorous diversions.
Corser's portrayal of Lancaster is stern and severe, giving the feeling of a fully rounded villain. Her awkward effort at rapping is reminiscent of the recent dance moves of a well-known contemporary politician, adding to the impression of the ill-informed Noble who will do whatever it takes to get what she wants.
The pace of the play is a little slow in paces, though it can be expected that this would be improved with fully rehearsed future performances. The second half felt particularly lengthy and some consideration could be given to focusing the drama on the highly climatic scene and giving less time to tying up loose ends afterwards.
As the play progresses it becomes clear that there is no one character with good intentions, perhaps excepting the young Prince Eddie (Charlie Knowles). As the cruelty, manipulation and viciousness increases, so do the references to drugs and alcohol, creating the sense of a car crash waiting to happen with everyone involved just being along for the ride.
This is an individual look at a classic piece of drama, with the potential to become something very special.
Edward II is being performed at the Casa again on 30th January 2019. Tickets are available here https://www.ticketsource.co.uk/whats-on/liverpool/the-casa/edward-ii-scratch-night
Reviewer: Donna M Day
Reviewed: 29th January 2019
North West End Rating: ★★★