Ann Twacky is back! The Royal Court are giving audiences the opportunity to see part 2 to their popular Brick up the Mersey Tunnels once again. And it is everything that audiences want it to be; hilarious and pure fun. This time the tunnels are all blocked up and the Runcorn Bridge is no longer standing. The Kingsway Three who wanted Liverpool to stand alone have made their dream happen and there are now no links to the Wirral.
However, a group on the Wirral are more than happy about this and don't want it to be set right. So, led by the notorious Ann Twacky (Eithne Browne) they set about a plan to sever links with Liverpool forever.
With this play set from the Wirral side we see a divide between Merseyside and the Wirral and Ann Twacky and her friends plot to keep the Wirral separated. The writers have cleverly used stereotypes within their characters and created jokes that both sides of the river will appreciate. Ann Twacky ends up dismissing her husband Dennis (Roy Brandon), who has now befriended Scouser Dickie Lewis (Andrew Schofield) and transformed himself into an honorary Scouser.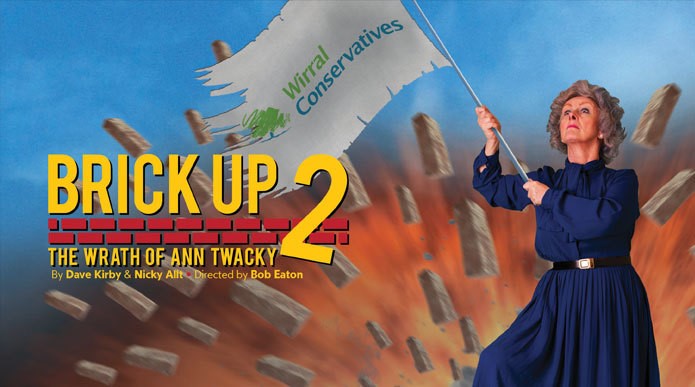 Schofield and Brandon have a lovely rapport onstage and their scenes of drunken disorder bring laughter from all. Liz Card (Francis Tucker) also had the audience giggling with her desperation for a man. Tucker's performance is reminiscent to Monty Python's surrealist comedy and he utilised his physicality well to portray Liz Card, the man eater.
The actors should be congratulated on their effortless multi-talents, all of them singing and playing instruments alongside their main roles. Ann Twacky (Eithne Browne) highlighted a fabulous singing voice and the use of current songs with rewritten words had everyone laughing and dancing. The actors' comic timing was also a plus of the performance and you could tell this was a cast who trusted each other and enjoyed every minute of being onstage. Some of the best bits of the show were when the cast improvised and had the audience belly laughing in the aisles. It was wonderful to see the cast themselves break character and laugh at the happenings on stage and was a highlight of the performance.
The set was a cityscape of Liverpool looking over from the Wirral along with various sets such as a café and Ann Twacky's Heswall home. The costumes were bright, colourful and fitting. Ann Twacky following Margaret Thatcher's penchant for a long blue dress which absolutely suited the character and her love of Thatcher. The show had everyone laughing throughout and it was so apt with the current political climate that everyone couldn't but help laugh at the irony.
With a show full of something for everyone; comedy, political themes, music and a love story this is a show to go and see. The Royal Court are excellent at providing audiences with comedy that will make you forget about that hard day at the office, and Brick Up 2 is no exception. Until the 6th April https://royalcourtliverpool.ticketsolve.com/shows/873595495/events/128176043
Reviewer: Beth Easton
Reviewed: 13th March 2019
North West End Rating: ★★★★