So, how to prise the kids away from their screens and get introduce them to live theatre, without having to sit through an eternity of Peppa Pig live on stage? Take them to see the Rubbish Shakespeare Company's version of Romeo and Juliet!
The Rubbish Shakespeare Company comprises an all-male troupe (Lee Hithersay, Alex MacDonald, Clem Studholme and Mark Lea) – so far, so Shakespearian - in jeans and t-shirts and the occasional long coat and a range of wigs with minimal scenery and very few props (moving away from the Shakespearian now) Add to the mix a lot of energy, edgy anarchy and the essence of Shakespeare's plot, and there you have it, In fact, we're now so far from Shakespearian, we've come the full circle and are back to where Shakespeare would want to be – entertaining his audience! The age guide is for 3 – 303, and, indeed, there is something to appeal to all ages. The aim is to show that Shakespeare can be fun and that the theatre is a fun place to be.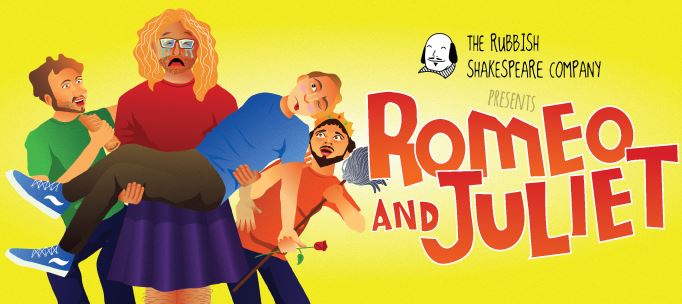 With this in mind, the company have taken the tragedy and reimagined it in a "we're one-step-up-from-panto" format. There is no Queen Mab speech; in fact, there is very little speechifying at all. There is an immense amount of silliness and audience participation with children being invited on to the stage as extras for a party scene and taking on the roles as best man and messenger. The actors are in and out of the audience at the drop of a hat to keep everyone engaged and on their toes. There are sausage rolls and silly swords, a guard with a broom and a friar with a flip chart. There is kissing – eventually – and a lot of water.
And here's the rub – it takes a lot of talent to do something this silly and make it work. Children know when they're being bamboozled or patronised; anyone who has been to a children's party where the entertainer has been less than entertaining knows how quickly it can go wrong. Here, however, despite the seeming chaos, the company are very much in control, allowing the audience to engage but not to take over, with gentle – and not so gentle – reminders that there's a play to be performed, a story to be told, while keeping everyone on board and focused; as Mercutio dies, there was absolute silence from the audience.
I have seen so many productions of Romeo and Juliet but this is the first one where Romeo is shown to be the whinging brat I always suspected him to be. Ten minutes in, I stopped taking notes and just sat back to enjoy the ride.
If you miss it this time round – and I strongly suggest that you don't- they'll be back in July with A Midsummer Night's Dream.
Reviewer: Johanna Roberts
Reviewed: 17th March 2019
North West End Rating: ★★★★