This week LIPA's third year acting students return to the stage in a production of Tom Morris and Emma Rice's adaptation of Michael Powell and Emeric Pressburger's film A Matter of Life and Death. The play tells the story of World War 2 pilot Peter and how he finds himself having to fight to stay alive despite the fact that he should be dead.
Greg Jones lead the cast as Peter and his performance is fantastic. His portrayal of the character is likeable and determined and the audience feel complete sympathy for him when those around him don't believe what he says about his situation. Julie St. James plays Peter's love interest, June. Her performance is lovely and the chemistry between St. James and Jones is believable and heart-warming to watch.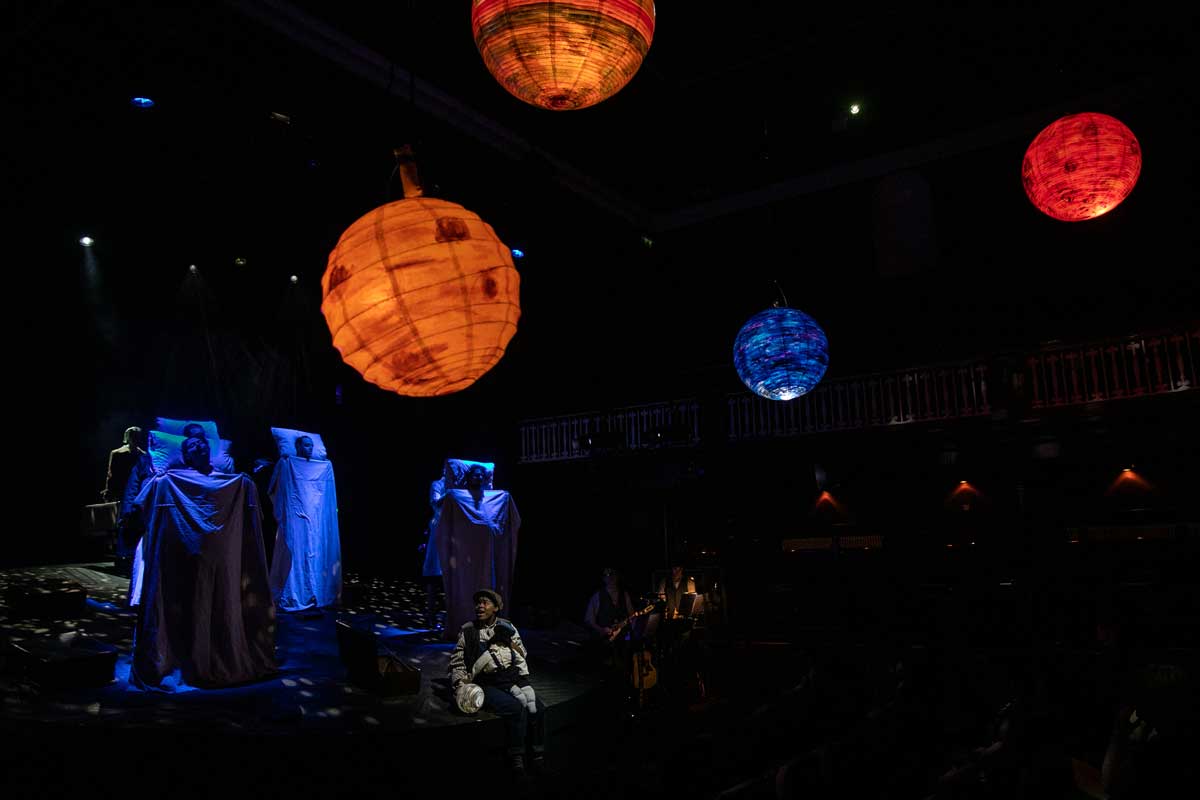 Kofi Orton Dennis gives a strong performance as Bob, despite not being used much. His relationship with Jones on stage is very warming to watch. Sophie Koumides gets chance to demonstrate her stunning singing voice and Jack Sanders gives a hilarious performance as Dr McEwen and Shakespeare. Liam Parkin also does a great job in his various roles. His puppetry skills bringing a dog to life were particularly impressive.
Chuma Kafile's performance is heartfelt yet hilarious at times. She brings the 'Boy' puppet to life fantastically and her portrayal of Sergeant Bellamy is spot on. Natasha Hale has a great presence, commanding the stage as the Judge, and Laura Noble's portrayal of the Chief Recorder is equally strong and commanding.
Rebecca Ozer's performance in the role of Doc is outstanding. She gets the right balance between quirky and well-intended. Michael Wolf definitely steals the show in this production. He is absolutely hilarious in the show and has the audience completely in the palm of his hands.
The show includes lots of beautiful music, delivered wonderfully by the cast and the live band consisting of musical director Adam Handford, Taran Lister and Sam Mainard. Ellie Light's set is simple but works perfectly the show and new locations are created effectively. Rebecca McGrory's costumes fit the show very well. James Matthews' lighting design is fantastic in this show, with the opening of the show being particularly spectacular and beautiful to watch.
This show is a true showcase of the immense talent that LIPA has, all led by director James Baker who brings all aspects of the production together wonderfully to tell a beautiful yet somewhat strange love story.
A Matter of Life and Death runs at LIPA's Paul McCartney Auditorium until Saturday 23rd March 2019. Tickets are on sale through the Unity Theatre's box office.
Reviewer: Jacob Bush
Reviewed: 21st March 2019
North West End Rating: ★★★★