Dating from 8th century BCE, The Odyssey is one of two epic poems attributed to Homer. Comprising over twelve thousand lines and featuring over seventy named characters, it relies upon a rhythmic scheme typical of the oral tradition to enable it to be faithfully re-told and which is perhaps testament to it standing the test of time.
Fast forward to today and there is only the critically-acclaimed Pantaloons who would be heroic enough to deliver a self-penned hilarious new verse adaptation as, with a cast of four, they recount the tale of cunning Odysseus (Neil Jennings) who, following his exploits at Troy, struggles to return home to his wife, a very emancipated Penelope (Alex Rivers), who all the while is herself holding out against over a hundred suitors and their incessant banter.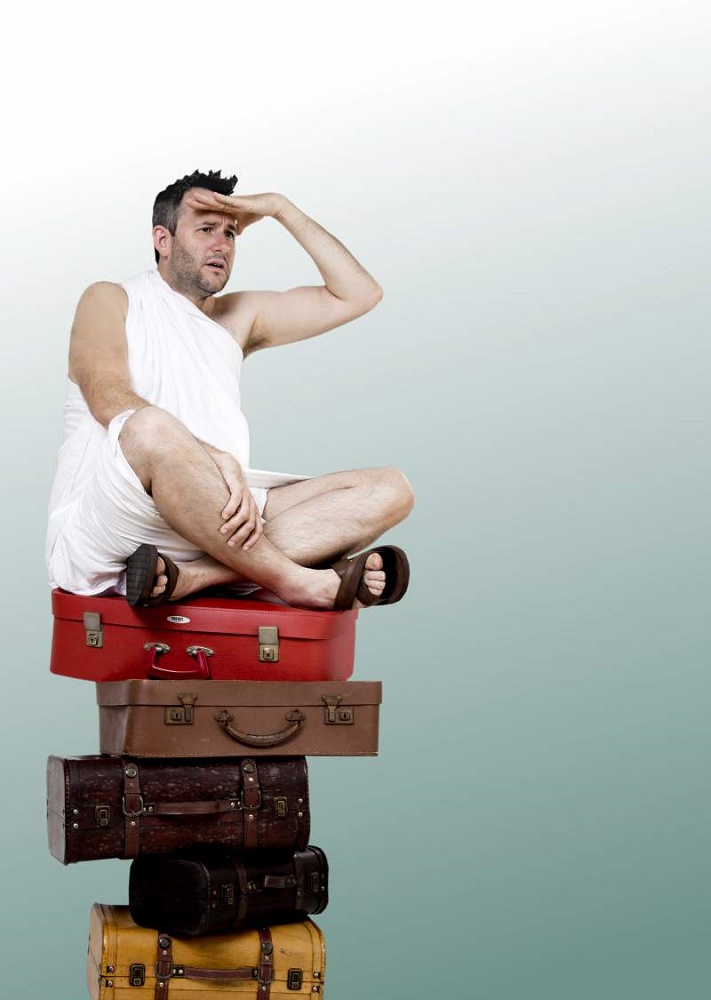 Odysseus – soldier; storyteller; husband; but whatever you do don't call him 'chicken' – is not alone as he has his trusty crew including Wikipedius (Christopher Smart) to help him with his travails as he navigates through grumpy gods, naughty nymphs, and monocular monsters, before his confrontation with Antinous (Edward Ferrow), the sleaziest suitor of them all.
With an open stage set as a beach to suit the island hopping, Jennings wonderfully steers us through whilst his compatriots take on a number of interchanging roles and in whose hands the most minor of props – spectacles; a beach ball; suitcases; a parasol – take on a life of their own as they are magically transformed as this story cleverly unfolds to the delight of one and all in the audience who are regularly brought into the action in one capacity or another as the fourth wall is deservedly breached time and time again.
There is so much to enjoy here, and the cast clearly revel in this re-telling and the opportunity to showcase their talent and ability including their own musical accompaniment. As with any epic there is also much pathos which is sensitively delivered and quite moving, off-set as it is against the comedy drama that runs throughout every scene.
Much credit must be given to writers Stephen Purcell and Mark Haywood – who also directs, designs, and produces this show – who have utilised rhyming iambic pentameter verse – impressive in its own right – to give the production a classical feel whilst equally allowing it to beautifully flow as it gives homage to the original whilst slipping in a topical reference or two, just as the Greeks would have done all those years ago.
The Pantaloons bring great literature to the stage in a form and fashion that is open to all – from 8 to 80 – and for that alone they are to be commended. That the quality of writing in this production is extraordinary is truly the icing on the cake whilst the top-class delivery that ensues from its four stars is itself the proverbial cherry: this is undoubtedly one of their best productions.
The Pantaloons were established at the University of Kent in 2004 by Mark Hayward, Caitlin Storey and Stephen Purcell. They are a young and vibrant theatre company whose style draws from a wide variety of popular theatre traditions. There is a strong element of collaboration, both within the group and with their audience that is clearly evident with an emphasis on physicality and on audience interaction.
The Odyssey is their Spring production performing nationwide through to early May. This Summer they will be touring Sense & Sensibility and an Autumn tour of William Shakespeare's Othello is scheduled. Full details on dates and venues throughout the UK and booking information are available at www.thepantaloons.co.uk
Reviewer: Mark Davoren
Reviewed: 24th March 2019
North West End Rating: ★★★★★