Have you attended the tale of Sweeney Todd? Have you ever eaten one of the worst pies in London?
For those who don't know the story, we meet Benjamin Barker, under his alias of Sweeney Todd, upon his return after 15 years of imprisonment in Australia. He is seeking revenge on the men who exiled him, who also assaulted his wife and have imprisoned his daughter, under the pretence of caring for her. He meets Mrs Lovett, renowned for making the worst pies in London. She realises who he is and presents him with his old barber tools. After stumbling across an old apprentice, who decides to bribe Todd, he snaps and kills him. When Mrs Lovett discovers what has happened, she comes up with an idea to dispose of the body and the two end up becoming demonic business partners.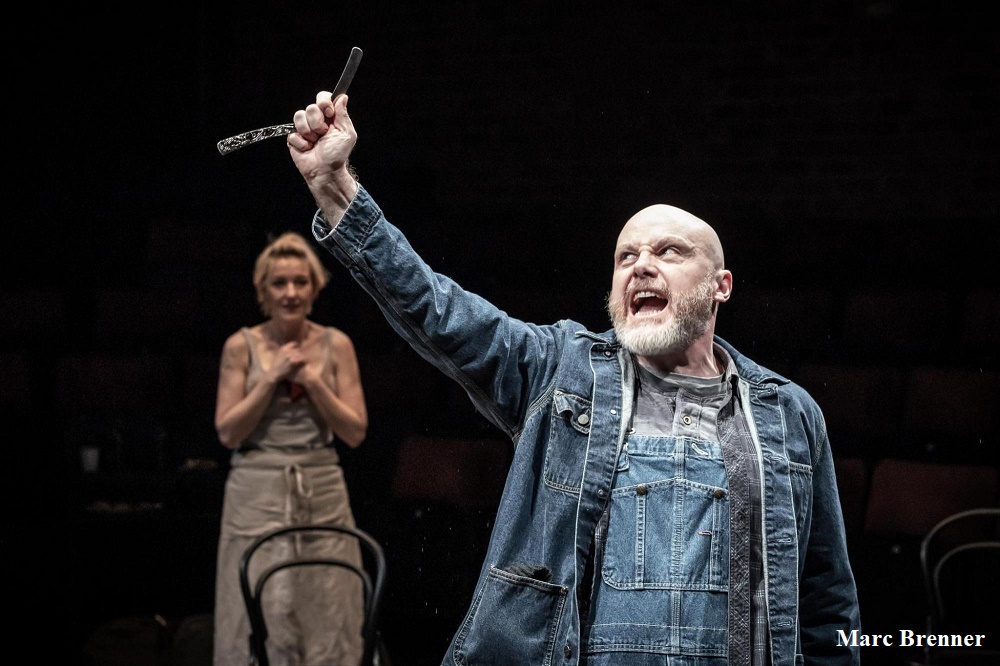 This slightly modernised version from an adaption by Christopher Bond, is performed in the round, with a revolve that is managed by the cast. And whilst it may not sound as though that could work – it really did. The costumes had been updated for this production, slightly closer to 2019 than 1880. Beadle Banford was an officer of the law, rather than just Judge Turpin's right-hand man, and Sweeney Todd himself, favoured denim dungarees. Some of the vocabulary was slightly embellished from Stephen Sondheim's lyrics and Hugh Wheeler's book, but this just added more depth and hilarity to the characters, that worked very well for this small cast.
Liam Tobin, as the titular character, showed the full emotional range of the character and made you feel for all the trials and tribulations Todd has been through, whilst also appearing demonic during his massacre. Kacey Ainsworth, as Mrs Lovett, was eccentric and completely obsessed with Todd, doing anything she could to make him fall in love with her. Paul Duckworth and Mark Rice-Oxley as Judge Turpin and Beadle Banford make a formidable duo that no one in their right mind would want to cross! The young lovers, Anthony and Joanna, Brian Parry and Keziah Joseph showed us how their love can beat the odds. Dean Nolan was a fabulous villain/victim as Pirelli and worked well with Toby, played by Shiv Rabheru and Emma Dears was endearing yet annoying as the Beggar woman. Special mention must also go the four piece band, consisting of Tarek Merchant, Daisy Evans, Samantha Norman and Alex Smith, who played off the cast in certain parts of the show, as well as providing the musical interludes.
Nick Bagnall's production is definitely worth a ticket and you should beg, steal or borrow to get yourself a ticket – just try not to cut any throats in the process!
Reviewer: Jenn McKean
Reviewed: 16th April 2019
North West End Rating: ★★★★★