One of Liverpool's newest and freshest theatre companies, Magpie Theatre, present William Shakespeare's classic story of magic and mayhem, The Tempest. Directed by David Jones, assisted by Freya Howison, the play has been uniquely reimagined for a modern audience.
The remote island where most of the action takes place is now in the midst of a proxy war and Prospero's cave is a claustrophobic and cluttered bunker plastered with photographs of the enemy and battle plans. The storms of the title have become violent, deafening attacks with air raid sirens, explosions and gunshots ringing out across the stage.
This conflict of the play juxtaposes with some of Shakespeare's most subtle and intelligent comedy, creating a multi layered drama with complex characters which is sure to spark the interest of any audience.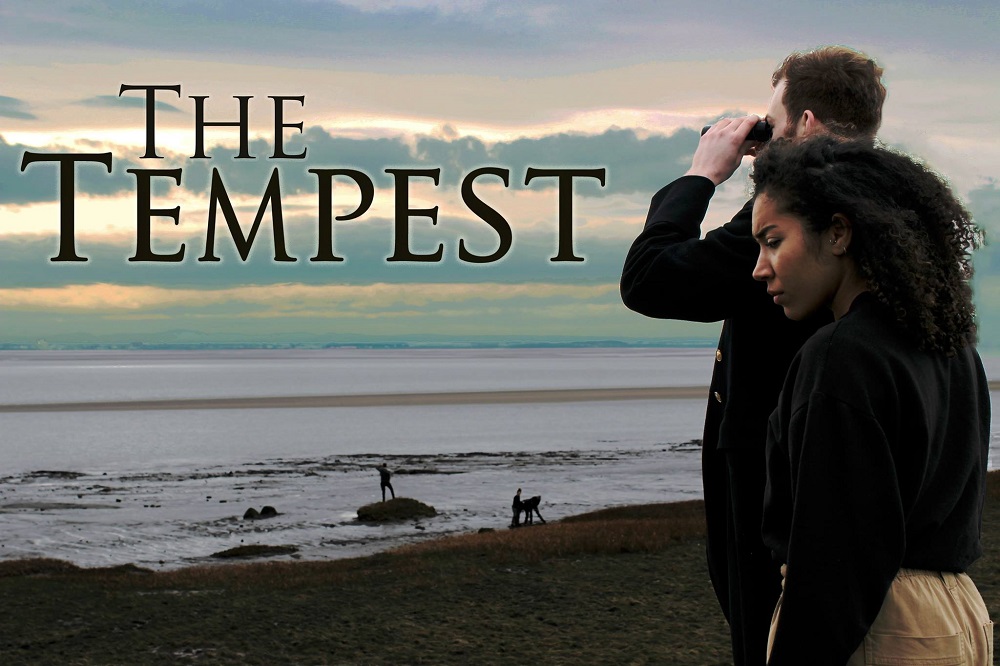 The play opens with Prospero (Fergus O'Sullivan), the rightful Duke of Milan, perusing papers in his bunker. He has been living on the island for a number of years having been usurped by his brother Antonio (Omar Hussein). With him is his daughter Miranda (Solenna le Goff), whose solitary life on the island has left her naïve. Prospero is served by Ariel (Kel Nkondock) and Caliban (Alex Webber-Date) both of whom he has enslaved to do his bidding.
The arrival of Antonio and the King of Naples, Alonso (George Parsons), allows Prospero the opportunity to seek his revenge and reclaim his rightful place as Duke. Using Ariel he unleashes an attack, the tempest which separates the Alonso from his followers. Alonso's son, Ferdinand (Charlie Collinson) ends up at Prospero's bunker where he promptly falls in love with Miranda. Alonso's butler, Stephano (Ron Bar-Ad) and Trinculo (Miles Rosbrook), a journalist, find themselves in the company of Caliban who convinces them to murder Prospero and take control of the island. Finally Alonso himself, along with his brother Sebastian (James Gray), Antonio, Gonzalo (Michael Medlicott) and Adriana (Phoebe Hopper) wander the island in search of Ferdinand. But Alonso is showing himself to be weak and, inspired by his own success, Antonio encourages Sebastian to murder his brother and take the throne for himself.
Each group makes their way around the island seeking power and dodging bullets and it quickly becomes clear that Ariel is far more than a simple soldier.
Light and sound are cleverly used in this play to illustrate both the realist elements of the setting and the emotional status of the characters. When the sirens are not blaring and gunshots have stopped, gentle birdsong creates a sense of peace and nature in an otherwise bloody and thunderous world.
The cast also made full use of the entire theatre space with some lines being delivered from the back of the theatre and others from within the audience area itself. This created an immersive atmosphere which really brought to fore the sense of being in a war zone. However, for future performances consideration does need to be given to vocal projection from the middle or back of the theatre and during sound effects, as on occasion some lines were lost.
Costumes were mainly fatigues with coloured arm bands illustrating different factions. In the first act, Miranda wore a flowing floral dress with no arm band, creating a sense of both her innocence and vulnerability while nicely nodding towards her dreamlike memories of life before.
O'Sullivan's portrayal of Prospero is by turns stoical and vicious. His ability to switch between eerily calm and violently angry does justice to the complexity of the character making him someone to be both feared and pitied.
The initial meeting between le Goff and Collinson is adorably comical. The facial expressions of both actors are excellent and the social awkwardness of le Goff's character has been exploited to full effect to create a sweet scene which many people could relate to. This gives a modern twist to the relationship which distracts from the swiftness of their courtship.
Gray's performance as Sebastian is dripping with poisonous intent, with the lighting cleverly being used to enhance the maliciousness of his facial expressions. Hussein's encouragement is akin to the devil on the shoulder and Sebastian's downward spiral towards thoughts of murder are demonstrated extremely well.
Webber-Date's sycophantic portrayal of Caliban is an original and engaging interpretation of the character. Entirely sympathetic and uncomfortably strange, Webber-Date has used body language and eye contact (or lack thereof) in a fascinating way.
This fresh look at a classical drama is a wonderful piece of theatre which is not to be missed.
The Tempest is being performed at the Casa again on 10th May and 6th and 7th June. Tickets are available here https://www.ticketsource.co.uk/whats-on/liverpool/the-casa-bar/the-tempest/e-alkdvy
Reviewer: Donna M Day
Reviewed: 9th May 2019
North West End Rating: ★★★★