Flat Pack Music excel again with their highly enchanting and magical performance in English (translation by Nick Sales and Sarah Helsby Hughes) of Mozart's two-act opera with this production from Director Wendy Silvester and Musical Director Chris Gill playing out the laughs in the classic fairly tale of princess in need of rescue by a handsome prince.
Tamino (Tom Kelly), a young prince, is being pursued through a mysterious forest by a terrible dragon and in his attempt to escape he passes out and is unknowingly saved by three mysterious Ladies (Hannah Macaulay; Serenna Wagner; Imogen Garner). As they depart to alert the Queen of the Night (Naomi Quant) to his presence, Tamino regains consciousness only to meet another strange figure, that of Papageno (David Cane), the bird catcher, who also works for the Queen, and deceitfully claims to have defeated the monster. He is punished when the three Ladies return by having his tongue sealed with a magic spell. Tamino is presented with a portrait of Pamina (Heather Heighway), the Queen of the Night's daughter, who has been abducted. Tamino instantly falls in love and agrees to rescue her and is presented with a magic flute whilst his unwilling companion Papageno is given a music box, as they are assured their safekeeping will be overlooked by three Spirits.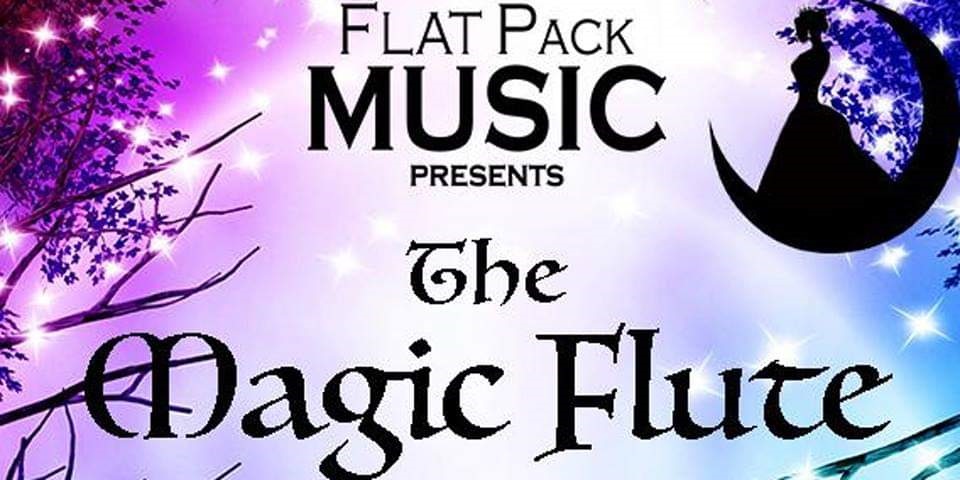 Pamina is trying to escape from Sarastro (Peter Lidbetter) whose two guards (Gabriel Seawright; Mark Rawlinson) have secured her in his temple although the man tasked with guarding her, Monostatos (Matthew Quinn), is becoming increasingly infatuated with her. The rescue mission doesn't go completely to plan and Tamino and Papageno are captured and forced to face three trials. Will they survive? Can Tamino and Pamina hope to find true love? And will Papagena (Eleanor Strutt) prove to be the perfect love match for the ever bizarre Papageno? All we know is that joy and harmony come from listening to wisdom – but will they listen?
All the cast provided perfect harmonies, with both Quant and Lidbetter's strong voices standing out. I enjoyed the gentle humour amid conspiracy provided by Macaulay, Wagner, and Garner, as the three Ladies/Spirits. Heighway brought us a perfectly love-struck Pamina whilst Kelly's prince was the epitome of naïve bravery and Quinn the epitome stage baddie, with sterling support throughout from Rawlinson, Seawright and Strutt. But the night belonged to Cane in a role which quite frankly could have been written for him: his comic performance was timed to a tee as he captured the intended humour with a skill and adeptness that one hopes to see but doesn't always get. He sung perfectly and his duet with Strutt succeeded in completing the circle of life: outstanding!
Tomek Pieczora provided live piano accompaniment alongside flautist Lynsey Blair, both of whom performed flawlessly, orchestrated with the on-stage action by Gill who even joined in on the pan pipes.
The delightful period costumes cleverly coordinated colours whilst props including puppets and glowing orbs complemented the magical medieval atmosphere provided by St Mary's Church, Eastham which dates from 1152AD making it an ideal as well as intimate venue to perform in and good use was made of the choir stalls and pulpit within the piece.
Flat Pack Music aims to bring Opera and Classical Music to the wider public in a fresh and original way that showcases not only the depth of the music, but also the comedy and the drama in equal measure. With English libretto's they find that it gets to the heart of the action, which audiences can understand and enjoy. Further details including their upcoming productions can be found at http://www.flatpackmusic.co.uk/
Reviewer: Mark Davoren
Reviewed: 25th May 2019
North West End Rating: ★★★★★