Songs of Innocence, written by Louis Gale, is the story of a group of young people in 1914, exploring themes of innocence and its loss. Incorporating folk style music and song, this is a lovely exploration of the time of life between childhood and adulthood.
The play opens with brothers Arthur (Jonny Wise) and Jorgi (Joe Lindley) discussing their future after the death of their father. Jorgi is worried that he will need to leave school and begin work but Arthur promises that he will support him and their mother so he doesn't need to worry about it. They are interrupted by the entrance of Barty (Louis Gale), son of their father's former employer, a local Lord. Arthur bullies Barty who is then saved by Lili (Saskia Pay), the foul mouthed daughter of their mother's landlord Albert (Louis Gale).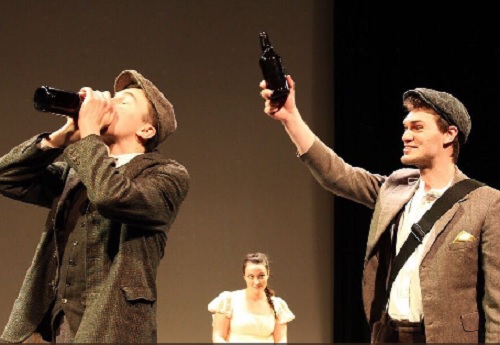 Shortly afterwards Albert visits Arthur and Jorgi's mother Lizzie (Beth Elliott) and asks if they can make an alternative arrangement to cover her rent following the death of her husband. After she rejects his advances he tells her that her sons need to start working or she cannot keep the house. Lizzie tells her sons that they will need to go and work at the Lord Beaumont's house in the stables as their father did. Jorgi is very upset and tells her he wants to keep going to school but she doesn't allow it. When working at the house Jorgi speaks with Barty about William Blake's eponymous poetry collection. Jorgi then meets Cecile (Grace Long), Barty's eccentric sister, who is resisting her father's attempts to marry her off.
The local harvest festival intensifies things; beer flows copiously and Lili is spoiled by the number of admirers around her. Singing and dancing create a sense of happiness, excitement and hope for the future.
These are ordinary lives, with ordinary problems. This is a beautifully simple story of life during a period where the innocence of childhood is beginning to evaporate. There is a darkness over the horizon which is constantly hinted at throughout the play, but nothing can prepare you for the heart stopping climax of this story.
The set was very simple, with six wooden chairs on the set throughout, each holding various pieces of costume, props and musical instruments. This created a situation where all of the actors were on the stage throughout the play. While the actors were sitting on these chairs they watched the rest of the story playing out, reacting in the way their character would if they were present. This unique technique was a beautiful touch which added layers to the story and enriched each of the characters.
Gale deserves particular praise for writing this wonderful story and performing two roles in it. His portrayal of Barty was delightfully awkward and Barty's attempts to be aggressive and frightening were brilliantly comical reminding me of Herbert Pocket in Great Expectations. His demeanour, presence and accent changed radically when performing as Albert, meaning that the audience could be left in no doubt that this was a very different character.
Long's portrayal of Cecile is brilliantly agitated and antsy, creating a real sense of discomfort while she fights against the world she has been forced to live in. Lindley's facial expressions and ability to show childlike joy over the smallest things is stunning.
Songs of Innocence explores class and gender issues in an open and entertaining way and really makes you think about how much the world has, and has not, changed since the events of the play. The use of song to add depth to the emotional state of the characters is a charming touch. Elliott's solo is particularly poignant and allows the audience to identify with her struggles as a mother, both to keep her children happy and to keep a roof over their heads.
As each character struggles to stay in control of their lives, the outside world becomes an ever darker and more dangerous place. Once lost, the innocence of love and harvest time cannot be reclaimed.
Reviewer: Donna M Day
Reviewed: 31st May 2019
North West End Rating: ★★★★★