In the back room of Frederik's Bar on Hope Street, Liverpool, a group of 5 adults dressed up and - in their own words - acted like dicks for an hour. In a grown up take on the popular pantomime format, James Stephenson as Batman and Catherine Devine as Robin (not a female Robin, you understand, but rather in typical pantomime fashion a female playing a male role) went on an adventure - a convoluted one, of course.
The plot of the pantomime followed Batman and Robin alongside Salfred (the pantomime dame, excellently played by David Jeffry) trying to come up with a plan to stop their pantomime villain, Louise Gregson as Catwoman, from stealing a prized aubergine emoji painting with her sidekick The Riddler, played Johnny Andrew who also masqueraded as Commissioner Gordon.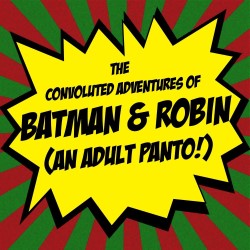 In the end, it turned out to be a big ruse because Catwoman fancied Robin and just wanted to get close to him. It was a great script - written by Paul Arends alongside both Louise and David - with naughty jokes and comic book references that will definitely go over your head if that's not your sort of thing…
The show (directed by David and Louise also, though it was a collaborative effort from the whole cast too) has a lot of audience interaction, as pantomimes often do, and there was plenty of singing although this did mostly happen at the beginning and end of the show rather than all the way through - another song in the middle wouldn't have gone amiss. A small criticism would be that the costumes weren't quite there; a wig for Salfred, perhaps, and proper thigh high boots for Robin, would be a bit more panto-esque. But the cast bounced off each other wonderfully, and it genuinely did feel like a pantomime - albeit a very adult one!
The Convoluted Adventures of Batman & Robin plays Edinburgh Fringe Festival this August. https://tinyurl.com/y5voqebq
Reviewer: Katy Gilroy
Reviewed: 3rd June 2019
North West End Rating: ★★★