Two farces on two successive evenings will soon get your head spinning, the busiest form of theatre, and I've turned to Google: 'a comic dramatic work using buffoonery and horseplay … with crude characterization and ludicrously improbable situations'. There you go, Spymonkey ticks all the boxes (doubtful they'd be pleased about that), squeezes in a few of their own and twists some of them into a bizarre variety of shapes. You do tend to suspect that as much as amusing the audience, they dearly love to make fellow cast member's corpse, which of course makes it all even funnier.
Surreal slapstick in a nutshell, and perhaps I'm cheating, but the best description you'll read has to be 'Mills & Boon rewritten by Monty Python' (The Herald).Originally devised back in 2001, they give you a mish mash of pastiche and parody: a Gothic Romance which hits the Wuthering Heights although more Rebecca, mixed in with any comic crime caper you care to name. Except, a blonde bombshell, which in this instance does mean fart jokes – and that's not the worst of it by any means, although the scene in question (if in questionable taste) is perhaps the best thing about the whole show, completely outrageous and absolutely hilarious. Those are the only clues you are going to get, but it'd be amazing if they didn't hear the gales of laughter over on the Wirral.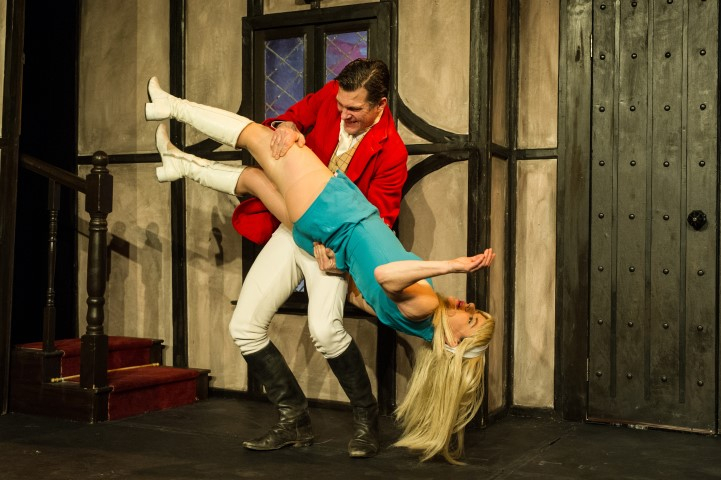 Now let's be sensible: orphan Laura du Lay (Petra Massey) arrives at Forbes Murdston's remote manor to help him with research into the family tree, a fact, in fact, in danger of being forgotten until much further along in the plot, even if it is pretty obvious where that is going. Both have been relying on the services of lovelorn lawyer, Roger Parchmen, a former Spanish soap star; we are fortunate enough to enjoy a glimpse of this when Aitor Basauri staggers on with a huge TV. However, it would be a mistake for anybody to rely on the butler, Klaus, who actually didn't do it, or anything if he can help it. Stephan Kreiss plays him as a very silly, sour Kraut, going out of his way to be obnoxious.
Most of the play takes place in a stately chamber, the backdrop a panelled wall with the grand front entrance and a lift – just the two doors, but a window looking out on all kinds of daft goings on; many props are nearly as animated as the cast. Mini-dress clad Laura for example has fits when experiencing acts of unkindness, though sometimes astonishingly rude herself, but also goes to the other extreme, literally acting like a dummy and being carted around stiff as a mannequin. She is so in control of the mostly uncontrollable, the PC brigade can, almost, rest assured, if distinctly uneasy. Her hero, yer typical tormented gentleman, could almost be boring but Toby Park is impeccable under both banners, tragedy and comedy, and a splendid foil for Klaus and Parchment's devilishly funny double act.
The key to farce is perhaps that the cast knows how ridiculous it is, and knows that you do too: you're all in on the joke. And once again, spectacular physical theatre combines with anarchic comedy to create such glorious silliness for an evening of pure (or maybe not) entertainment. 20 years of Spymonkey, game for anything as ever, and then some – and lucky for those who can't get enough of them.
Reviewer: Carole Baldock
Reviewed: 5th June 2019
North West End Rating: ★★★★